Overstreet Announces "How To" Volume For Tabletop Games
Sep 25, 2017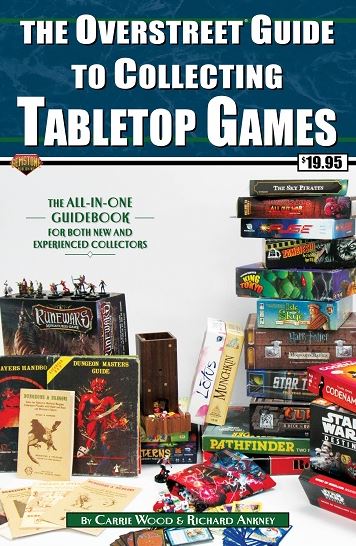 Gemstone Publishing has revealed their latest volume in the Overstreet "How To" series to spotlight the resurgent world of tabletop games. The Overstreet Guide to Collecting Tabletop Games will offer valuable insights to newcomers and seasoned gamers alike. From Munchkin, Clank!, and Zombicide to HeroClix, Magic the Gathering, classic Dungeons & Dragons and well beyond, the book will feature an in-depth look at this booming hobby with a focus on tabletop RPGs, board games, card games and more.
Written by Carrie Wood (The Overstreet Guide To Collecting Video Games) and Game Trade Media's Richard Ankey, the 224-page, soft cover, full-color volume will include interviews with some of the biggest professionals in the business, as well as input from long-time collectors to provide insight and feature articles to offer historical context for today's successful trends.
"With so many games being published on so many different platforms, people who may have played games with their families when they are younger are finding themselves returning to the game table. And in that they are not only playing new games, but seeking out the games they played in their youth," Ankey said.
"And crowdfunding campaigns on platforms like Kickstarter have seemingly been a huge boon to the industry, not only in terms of raising the money to make the games, but also getting an enthusiastic, emotional buy-in from the supporters," Wood said.
"There's a whole lot going on in the gaming industry right now," Wood said. "I don't want to spoil everything we've got planned for the book, but we've already done some really cool interviews with collectors and pros alike. I think even the most veteran Dungeon Master is going to learn something new from this one."
The Overstreet Guide to Collecting Tabletop Games is now in production and is set to arrive in June 2018.