Top 25 Toys: August 2017
Sep 11, 2017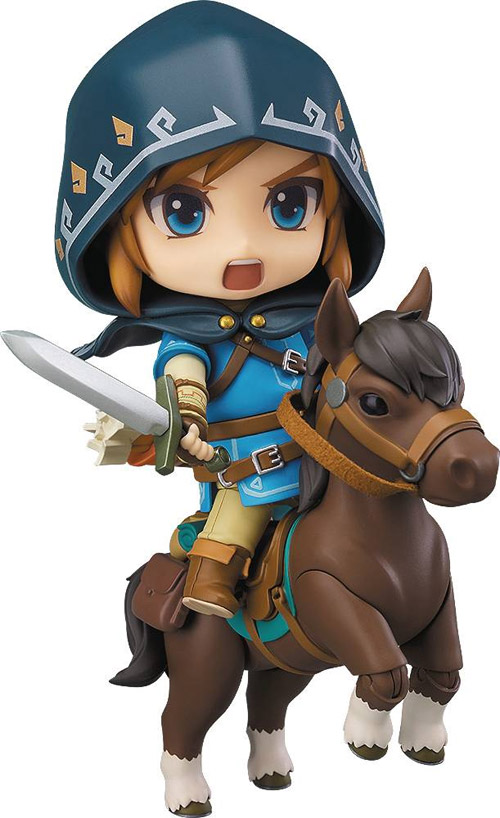 Based on the best-selling game for the Nintendo Wii U and the Nintendo Switch, Good Smile's The Legend of Zelda: Breath of the Wild: Link Nendoroid DX was August's best-selling toy product.
Also in the top ten for Good Smile, the Mega Man X Full Armor Nendoroid ranked #8.
DC Collectibles had two products in the top ten: the Batman Black & White Statue by Norm Breyfogle at #2 and the DC Cover Girls: Zatanna Statue at #5.
Bandai America's Dragonball Super: Dragon Stars Action Figures ranked #3.
Diamond Select Toys had three products among the top ten: the Marvel Select: Lady Deadpool Action Figure at #4, the Marvel Premium Collection: Thanos Statue at #6, and the Marvel Gallery: Luke Cage (Netflix) PVC Figure at #10.
Mezco Toys' One:12 Collective: DC Comics: Arsenal Figure, a PREVIEWS exclusive, ranked #7.
Finally, Kotobukiya's Marvel New: Carnage ArtFX+ Statue ranked #9.
TOP 25 TOYS
Based on Total Retail Dollar Sales of Products Invoiced in August 2017
DOLLAR
RANK
QTY
RANK
ITEM
CODE
DESCRIPTION
VENDOR
1
1
DEC168626
LOZ BREATH OF THE WILD LINK NENDOROID DX VER
GOO
2
8
FEB170345
BATMAN BLACK & WHITE STATUE BY NORM BREYFOGLE
DC
3
33
DEC168377
DRAGONBALL SUPER DRAGON STARS AF ASST A
BAN
4
2
DEC162578
MARVEL SELECT LADY DEADPOOL AF
DST
5
18
FEB170343
DC COVER GIRLS ZATANNA STATUE
DC
6
39
DEC162576
MARVEL PREM COLL THANOS STATUE
DST
7
19
AUG168742
ONE-12 COLLECTIVE DC PX ARSENAL AF
MEZ
8
10
SEP168170
MEGA MAN X FULL ARMOR NENDOROID
GOO
9
20
FEB172861
MARVEL NOW CARNAGE ARTFX+ STATUE
KOT
10
5
JAN172647
MARVEL GALLERY NETFLIX LUKE CAGE PVC FIGURE
DST
11
13
DEC168692
KINGDOM HEARTS III SORA BRING ARTS
SQU
12
85
DEC168832
MMPR LEGACY RED RANGER POWER SWORD
BAN
13
9
JAN178423
SDCC 2017 DC REBIRTH HARLEY QUINN BOOMBOX PX STATUE
ICO
14
26
JUL142043
ST TNG ENTERPRISE D SHIP
DST
15
92
APR178811
SPIDER-MAN 6IN LEGENDS AF ASST 201702
HAS
16
73
MAR170453
DC BOMBSHELLS HARLEY QUINN DELUXE STATUE
DC
17
59
DEC168008
DC LIL BOMBSHELLS MINI VINYL FIG SER 2 BMB DIS
CRY
18
112
MAY178177
MARVEL KNIGHTS 6IN LEGENDS AF ASST 201701
HAS
19
56
JAN178515
VOLTRON LEGENDARY DEFENDER DIE-CAST AF ASST
PLA
20
82
FEB178885
WONDER WOMAN MOVIE WONDER WOMAN ARTFX STATUE
KOT
21
183
JAN172946
MARVEL UNIVERSE VISION FINE ART STATUE
KOT
22
87
JAN170427
DC DESIGNER SER JOKER BY BRIAN BOLLAND STATUE
DC
23
257
JAN178408
PREDATOR 30TH ANNIVERSARY FIGURE 7IN SCALE AF ASST
NEC
24
15
AUG168818
DC COMICS REBIRTH WONDER WOMAN GAMESTOP EXCLUSIVE STATUE
ICO
25
16
MAR172718
MARVEL GALLERY IRONHEART PVC FIG
DST
This information may not be reproduced in any format without the express permission of Diamond Comic Distributors.
How does Diamond calculate the charts? It all starts at the comic book shop.
Data for Diamond's sales charts — which includes the monthly market shares and all top product charts — are compiled by Diamond Comic Distributors from sales made to thousands of comic book specialty shops located in North America and around the world. Additional sales made to online merchants and other specialty stores may be included as well.
Unit and dollar market shares are calculated based upon orders for comic books, graphic novels, and magazines invoiced and shipped to Diamond customers during any given month, which comprises pre-orders, advance reorders, and reorders, minus any copies that are distributed free of cost.