Shelly Bond's Black Crown Imprint Comes To IDW Publishing
Aug 06, 2017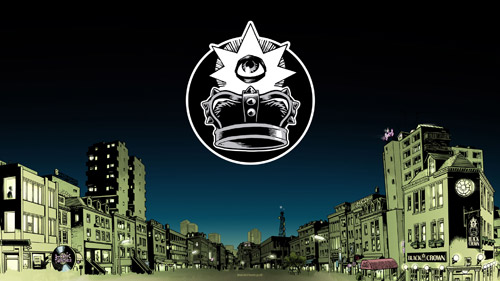 Black Crown, a new imprint created by the legendary editor Shelly Bond, is bringing a "discerning comic book selection of art and alchemy, opulence and madness" to IDW Publishing. Shelly spoke to comic book retailers at Diamond's San Diego Comic-Con Retailer Appreciation Lunch, bringing Tini Howard who writes one of the Black Crown series on stage with her.
"I wanted to go back to my roots," said Bond. "I do comics that unite music with comic books, and I cannot tell you any more other than I am so excited about what we're about to bring you. Part of the philosophy [with Black Crown] is to unite newcomers like Tini, who has done a few books for different companies, with someone like Gilbert Hernandez — hardcore veterans and punk neophytes — and seeing what they do on the page." The result, says Bond, is comics work that is "unexpected, and so bloody cool."

This October, IDW Publishing launches Black Crown with two titles: Peter Milligan and Tess Fowler's Kid Lobotomy and the anthology series Black Crown Quarterly.
Part publishing imprint, part community, Black Crown brings together some of comics' most innovative talent and lets them loose to tell the edgy and unfettered work they've always dreamt of. Centered on The Black Crown Pub, Black Crown's creators build their stories around the street that's home to the bar — the shops, the patrons, the residents. The vibe of the city that The Black Crown Pub calls home influences the stories, and each story in the Black Crown imprint adds new details and flavor to the shared world that IDW is building.

Milligan and Fowler's Kid Lobotomy, for instance, reveals the story of The Suites, a hotel located near The Black Crown Pub, and the family that has operated the hotel. Meanwhile, Black Crown Quarterly gives creators an opportunity to tell smaller stories centered on the pub and its customers, some dissolute, some haunted, all of them with their own stories to tell.

Launching this October, IDW Publishing's Black Crown imprint will be the next big thing in innovative comic book storytelling!
---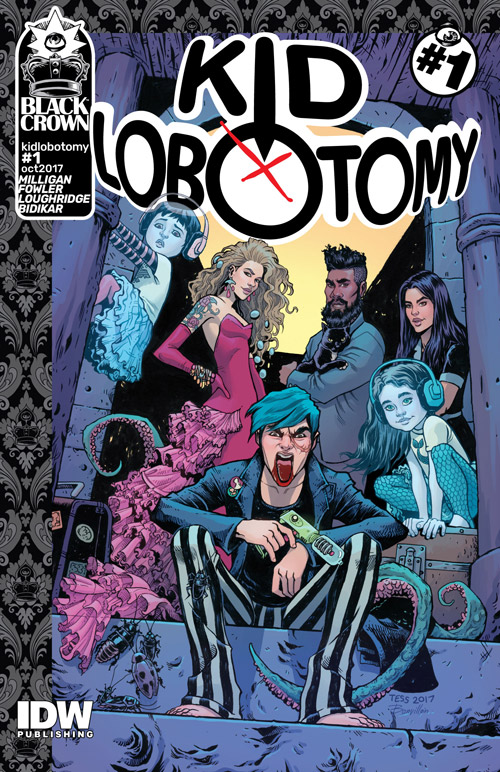 KID LOBOTOMY #1 CVR A FOWLER (MR)
(AUG170373)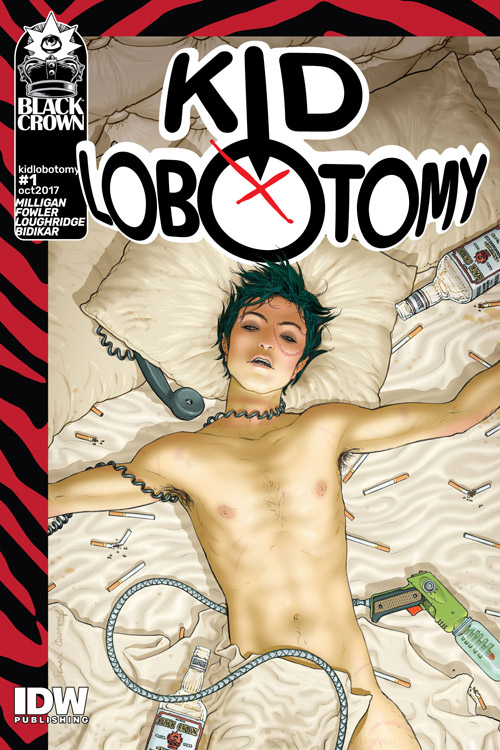 KID LOBOTOMY #1 CVR B QUITELY (MR)
(AUG170374)
Kafka meets King Lear by way of Young Frankenstein in KID LOBOTOMY, a dark, demented, monthly satire that follows a dysfunctional family of hoteliers. Will sibling rivalry, seduction, and shapeshifting eventually lead to sanity or salvation?
Big Daddy is a rich hotelier who, in a cracked echo of King Lear, appoints his youngest descendant to manage The Suites, a peculiar hotel located behind the Black Crown Pub. Affectionately known as Kid, his good looks and swagger can't hide a rough childhood of strange therapies and brain operations that have awakened inner demons and psychodramas. This of course makes him eminently qualified to perform lobotomies. A failed rockstar/successful madman gets one last change to prove his worth-and regain his sanity-by turning the hotel that was once his childhood sanctuary into a lucrative business, despite a host of obstacles-including his own sister-who would love nothing more than to see him fail miserably.
Kid Lobotomy is co-created/written by Peter Milligan (Shade, the Changing Man, Brittania, Hellblazer) and illustrated by Tess Fowler (Rat Queens) with "A" covers by Fowler, a "B" cover by Rory Phillips, and a retailer incentive cover by comics superstar Frank Quitely (Jupiter's Legacy, We3)

• Grab your cockroach! Black Crown debuts here!
• Special 23 pages of story in the first issue!
• Letter columns, creator interviews, process pages & more!
• Previews for upcoming Black Crown series!
---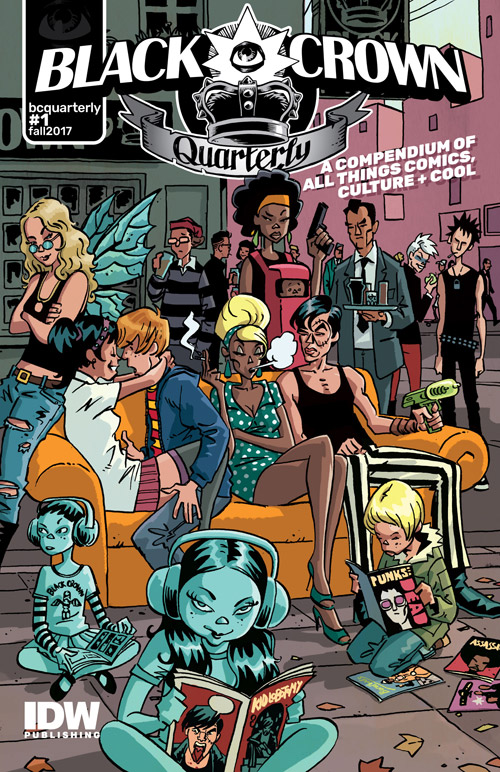 BLACK CROWN QUARTERLY #1 FALL 2017
(AUG170376)
Everything you always wanted once a season is packed within these 48 pages including a two-sided pullout poster and a wraparound cover! Delight in regular continuing features like legit publications with literary pedigrees! It all begins with the 10-page regular lead feature, Tales From the Black Crown Pub starring Stacey the barmaid by Award-winner Rob Davis (The Motherless Oven). Recurring short features include Canonball Comics: an exquisite corpse that will not stay dead kicked off by Jamie Coe (Artschooled) and Swell Maps by respectably divine music journalist/novelist Cathi Unsworth. Plus: Space CUDets rejoice: Live from a posh retirement village for wannabee 4-hit wonders we have co-writers/bandmates Will Potter and Carl Puttnam and occasional artist Philip Bond. Plus Plus: Special previews, creator interviews and behind the panel border secrets from Kid Lobotomy, Assassinistas, Punks Not Dead and much, much more!

• Featuring a pull-out poster! One side is a street map, the other is Frank Quitely's Kid Lobotomy #1 variant cover!
• Plus, a wraparound cover by Rob Davis!
---
Titles Coming Soon!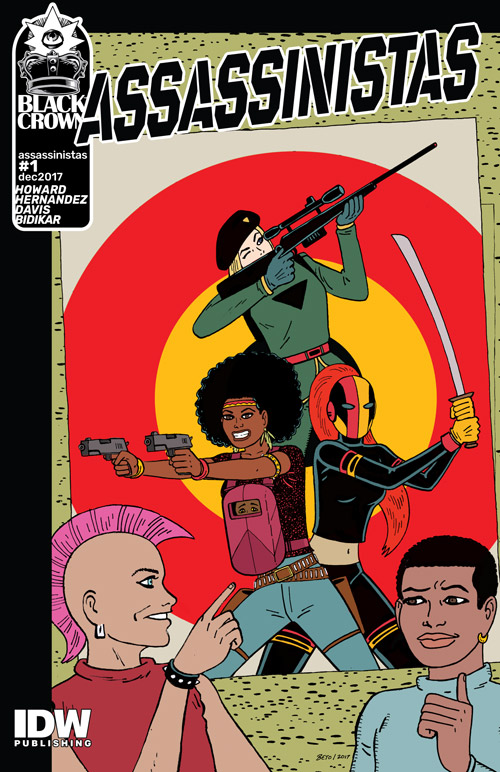 Come December, writer Tini Howard (The Skeptics) and Gilbert Hernandez (Love and Rockets) will combine their talents on a 6-issue miniseries with more attitude than you can shake a sword or a game controller at in ASSASSINISTAS. Octavia is an ex-hitwoman who comes out of retirement to pay for her son's college tuition — and, with any luck, rescue the kidnapped child of one of her former bounty-hunting partners. Octavia recruits her reluctant son Dominic and his boyfriend Taylor to become the next generation of ASSASSINISTAS.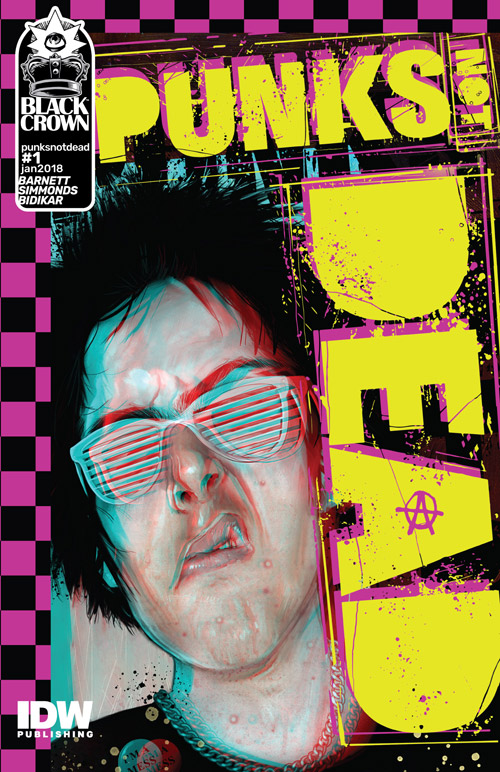 Then in January, the British invasion is back in full force with PUNKS NOT DEAD, co-created by novelist David Barnett (Calling Major Tom, Gideon Smith series) and artist Martin Simmonds (Death Sentence). Fergie is a lonely, bullied teenager raised by a single mom who unexpectedly finds himself in search of the dad he never knew. But Fergie won't be traveling alone. For some reason a strange branch of MI5 is hot on Fergie's trail. Could it be the ghost of Sex Pistol Sid Vicious who becomes Fergie's ethereal companion and unlikely father figure? Bound to Fergie for reasons unknown, is Sid in search of redemption himself or out to prove that punk is alive and well 40 years later?
---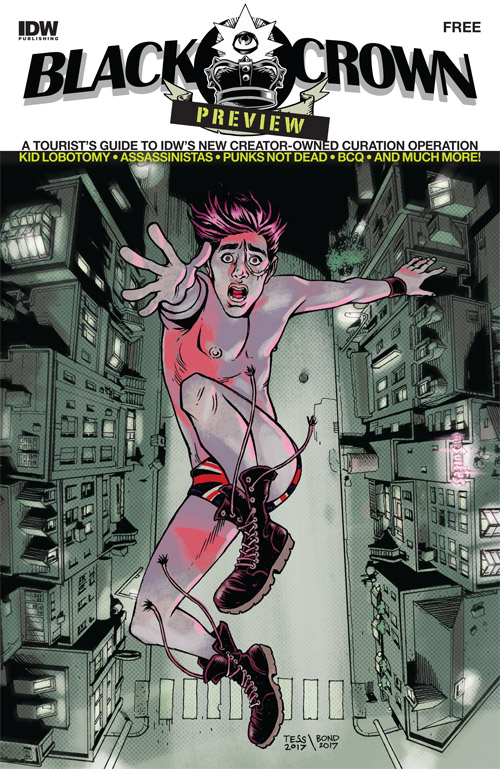 To see even more new series and a peek behind the scenes, click here to read the complete Black Crown Preview!