The Horror! The Horror!: Redneck, Puppet Master, & The Thing
Aug 10, 2017
Finally! An ongoing monthly article that makes you face the monsters in the closet. You can run, but you can't hide from our selected ghoulish items in PREVIEWS that will make you flee and scream bloody murder. Horror fiends: let the madness begin! This is the run-down on what ghastly items can be found in this month's PREVIEWS catalog, and if you can't take the chills, TOO BAD! This is where the children of the night gather, and howl at the moon without apology.
DC House of Horror #1

Superheroes are just as susceptible at being sucked into sorrow as sorority sisters in a slasher flick. Everything should work out at the end because they stand for truth and justice for all, right? Wrong! Do not pass go. Do not catch the bride's bouquet. If you happen to be any of the DC heroes in particular, you're about to eat a maggot sandwich in the pages of DC House of Horror #1 (AUG170272), written and drawn by various writers and artists that include such luminaries as Keith Giffen, Rags Morales, and Michael William Kaluta. This creepy one-shot set in the DC Universe comes just in time for Halloween, and it features everything from Martha Kent to a murderous Amazon warrior. How's that for stirring up a rat salad? Look for this book from DC Comics in August edition of the PREVIEWS catalog!
Redneck Volume 1: Deep In The Heart TP

Who doesn't love puns? How can you not want to give a second look to a vampire book that's title is the holy grail for every bloodsucker that ever hid from sunlight? Writer Donny Cates goes for the throat in the new horror book Redneck Volume 1: Deep In The Heart TP (AUG170579), which collects issues #1-6 of his Image Comics series. Along with artists Lisandro Estherren and Dee Cunniffe, Cates has crafted a comic that centers on a cadre of redneck vampires deeply invested in a family business that many southerners find appealing. They run the local barbecue joint in their small town, and they pretty much try to keep to themselves; however, some good ol' boys get uppity, and decide that a family of blood drinkers shouldn't be allowed to live in isolation. Ah, but how a burst of alcohol-induced confidence can leave you hanging when the man you're fighting can change into a monster, and mangle you into an unrecognizable pulp within a heartbeat. Check it out in the August PREVIEWS catalog!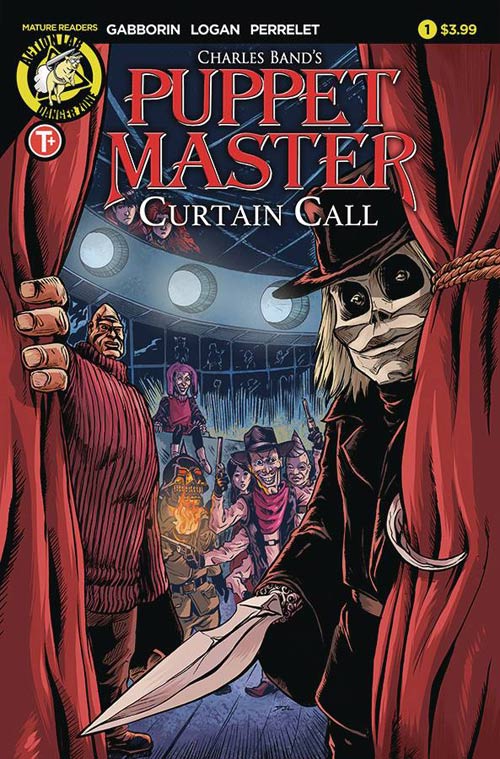 Puppet Master: Curtain Call #1

Writer Shawn Gabborin and artist Daniel Jay Logan have emerged from the shadows to continue a macabre legacy that started long ago by a filmmaker named Charles Band. Way back when Charles was making movies, he created this pocket universe of pain where little dolls took great pleasure in mutilating unsuspecting men and women. It was a jolly good time had by all, and before movie-goers knew it a string of movies ensued, which eventualy made their way to a wonderful invention we once knew as videotape. Now, for a new generation of readers, those dangerous dolls are back in Puppet Master: Curtain Call (AUG171102) from Action Lab Entertainment, and readers are treated to the final chapter of Action Lab's epic Puppet Master story. Everything from the past two years comes to a head in this story, just in time for the big budget Puppet Master film set to be released in 2018! Look for this book — along with its variant cover edition — in the Comics/Graphic Novels section of the August PREVIEWS catalog!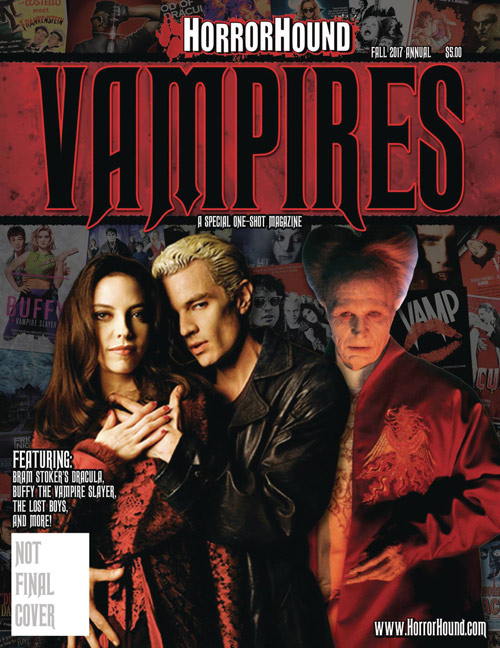 Horrorhound 2017 Fall Annual Special

Horrorhound is one of those magazines that you want to line your coffin with when it's time to lay down for that final dirt nap. Covering horror movies that range from Lucio Fulci's splattertaculars like The Gates of Hell, to TV shows like The Walking Dead, Horrorhound magazine has continually proven that it hires only the freshest corpses to write its editorials. Now, in the Horrorhound 2017 Fall Annual Special (AUG172397), you'll be delighted to know that the ghouls which work on this book of the dead have taken a hiatus from reporting on werewolves and new goo goddesses to instead fall back into the dirt-filled coffins of blood-drinkers that have entertained us since Bela Lugosi first raised his cape in black-and-white shock cinema. In this issue, it is vampires that take center stage, and features range from a peek into the new Lost Boys book Lost in the Shadows to a Buffy the Vampire Slayer collectibles buyer's guide. You won't want to miss this collector's edition that is buried within the Magazines section of the August PREVIEWS catalog!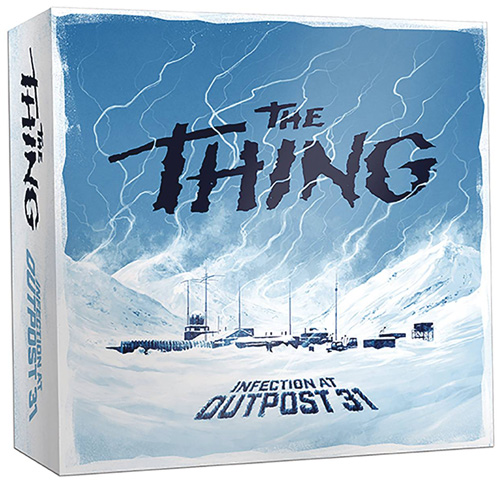 The Thing: Infection At Outpost 31

For many horror fiends that are schooled in gore and guts that spilled from chest cavities in buckets during the 80s videotape revolution, few movies can hold a candle to that John Carpenter flick that made many a movie fan constantly look over their shoulder while helpless humans screamed in agony during The Thing. That movie not only scared a lot of people, it scarred a lot of people as well. Gore and guts took on a whole new meaning as hands were devoured by hungry torsos and screaming heads emerged from eviscerated corpses. It is ia high bar to jump if one wants to exceed the gore factor in The Thing, so imagine what horrors lie ahead for you in The Thing: Infection at Outpost 31 Board Game (AUG173214)! The tension mounts and paranoia is fever-pitched as you question who you can trust in this ultimate race to save humanity. Look for it in the Games section of the August PREVIEWS catalog!
Hope you liked this month's line-up of creepy crawly things. See you here next month for another installment of PREVIEWS' ongoing editorial, The Horror! The Horror!