Suit Up: Five Faces of Wonder Woman
Jun 16, 2017
It is undoubtedly the biggest blockbuster that we've seen from a DC Comics character movie since The Dark Knight. Get ready to start a new shrine, comic fans, because Wonder Woman is all the rage! Check out these items and more Wonder Woman-themed collectiles that are spread throughout the June PREVIEWS comic shop catalog!
Wonder Woman: Warbringer Novel HC
Before you can pontificate about the perils of everyone's favorite princess, it's best to do your homework and see what contemporary scribblings are being circulated. Writer Leigh Bardugo, for example, claims to know things that you don't. She gives us a birds-eye view of Diana's psychlogy, and how she wrestles with her own conscience as she attempts to to prove herself to her legendary warrior sisters. There are big shoes to fill, as the Amazons are all warriors, and to walk among the sisters as an equal means that you have to give 100% every time, no matter how taxing it is to your torso. The question, though, is despite Diana's physical training, will her instincts be up to par with the title she wishes to claim? To be more specific, how will she deal with the girl Alia, who is a Warbringer — a direct descendant of the infamous Helen of Troy, fated to bring about an age of bloodshed and misery? Find out how Diana steps up to the challenge in the novel Wonder Woman: Warbringer HC (JUN172273), which you'll find in the Books section of the June PREVIEWS catalog!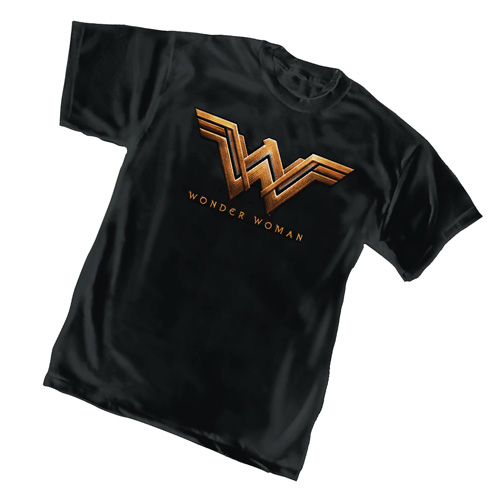 Wonder Woman T-Shirt
To be a true warrior, you have to look like one. Your opponent is not going to take you seriously if you square off to rumble wearing attire that has grass or food stains. And how in the world do you expect a seat at the table when the Justice League convenes if you're clad in some faded rag? Clothes make the man. Same goes for a woman. Dress right, and half the battle is over. Confidence is assured. Your presentation is powerful. So project your intensity, and show that you're ready to raise your bracelets and deflect oncoming bullets from fascist fighters by assuming the mantle of Princess Diana with this black Wonder Woman T-Shirt (JUN172438). Available in sizes ranging from Small to XXL, this T-shirt offers the Wonder Woman movie logo as the shirt's front image. Look for it in the Graphittii Designs section of the June PREVIEWS comic shop catalog!
Justice League Movie Wonder Woman Vinimate
The ball started rolling when Man of Steel first hit the movie theaters, with Henry Cavill taking up the mantle of Superman for moviegoers. Then Ben Affleck joined the rank of costumed crusaders when he made his first appearance as the Dark Knight in the movie Batman Vs. Superman: Dawn of Justice. It was in this movie that we got our first taste of Israeli actress Gal Gadot assuming the role of the Amazon princess. A thunderous soundtrack announced the unveiling of Gadot as Wonder Woman, and one of the prevailing questions after the final credits rolled across the screen was simple and short: what more did we need to see to know that the Trinity had finally been shown? The circle was complete: the "Big Three" were now assembled, and it was on to the long-awaited Justice League movie! Thus, this Justice League Movie Wonder Woman Vinimate (JUN172643) is a toy collectible we encourage you to pick up, and pose with for a selfie. Then, email that picture to Warner Bros. to show them that you are more than happy that the new Wonder Woman is here! Look for this collectible in the Diamond Select Toys section of PREVIEWS!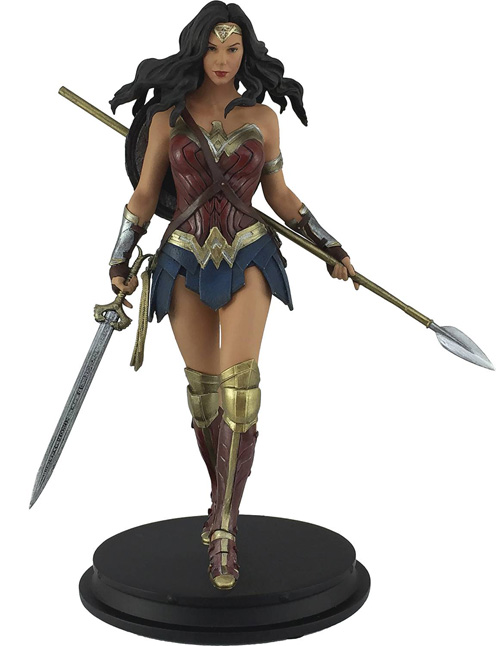 Wonder Woman Movie PX Statue
When was the last time you saw little girls dressed as a female superhero, arms on their hips, and looking up at a movie poster? Their eyes big as dining room plates. Their lips pressed tight. You can see the inspiration in their face. You can see them wanting to be like the idol they see dressed in red, white, and blue. That singular effect in pride for a female fighter that defends the world from tyranny was seen across the globe when Wonder Woman rolled out in movie theaters nationwide. We knew what the shockwave would fee like, and that's why we went the extra mile to serve up the Wonder Woman Movie: Wonder Woman Statue (JUN172823) for fans and collectors near and far. This statue captures the an incredible likeness of actress Gal Gadot as the Amazon warrior. The statue is made of high quality polyresin, and is hand-painted and individually numbered. It's also shipped with a Certificate of Authenticity. Look for it in the Toys/Statues/Models section of the June PREVIEWS comic shop catalog!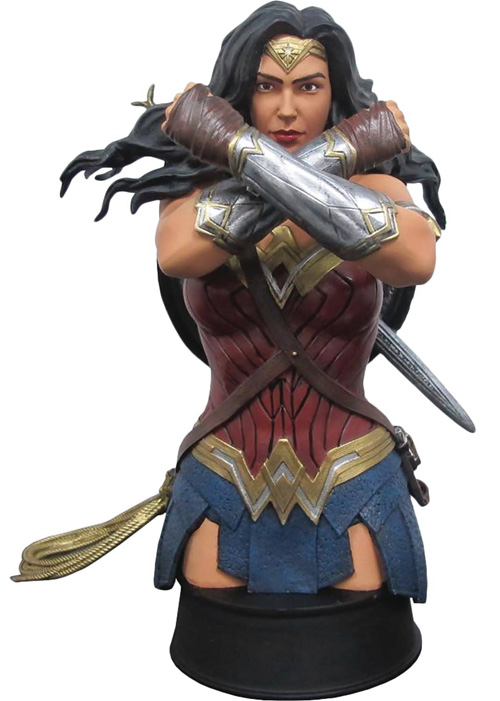 Wonder Woman Movie: Wonder Woman Bust
A PREVIEWS Exclusive! That's right. We've been bittin by the Wonder Woman bug, and we're not denying it. We are totally enthralled by actress Gal Gadot as the new face for DC Comics' female fighter that finishes a job while others are still talking about it. We saw the incredible sculpt, and just had to tout it as loud as we could this month, as it perfectly coincides with Wonder Woman in movie theaters worldwide. The Wonder Woman Movie: Wonder Woman Bust (JUN172824) stands approximately 7" tall, and is hand-painted, individually numbered, and includes a Certificate of Authenticity. It will be the pride of any showcase or bookshelf as the Amazon Princess is shown raising her bracelets, which touches on the key scene in the film when Wonder Woman leaves the safety of the trenches to battle the Nazis head-on, armed only with her bracelets and shield. This commemorative collectible can be found in the Toys/Statues/Models section of the June PREVIEWS comic shop catalog!