PREVIEWS Exclusive Aliens APC and Xenomorphs Coming From Hiya Toys
Mar 09, 2017
Hiya Toys showed prototypes of their upcoming PREVIEWS Exclusive Aliens figures and Armored Personnel Carrier at Toy Fair 2017 and now you can preorder the APC and two of the figures from the March PREVIEWS!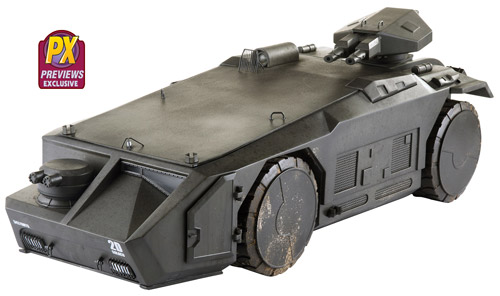 ALIENS CM ARMORED PERSONNEL CARRIER PX 1/18 SCALE VEHICLE
Item Code: MAR173065
SRP: $249.00
HiyaToys brings fans of James Cameron's Aliens a stunning recreation of the M577 Armored Personnel Carrier utilized by the Colonial Marines in the 21st Century Fox movie. The APC is part of the 1:18-scale Exquisite Mini series and is developed by the top design team at HiyaToys.

The APC was taken by the Colonial Marines into the colony of Hadley's Hope after its release from the Sulaco dropship, and after the shocking encounter with the Xenomorphs inside the compound, the APC became a safe retreat zone for the decimated Colonial Marines. HiyaToys focuses on details in design and fabrication which reflects scenes in the movie.

Made of PVC and ABS with LED lights and electronic components, the APC can be opened in multiple locations, can seat 10 to 12 1/18-scale figures, and comes with 1 Marine as an accessory.
Also from the popular video game Aliens: Colonial Marines comes these impressive figures of Xenomorph Crusher and Xenomorph Raven!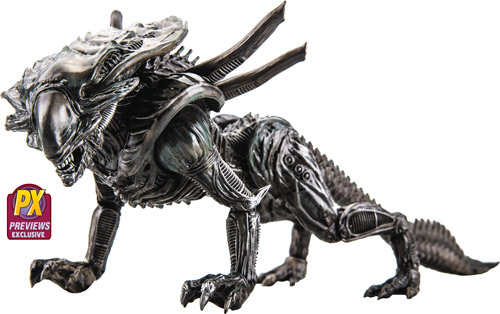 ALIENS CM XENOMORPH CRUSHER PX 1/18 SCALE FIGURE
Item Code: MAR173066
SRP: $39.99
The Crusher is typically black with a dark brown or gold tint to its body and its head is topped with a thick, bony crest, larger even than on some Queens, that it lowers into a vertical position before charging its target like a bull. This fully articulated Crusher figure measures about 12" long and 5" high and comes with an extendable tounge and exchangeable hands, as well as a stand to display the Crusher in your collection.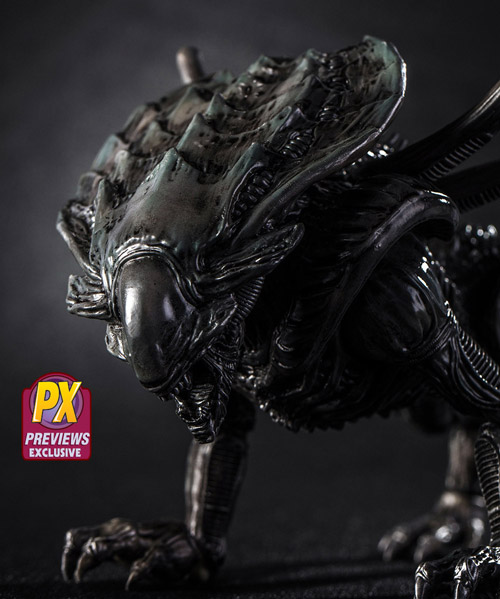 ---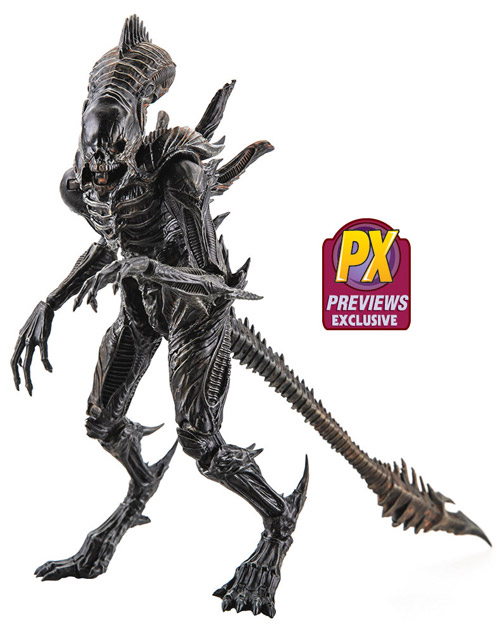 ALIENS CM XENOMORPH RAVEN PX 1/18 SCALE FIGURE
Item Code: MAR173067
SRP: $39.99
The Raven resembles an ordinary bipedal Xenomorph, but larger, almost entirely encased in a bullet-proof, chitin carapace, and only walks with its large hind legs like a Queen. Its tail has a distinct ridge of spines at the base of its harpoon-like blade. This fully articulated Raven figure measures about 9" tall with a 6" tail and comes with an extendable tounge and exchangeable hands, as well as a stand to display the Raven in your collection.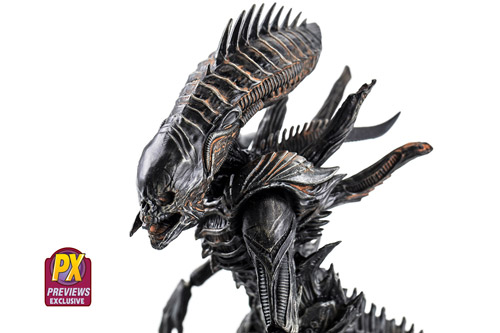 Make sure to preorder these PREVIEWS Exclusives now at your local comic shop!