Vault Comics To Publish Alien Bounty Hunter, From Producers Mark Wahlberg And Stephen Levinson
Mar 03, 2017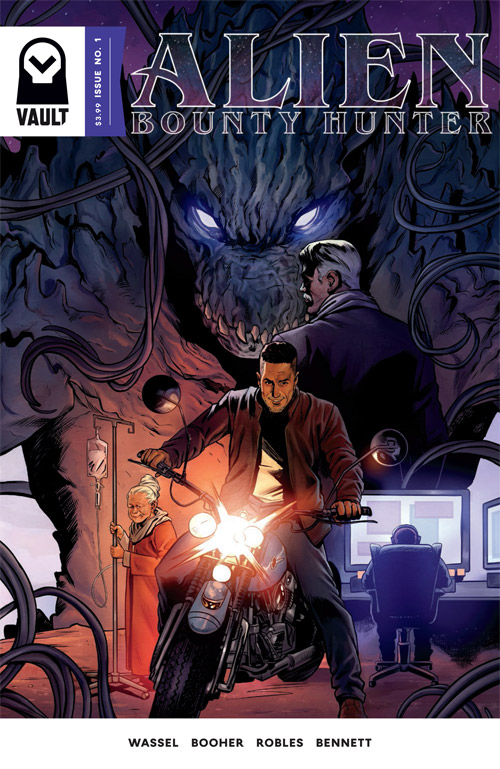 Vault Comics will publish the new comic series, ALIEN BOUNTY HUNTER, produced by Wahlberg and Levinson, and created by Stephen Levinson. ALIEN BOUNTY HUNTER will debut with a show-exclusive cover at Comic Con International in July 2017, followed by a monthly series to be available through Diamond Comics Distributors' PREVIEWS Catalog.
In ALIEN BOUNTY HUNTER, Ben Madsen is tasked with apprehending a wanted fugitive...but quickly learns that his target is not of this world. Madsen must track his mark through an alien enclave populated by the galaxy's most dangerous aliens—right here on Earth.
"Some of today's greatest film franchises originated as comics. We always try to get involved with the story telling process from its inception," says both Wahlberg and Levinson. "With ALIEN BOUNTY HUNTER we are creating a new hero's origin story."
With ALIEN BOUNTY HUNTER, Wahlberg and longtime producing partner Stephen Levinson —known for BOARDWALK EMPIRE, BALLERS, and most recently SHOOTER—will expand into science fiction. They hope to translate the property to a wide range of media. Leverage Executive, Spencer Strasmore, oversees development of the project.
"We are constantly looking for new and different business opportunities. F.J. and the Vault team have been great partners and are showing us the way," says Wahlberg and Levinson.
On the comic end, award-winning writer Adrian F. Wassel (THE GIFTED from CME) and David M. Booher (POWERLESS from Vault) have penned scripts from a story by Levinson and F.J. DeSanto (FAILSAFE from Vault, CYBORG 009 from Archaia). Nick Robles (MAZE RUNNER and CLOCKWORK ANGELS, both from BOOM!) will provide art, with letters by Deron Bennet (Eisner-nominee for TALES OF SAND, from Archaia).
"I'm thrilled to collaborate with Mark and Lev on this project," says Vault Publisher Damian Wassel. "With their guidance, the creative team has produced a potential flagship comic for the Vault brand."
"We're wearing our hearts on our sleeves with ALIEN BOUNTY HUNTER" says Adrian Wassel, co-writer and Editor-in-Chief, Vault Comics. "I mean, look at the title. All at once, we've crafted an homage and a send-up of every adventure flick and action hero we've ever loved."
"The true heart of ALIEN BOUNTY HUNTER - and what's made it so much fun to write - is that it's much, much smarter than it lets on" says co-writer David Booher. "Early on we leaned into the theme of 'Things are never what they seem.' You'll see it pop everywhere, from the unexpected depth in Madsen's character to the even more unexpected alien we've created. We want readers to be in constant surprise in the best way possible."
Artist Nick Robles adds, "ABH is an artist's dream job! David and Adrian's exciting scripts truly draw the reader in. I urge everyone to join us for this adventure."
Look for more information on the debut of ALIEN BOUNTY HUNTER in finer comic shops everywhere in the coming months, with the series making its debut at Comic Con International later this year.

Click on preview pages below to get a closer look!