Product Changes (02/14)
Feb 14, 2017
PREMIERS

DC ENTERTAINMENT

• Batgirl and the Birds of Prey Vol. 1: Who is Oracle? TP (JAN170377, $16.99) has been increased to 176 pages.

• Justice League of America #2 Variant Edition (JAN170290, $2.99) now features a cover by Doug Mahnke.

• Scooby Apocalypse #11 (JAN170343 / JAN170344, $3.99) now features art by Dale Eaglesham.

• Suicide Squad #13 Variant Edition (JAN170300, $2.99) now features a cover by Whilce Portacio.


IMAGE COMICS

• East of West: The Apocalypse Year Two HC (JAN170824, $49.99) will now run 424 pages, not 504 pages, with no change in price.


MARVEL COMICS

• Man-Thing #1 Bisley Variant (JAN170933, $3.99) will now have cover art byFrancesco Francavilla. The art is shown here.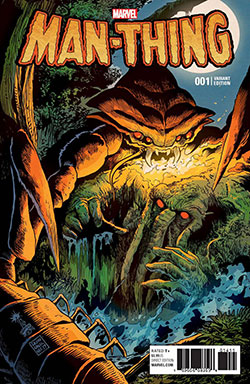 • Captain America: Steve Rogers #14 (JAN170969, $3.99) will now have interior art by Jesus Saiz, instead of Javier Pina.

• Iron Fist #1 Hip Hop Variant (JAN170955, $3.99) will now have cover art byKaare Andrews.

• Uncanny Inhumans #20 IVX (JAN170925 / JAN170926, $4.99 ea.) will now have interior art by Ario Anindito and Lee Garbett, instead of Aaron Kim Jacinto.

• The Unbeatable Squirrel Girl TP Vol. 5: Like I'm the Only Squirrel in the World (DEC161097, $15.99) will now be 128 pages, instead of 112.


COMICS

• The subtitle of Titan Comics' Assassin's Creed Templars TP Vol. 2 (OCT161799, $16.99) has changed from Iron Cross to Cross of War.

• Titan Comics' has cancelled Supermansion(#1 Cvrs. A-F: JAN171987 / JAN171988 / JAN171989 / JAN171990 / JAN171991 / JAN171992, $3.99 ea.; #2 Cvrs. A-D: FEB171912 / FEB171913 / FEB171914 / FEB171915, $3.99 ea.). It will be resolicited in the future.