Product Changes (01/17)
Jan 17, 2017
FREE COMIC BOOK DAY

• Archie Comics' Free Comic Book Day 2017 Title has changed from Sonic: Genesis of a Hero to Riverdale. Credits and a description for the new book follow:
(W) Roberto Aguirre-Sacasa, Brian E. Paterson, James DeWille (A) Art: Elliot Fernandez, Thomas Pitilli, Thomas Chu, Janice Chiang (CA) Francesco Francavilla
Learrn the secrets and hidden tales from the summer before the eternal love-triangle begins in this special issue. Featuring two short stories focusing on the major players and events in the Riverdale series: Spend some time at Archie's summer construction job and learn how it leads him to a fateful encounter with the alluring music teacher, Ms. Grundy. Find out more about Veronica's mysterious life in New York, before the shocking event that would send her family scrambling. You dare not miss this special FCBD version of the commemorative one-shot issue that serves as a prelude to the CW Riverdale TV series!

• Image Comics' FCBD 2017 Kid Savage will now run 40 pages and measure 6" x9", with no change in price.


PREMIERS

DARK HORSE COMICS

• Please note that all issues of Neil Gaiman's American Gods: Shadows (#1 Reg./Vars.: JAN170096 / JAN170097 / JAN170098, $3.99 ea.; #2 – To be solicited in the February PREVIEWS) and the Promo Ashcan (DEC158906) now carry a Mature Readers (MR) designation. Additionally, Scott Hampton will join P. Craig Russell as an artist on the series.


DC ENTERTAINMENT

• Scooby Apocalypse #10 (DEC160361 / DEC160362, $3.99 ea.) now features art by Chris Batista, Rob Hunter and Howard Porter. In this issue, meet Velma, Warrior Queen of Monsterworld! In the midst of a fever dream, the mild-mannered Velma Dinkley visits an alternate reality where friends become enemies and horrifying monsters are now her loyal subjects. Will Scooby and the gang survive her tyrannical rule? The issue's new cover is shown here.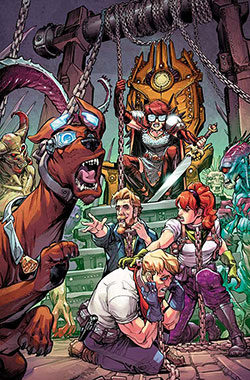 • Suicide Squad #11 (DEC160309 / DEC160310, $2.99 ea.) now features art and cover by John Romita Jr. & Richard Friend as well as art by Eddy Barrows and Eber Ferreira. Plus, the Standard Edition cover (DEC160309, $2.99) is now by John Romita Jr. & Danny Miki. The issue's new cover is shown here.

• Wacky Raceland TP (DEC160396, $16.99) has been increased to 168 pages.


IMAGE COMICS

• The Walking Dead #163 (Cvrs. A-C: DEC160627 / NOV168933 / NOV168934) will now run 40 pages, not 32 pages, with no change in price.


MARVEL COMICS

• The Gwenster Unleashed: Gwengam by Duarte Poster (DEC161119, $8.99) has been retitledGwenster Unleashed: Googwen by Duarte Poster.

• Karnak TP Vol. 1: The Flaw in All Things (JUN160964, $17.99) will no longer carry a volume designation.