John Romita Jr. Joins Suicide Squad Creative Team With Issue #11
Jan 11, 2017
Task Force X's battle against the Justice League is almost over -- but the excitement continues in the pages of SUICIDE SQUAD as superstar artist John Romita Jr. jumps on board as the series' new illustrator with issue #11!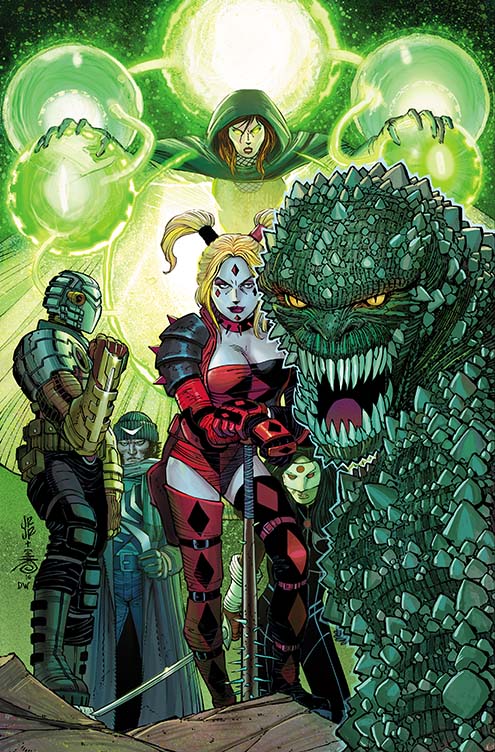 Cover to SUICIDE SQUAD #11 by John Romita Jr. and Danny Miki
Romita is joined by inker Richard Friend as well as the art team of Eddy Barrows and Eber Ferreira, who will contribute their own pages to each issue. Each issue of this five-issue run will feature 12 pages illustrated by Romita and Friend and eight pages illustrated by Barrows and Ferreira.

The new epic "Burning Down the House" begins in SUICIDE SQUAD #11, which spins directly out of JUSTICE LEAGUE VS. SUICIDE SQUAD! Hidden somewhere deep within, the world is a burning flame. Its light is blinding. Its heat is deadly. It's a fire fueled by hatred, by rage and by vengeance. Used, abused and left for dead, the greatest foe the Suicide Squad has ever faced returns, more powerful than ever, to burn down the world Amanda Waller has given everything to protect.

SUICIDE SQUAD #11 (DEC160309) is written by Rob Williams, with art by John Romita Jr., Richard Friend, Eddy Barrows and Eber Ferreira, and a cover by Romita and Danny Miki.

This issue is on Final Order Cutoff on January 16 with an on-sale date of February 8.