Jim Henson A Hero In Brad Meltzer's Kids Series
Jan 05, 2017
by Vince Brusio
Heroes like us are attractive to impressionable youth. It lets them see that dreams can become reality. It lets them know that great things are within arm's reach, and can happen in their lifetime. To give hope and real-world anecdotes to kids so that they can see that wide range of possibilities in life, Brad Meltzer started a line of kids books, and his latest effort focuses on the man who gave us the Muppets. I Am Jim Henson (NOV162128) lets young readers see the magic behind the man that gave us Kermit the Frog and other memorable characters, and in this PREVIEWSworld Exclusive interview Brad affirms that these books mean a lot to him because they're meant to teach kids how to be real, how to be good, and how to be...human.
I Am Jim Henson (NOV162128) is in comic shops January 11.
**********
Vince Brusio: For those who may not be familiar with your line of "I Am…." children's books, what can you say about the focus and direction for these books? Why does a New York Times bestselling novelist, TV host, and comic book writer undertake writing children's books?
Brad Meltzer: This series was born because I love comics. And I was tired of my daughter thinking that reality TV stars and loud-mouthed sports players were heroes. I tell my kids all the time: That's fame. Fame is different than being a hero. I wanted my kids to see real heroes…and real people no different than themselves. For that reason, each book tells the story of the hero when THEY were a kid. We see them as children. So it's not just Amelia Earhart and Abraham Lincoln being famous — it's them being just like us. The goal is to inspire kids using the comic medium I love best.
Vince Brusio: The man behind the Muppets is the subject of your new book, and is appropriately titled I Am Jim Henson. What's your earliest memory of Mr. Henson's talent? Was it Sesame Street? How did his work affect you in your youth as opposed to today, as you now have children of your own?
Brad Meltzer: I grew up on Sesame Street. And since I lived in Brooklyn, Sesame Street looked like my actual street. I thought it was around the corner from me, somewhere. But what I remember first, more than anything, was Ernie. Ernie was my guy. When my mom used to laugh, she sounded like Ernie. So that Mom/Ernie connection just brought happiness to me. As I got older, of course, it shifted to the Muppets. I remember watching The Muppet Show, just DYING to know who the guest star would be. Dying when we saw that episode with Star Wars characters on there. And wondering, until recently, just how they got Kermit to ride a bike AND talk in The Muppet Movie. And let's not even get into Yoda.
Vince Brusio: Give us an overview of I Am Jim Henson. How does this book relate to young readers the legacy of a man whose life ended too soon?
Brad Meltzer: Of all the hero books we've done, this is the very first where the person was truly MY hero growing up. For me, it was always Jim Henson and Mr. Rogers. Those were the ones who changed my life. They taught me there's good in all of us.
Sure, we're all different. Some of us have beards, or no hair, or blue fur, or green flippers. But goodness lives within each of us. And best of all, you can use your creativity to share it with others.
Vince Brusio: What kind of communication did you and Chris Eliopoulos have about the visuals chosen for this book? What optics were important to you, and how did Chris oblige your vision?
Brad Meltzer: Chris is as big of a Muppet nerd as I am. So for each spread, we needed everything just right. For the final pages, I wanted EVERYONE: I wanted Kermit, Piggy, Fozzie, Gonzo, Sam the Eagle, Dr. Teeth. I wanted Ernie, Bert, Grover, Big Bird, Oscar, Cookie Monster. I wanted Fraggle Rock. I wanted Doozers. I wanted Dark Crystal. I wanted Emmet Otter's Jug Band. I wanted everyone. It is the nerdiest and best page we've ever done. And most of all, throughout the book, we wanted to show how it's done. You see the puppeteers. To me, that was the most magical part. That this wasn't fantasy. There were people making it happen.
Vince Brusio: If you could summarize what you want this book to do for kids reading it, what would you say? What mark would you like to leave on the minds of impressionable youth that may not know about Jim Henson's talents?
Brad Meltzer: Let me steal right from the final page of the book: It starts when we're kids. That's when we learn some of the best things in life. Laughing. Sharing. Imagining. Dreaming. Creating. We should never stop doing them. And never stop being kind. There's nothing wrong with being a do-gooder. And if we do nothing else, I want kids to learn that. It's the best lesson I learned from comics. Never stop being a do-gooder.
Click on the images below to see them at full size!
**********
I Am Jim Henson (NOV162128) is available to pre-order from the PREVIEWS catalog, which you can pick up at a local comic shop near you.
See Brad talk more about his line of "I Am..." kids books on the set of CBS This Morning!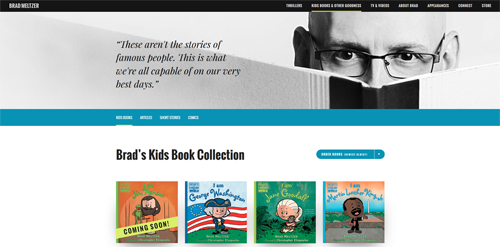 See more of Brad's kids books on his web site here.
**********
Vince Brusio writes about comics, and writes comics. He is the long-serving Editor of PREVIEWSworld.com, the creator of PUSSYCATS, and encourages everyone to keep the faith...and keep reading comics.