Titan Launches Hard Case Crime Comics
Aug 04, 2016
Hard Case Crime is the leading light in hardboiled crime novels, publishing the giants of the genre like Stephen King, Michael Crichton, Ken Bruen and Max Allen Collins, whose best-selling Quarry series is destined for TV in the highly-anticipated adaptation for Cinemax.
This October, Titan Comics will present the publication of a daring all-new Hard Case Crime comics line! The first shots fired will be punky neo-noir Peepland #1 (AUG161947) from celebrated crime authors Christa Faust & Gary Phillips, and Prohibition epic Triggerman #1 (AUG161952) by legendary director of The Warriors, Walter Hill!
Who better to introduce this explosive new initiative than the guy you want in your corner when the rain is pouring down and all the chips are stacked against you: New York native, award-winning writer, editor, television producer, and founder of Hard Case Crime, Charles Ardai!
**********
Titan: What is Hard Case Crime?
Charles Ardai: Hard Case Crime is a line of tough, sexy, ingenious crime novels written by some of the finest plotspinners ever to pick up a pen or pound an Underwood.
They grab you by the lapels on page one and drag you bodily through the story until they leave you breathless on the last page. And since 2004 we've done this with nothing but words on the page. Just wait till we add pictures.
Titan: You've certainly attracted some of the greatest writers in the world. Who have you worked with and what do you think draws them to you?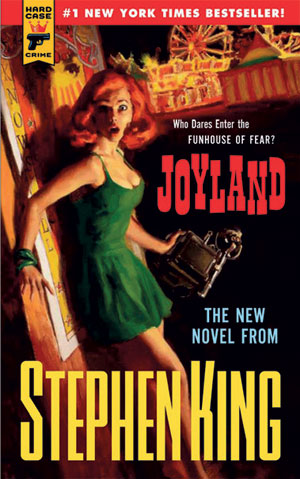 Charles Ardai: Absolutely: Stephen King, Michael Crichton, Mickey Spillane, Ed McBain, Donald E. Westlake, Harlan Ellison…it's a Who's Who of the best of the best. They work with us because they love what we do. They love the stories we tell and they love how we tell them, with gorgeous painted covers and the old-fashioned look and feel. They want to see their words between our covers. And we're happy to oblige.
Titan: The new Hard Case Crime comics line kicks off with Peepland and Triggerman. Tell us about them and the creators behind them.
Charles Ardai: Peepland is about sex, murder and cover-ups in 1980s Times Square – back when it was still a porn bazaar, before Disney cleaned the place up. I hung out in Times Square in those days, and the script by Christa Faust and Gary Phillips brings it to life so vividly you can almost smell the stink of it.

Triggerman is set in a different time and place – it's a Prohibition-era story about a gunman tracking down some robbers who double crossed the Mob and took his girlfriend from him for good measure – but it comes from legendary director Walter Hill (The Warriors, 48 Hrs.) and, like Peepland, it's one mean, brutal piece of crime fiction.
Titan: What makes them the perfect people to tell these stories?
Charles Ardai: No one writes a script like Walter Hill. For those of us who've been waiting fifteen years for a new Walter Hill crime movie, Triggerman scratches a mighty big itch.
And Christa? She used to be a Times Square peepshow girl back in those days -- so she really knows what she's writing about, and you can feel on every page just how personal a story this is for her.
Titan: Why is this the right time to bring HCC to comics?
Charles Ardai: Because we've teamed up with Titan Comics, one of the most talented publishers in the business. We know crime fiction inside and out, but they're the experts at making amazing comics – and it's their relationships with the artists and others in the comics world that will make Hard Case Crime Comics explosive.
Titan: Why should readers pick up HCC comics?
Charles Ardai: Because a great crime story will knock you on your ass and take your breath away. Because these comics will be like nothing else out there. Come on, be honest – don't you sometimes want something other than another superhero story, another zombie story?
Something that could actually happen, only you hope it never happens to you? Something from the minds of masters like Max Allan Collins and Walter Hill and Christa Faust and Gary Phillips…? I know I do. If I weren't the guy publishing these, I'd be lined up at the register to buy them the day they came out. And that's the mark of a great comic.