Master The Mystical Arts With Doctor Strange Collectibles
Jul 14, 2016
Doctor Strange has a long history in the Marvel Universe and is back to the forefront with a new ongoing comic series and new film coming to theaters on November 4th!

Diamond Select Toys has dipped into their bag of magic and pulled out new collectibles of the Sorceror Supreme as he appears in the comics and upcoming movie.

Order the following Doctor Strange Figures and Minimates now at your local comic shop!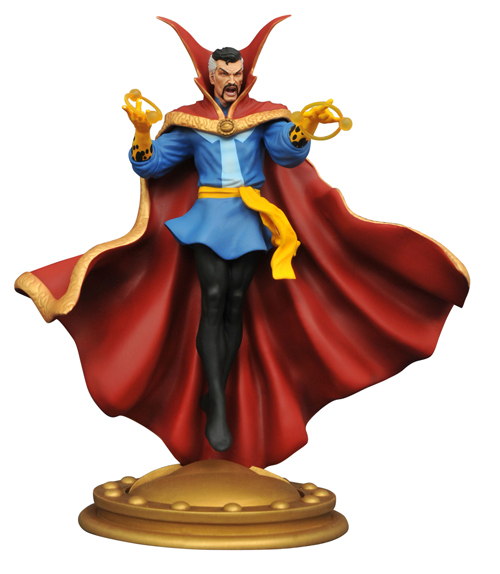 MARVEL GALLERY DR STRANGE PVC FIGURE
Item Code: JUL162621
SRP: $45.00
By the Vishanti! The Marvel Universe's Sorceror Supreme, Doctor Strange, is now the latest in DST's new line of 9-inch-scale Gallery PVC figures! Depicting the sorcerer hovering in mid-air over a giant Eye of Agamotto and casting a complex spell, this comic book-inspired figure features a detailed sculpt and collectible-quality paint applications. Figure is in scale to all Gallery and Femme Fatales PVC figures, and comes packaged in a full-color window box. Sculpted by Phil Ramirez!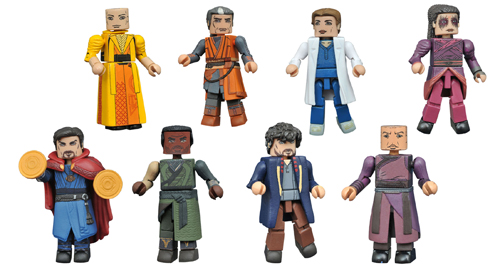 MARVEL MINIMATES SERIES 70 ASST DR STRANGE MOVIE
Item Code: JUL162622
SRP: $9.99
The next chapter of the Marvel Cinematic Universe is now the next entry in the long-running Marvel Minimates line! Series 70 of Marvel Minimates mini-figures travels to the world of the Doctor Strange movie, with four different two-packs: Dr. Strange with The Ancient One, Mordo with Kaecilius, the specialty-exclusive Stephen Strange with Christine Palmer and the specialty-exclusive Wong & Zealot! Each 2-inch Minimates mini-figure features 14 points of articulation and fully interchangeable parts. Each two-pack is packaged in a full-color window box.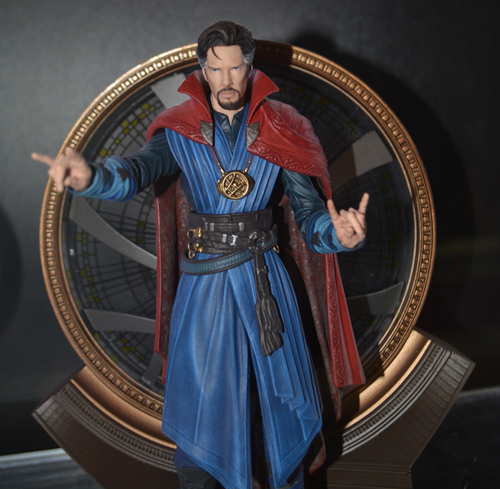 MARVEL SELECT DR STRANGE MOVIE AF
Item Code: JUN162396
SRP: $24.99
The Sorcerer Supreme and soon-to-be-cinematic superstar is the next Marvel Select masterpiece! This 7-inch action figure depicts Dr. Stephen Strange as he appears in the upcoming Marvel feature film, with a screen-accurate costume and the likeness of actor Benedict Cumberbatch. The figure features 16 points of articulation, and comes with a diorama-style base capturing an environment from the film. Packaged in the display-ready Select packaging, with spine artwork for shelf reference. Sculpted by Gentle Giant Studios!

Available now at comic shops!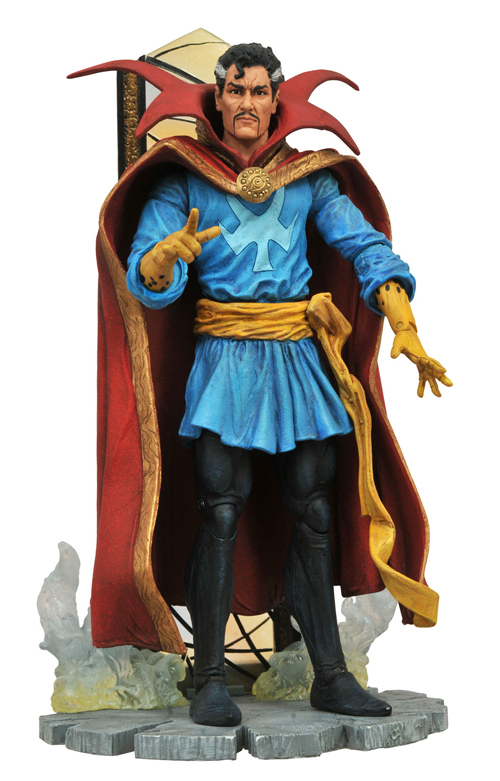 MARVEL SELECT DR STRANGE AF
Item Code: MAY152177
SRP: $24.99
By the hoary hosts of Hoggoth! Marvel's Secret Avenger, supernatural Defender, Sorcerer Supreme and soon-to-be cinematic superstar Dr. Stephen Strange is the newest comic-based action figure in the Marvel Select action figure line! Measuring approximately 7 inches tall with 16 points of articulation, Dr. Strange comes with a diorama display base depicting part of his Sanctum Sanctorum. Packaged in Select-style display packaging with spine artwork. Sculpted by Jean St. Jean!