Appetite for Destruction In Aliens: Life and Death
Sep 19, 2016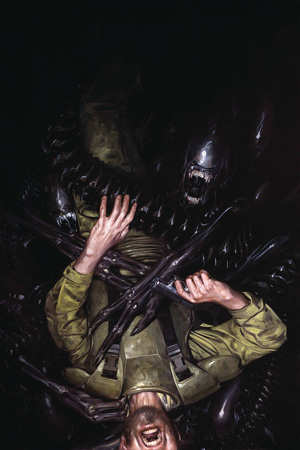 What's it like to be at the bottom of the food chain?
If you're classified as homo sapien, you're not really sure what that feels like. In short, going back as far as 200,000 years ago, we have gathered and hunted food, and evolved behaviors that help us respond to the challenges of survival in unstable environments. But do we know, collectively, what it's like to be on the run constantly when a threat chases us with open jaws? Do we really know what it's like to live in a state of panic from the moment we wake up until the moment we go to sleep? Do we know what it's like to close our eyes hoping we wake up from sleep?
Welcome to a world that writer Dan Abnett has created with the assistance of Moritt as artist. In the Dark Horse four-issue mini-series that kicks off in Aliens: Life and Death #1 (JUL160080), we will be treated to the terrors of life on LV-223. It is an existence that is inescapable for the humans who live there. Specifically, the Colonial Marines that have just finished battling the Engineers are now faced with being the main course as a gathering horde of Aliens has targeted them for breakfast, lunch, and dinner.
Any semblance of sanity, security, and hope is to be abandoned.
This is life today if you're a Colonial Marine: forget about being smart. Forget about having superior firepower.
Just run.
Run for your life.
Aliens: Life and Death #1 (JUL160080) from Dark Horse Comics is in comic shops September 21!