Indie Edge: Dave Sim Returns to Comics
Jul 05, 2016
by Andrea Purcell

If you've ever browsed through a PREVIEWS catalog, you know how packed full each issue can be. It's so packed, that you might have overlooked a choice comic tucked away on one of its many pages. There are so many sections to look through each month, it can be almost impossible to search out all of the awesome comic books that you want to pre-order at your local comic shop. The Indie Edge column is made to help by taking a look at just some (and trust us, there's a lot) of the amazing small press, alternative, and indie titles currently available in this month's catalog!
The "indie" umbrella can be wide, and these comics cover a lot of different story types and styles, but you can find just about any comic you've ever wanted and maybe a few you never knew you needed. Take a look at the books highlighted below and if anything is begging to be read, wander over to your local comic shop to pre-order these comics and anything else from this month's PREVIEWS catalog!
There's so much to choose from in July's Indie Edge column! With everything from Dave Sim's new Cerebus series, Tom Gauld's interstellar policeman, and the English translation of a critically acclaimed Portugese graphic novel, this month's PREVIEWS catalog is full of amazing books that you might have overlooked. Dive into the small press side of comics with Indie Edge!
---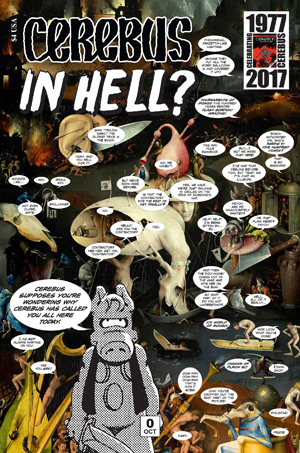 Cerebus In Hell #0
Dave Sim is a polarizing figure in comics, having helped to shape the black and white indie boom of the 1980s but also letting his highly controversial philosophies infiltrate his art. Regardless of how readers may feel about him, Sim is jumping back into comics with his first new Cerebus comic since 2004. Cerebus in Hell #0 (JUL161105) sets the barbarian aardvark right back when he ended – at his death. But what kind of afterlife is this, and why is he here? One thing is certain, Cerebus is back and this issue is only the start of a whole new chapter.
After Land Volume 1
An intriguing debut graphic novel, creator Chris Taylor spins a science fiction tale into a whole new realm with After Land Volume 1 GN (JUL161183). This soap opera style release from Alternative Comics centers on a no-nonsense detective that is a composite of two women. These two women — one with the ability to enter the ethereal world of Pure Intuition by ingesting the milk from a rare flower, the other able to glean information and sell it to the highest bidder — come together to overthrow an evil and mechanized society. A trippy and psychedelic dystopia, After Land is truly a unique look at where the boundaries of science fiction can be pushed.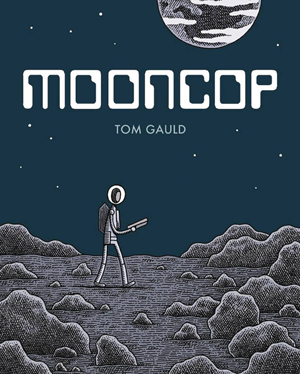 Mooncop
Award winning creator Tom Gauld returns to the graphic novel format with the adventures of the last policeman living on the moon. A plain yet poignant story about the last residents of what was once a bustling lunar colony, Mooncop (JUL161544) is a personal story of dissolution and lost. Drawn and Quarterly packages Gauld's tale as a beautiful hardcover with only the titular character on the front in a barren landscape. With that simple image, the essential truth of the story is revealed. Funny and dripping with melancholy, Mooncop is a quiet study in the future of humanity while reflecting the hopes and dreams of today.
Otherworld Barbara
Fantagraphics Books is bringing one of Japan's most surreal manga stories to American audiences with the all new translation of Moto Hagio's Otherworld Barbara (JUL161605). An exploration of the power of subconscious thought, Otherworld Barbara follows Tokio, a detective who enters the dreams of criminals to discover their true motives. His latest case is a nine year-old girl named Aoba who killed her parents, ate their hearts, and slipped into a deep coma. She also happens to contain a mysterious entity named Barbara. A story that at first seems like an incoherent jumble of science fiction, the story slowly ties everything together in subtle and rewarding ways, and Otherworld Barbara is a true hidden treasure of modern manga.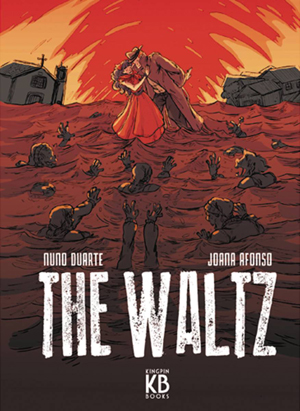 The Waltz
One of the most critically acclaimed Portuguese graphic novels of all time is finally being published in English by Kingpin Books. Nuno Duarte and Jana Afonso's The Waltz (JUL161714) is set in a small coastal village where a police inspector is sent to find out the truth behind the bizarre occurrences that surround dead fishermen returning from the sea. As the inspector uncovers twisted beliefs, dark rituals, and compromising secrets, he must discover what the town is hiding before it's too late. The gorgeous illustrations and compelling story of The Waltz come to life in this lavish deluxe edition, complete with extras detailing the book's creative process.