Cullen Bunn On Board The New Battlestar Galactica
Jun 06, 2016
Cullen Bunn is well known for his superhero stories, and throat-gripping horror. But one of his greatest passions is for the sci-fi classic Battlestar Galactica. In this interview by Dynamite Entertainment stalwart Keith Davidsen, Bunn explains his take on the Galactica universe starting with Battlestar Galactica #1 (JUN161373). Here he explains how he sees things playing out in his series with artist Alex Sanchez, and what new direction he'd like to take with the series' characters that have great potential for exploration.
Battlestar Galactica #1 (JUN161373) is in comic shops August 3.
**********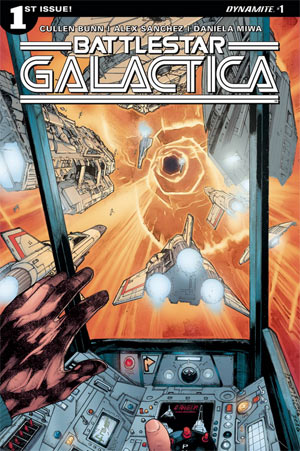 Keith Davidsen: To start with, what's your history with the classic Battlestar Galactica? Can you share an anecdote about watching the show, and what may have stuck with you about its setting, the drama, and its epic confrontation between good and evil?
Cullen Bunn: I remember riding the school bus on the day after the show aired. I was chattering away with my buddies about how awesome the show was and how cool it was when the Cylons intoned "By Your Command!" I remember stumbling onto action figures for Cylons and Ovions at the toy store (although the Cylons legs weren't articulated, which always bugged me). I also remember being really terrified by the Ovions, and somehow I could have sworn I saw Baltar getting beheaded by the Cylons only to return on the next episode. I know, though, that there were different versions of the series cut into TV movies, so maybe that's just childhood memories overlapping. A few things about the series have always stuck with me, though. First of all, the characters were great —from Starbuck, to Sheba, Boomer to Adama, even Jolly! I really loved them all and felt like there were many stories about them waiting to be told. I also love the epic cosmology of the series, and how it connected to the history and religion of Earth in some really interesting ways. The show had a few episodes unlike anything I might have expected to see in a typical space opera.
Keith Davidsen: Let's talk about how you personally view the cast of Battlestar Galactica. For such memorable heroes as Adama, Apollo, and Starbuck, what do you find the most interesting aspects of their character? What do you plan to explore in (or with) these characters?
Cullen Bunn: I never really thought about it in these terms when I watched the show as a kid, but nowadays I think it's interesting to see how each of these characters are facing what is essentially the end of their species in the same way. Adama never gives up hope that there is another world to be found. Apollo struggles to build a family. Starbuck whistles past the graveyard. Baltar betrays everyone he's ever known. I'd like to explore the ideas of hope and desperation, salvation, and damnation…and that's a big part of the story that I'm telling.
Keith Davidsen: The description of the new Battlestar Galactica series indicates that the crew will stumble upon a cosmic mystery where the hunters become the hunted. Without giving too much away, what can you tell us about the threats that they'll face in the wilds of space?
Cullen Bunn: "Wilds of space" is right, because the fleet is going to find itself at the heart of a surreal mystery in an unexplored sector of space. What they find there, though, makes them believe that they are not the first Colonial Battlestar to arrive in the area. They are, of course, pursued by the Cylons, but even they are met with a shocking surprise and mystery. Old enemies resurface, some with devious plans to cast the entire fleet into darkness, and strange alliances are formed in order to survive in this bizarre environment. What starts as an initial story arc could lead to a new, sweeping epic featuring the Galactica and its crew.