Nominate A Knucklehead With Three Stooges For President
Jun 03, 2016
by Vince Brusio
Conventional wisdom tells you to never talk about politics, as most people treat their affiliated party like their home town baseball team. They root for that team no matter what, so why bother trying to change their mind? But what if the politics you're pushing are those of three knuckleheads that wouldn't even know how to hold a press conference? Could we find common ground together, and laugh at them instead of fighting among ourselves? Probably. To be certain: definitely! American Mythology shows us that you can always cross the aisle if the politics involve Moe, Larry, and Curly, and with three covers to choose from with Three Stooges: Red White & Stooge #1 (JUN161087), choosing a presidential candidate have never been more hilarious.
Three Stooges: Red White & Stooge #1 (JUN161087) is in comic shops September 28.
**********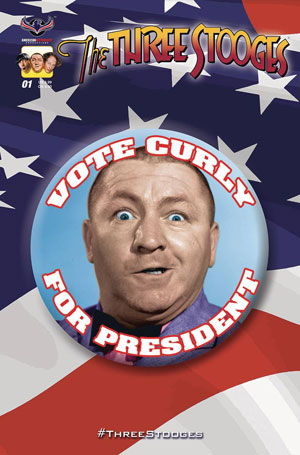 PREVIEWSworld: So tell us about the contest you have going with the multiple covers for Three Stooges: Red White & Stooge #1 (JUN161087). Is this issue a one-shot? How are all three "running for President"?
S.A. Check: We've decided that the whole democratic process takes way too long and we've streamlined it to let the fans choose our next leader, all in one issue! The contest is one of the best parts about the book. We're coming out with three covers. Each one will showcase one of The Boys – one for Moe, one for Larry, and one for Curly. We figured it was a fun way to get fans and readers involved. Depending on which cover you pre-order either at your local comic shop, you'll cast your vote to determine which Stooge becomes our next commander-in-chump. Even if you don't pick up a copy (and shame on you for that), you can join in on social media by shooting @AmericanMytho a tweet with your choice, over on Facebook, or email AM direct. We're leaving the end of the issue open, so fans will see the results as soon as the book comes out.
We're just trying to have some fun with all the hype surrounding the upcoming election, do something different. For the first issue back in April, "The Boys are Back," we slapped a QR code on one of the covers that took fans directly to a Stooge video short "Disorder in the Court". It was a lot of fun, so we wanted to do something else this time around.
Every issue, at least so far, has been its own stand-alone book, usually having two or three stories in each. I love how American Mythology approaches the Three Stooges. I think it really honors their "two-reel" comedy days. You could find the trio working as plumbers one day, or working as double agents for the war effort the next. It leaves the story possibilities wide open for a writer. If the response is as good as we hope, I'd love to do another election-based book down the road. As far as all three of The Boys running for office, well, fans will just have to pick up a copy of their own and find out.
PREVIEWSworld: Is this issue based on a previous Three Stooges short, or is Red White & Stooge a new concept?
S.A. Check: Red White & Stooge is something that we've been kicking around since we started putting out Stooge comics. I think the Stooges and politics have a stronger link than most people think. How many times during an election does someone mention something about the Stooges, or use them in some form of political commentary? We've all seen a "Curly for President" t-shirt somewhere along the way, especially around this time. This is just us giving our own backstory to the idea.
PREVIEWSworld: What is your connection to the Stooges? Describe your affinity for the comic trio.
S.A. Check: Wow. I can remember watching the Three Stooges as a boy, of course that was in the late 70's, early 80's, but for a kid, the Stooges were as natural as Saturday morning cartoons. Here were three guys that came as close as anyone to being real living cartoon characters. I've been a fan ever since. It didn't matter whether the show was in black and white, the surroundings and props were from another era, or they didn't use some of the lingo we associated with "cool," they were their own universe, and just happened to take us along for the ride with each episode. To say it's a little intimidating to write new stories for your childhood idols is an understatement, especially ones with as large of a following as these guys. The payoff is that I get to place them in more modern scenarios, fast food restaurants, shopping malls, introduce them to technology, and realize that their comedy doesn't change, just the details. All I have to ask is, "What would Moe do in this situation?" and the answer usually comes pretty easy. Seeing some of our recent books in the hands of kids, who seem to love them, really is a tremendous perk that's hard to describe.
PREVIEWSworld: What lies down the road for the Stooges at AM?
S.A. Check: I'm going to keep cranking out Stooge stories as long as AM lets me. I love writing these books, plain and simple. I have a dozen more stories in reserve or in various stages of development with AM, and I come up with new ideas almost daily. When you write for a book like this, you start seeing the world around you with The Boys always in the back of your mind yelling, "Hey, porcupine! Will you look at that?" The story ideas flow from there. As far as the future of the Stooges? Following Red White & Stooge, AM will be launching a big Halloween issue that they'll be announcing soon, a fun holiday-themed issue at the end of the year, maybe even a few fun crossovers that will surprise fans. Whatever direction they go, you can be sure we'll be bringing a stooge-ton of craziness with us.
PREVIEWSworld: If you could "geek" over a particular scene or scenes in Red White & Stooge #1 (JUN161087), what would it be? What would break your funny bone?
S.A. Check: I think there's a few that really stand out. The pages where things go horribly wrong for a certain senator during a televised morning show hopefully finds that balance between "Where are they going with this?" and "I can't believe that just happened!" Also, towards the end of the issue, we have a giant pie fight, in true homage to classic Stooge comedy. That was a blast to write, and the words and scenes just seemed to flow to the page. I think the whole issue should be good for a chuckle or two whether you're a longtime fan of the Stooges, or you're picking it up for the first time. While the theme of the book is political, we never take ourselves too seriously and just want to have fun with it. So don't forget to fulfill your patriotic duty this year and vote for a Stooge!