Ladies First In DC Super Hero Girls
Apr 21, 2016
by Vince Brusio
Things are changing in comics. How so? More and more girls are coming into comic stores. With a new audience comes new expectations, so DC didn't wait long in giving a green light to a new universe that will appeal to ladies who love super hero adventures. In this PREVIEWSworld Exclusive interview, we speak to Shea Fontana, who writes the DC Super Hero Girls web series, as well as the comics now collected in the DC Super Hero Girls Volume 1: Finals Crisis TP (APR160322)! In this interview Shea explains that although the characters are younger, that doesn't mean they are any less formidable. Quite the opposite. If girls were ever going to fall in love with comics, Shea's betting its going to be because of this long overdue concept.
**********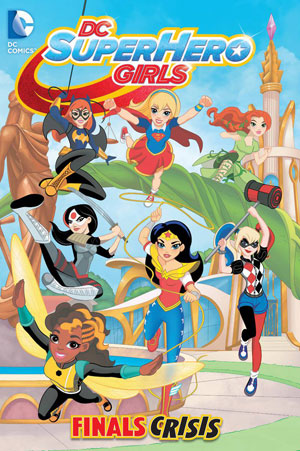 PREVIEWSworld: DC Super Hero Girls is a new universe designed just for girls. As this is the first property of its kind over at DC Comics, is it separate from the DC Universe, or are character histories and traits still relevant to past DC continuity?
Shea Fontana: Though DC Super Hero Girls takes place in a new universe, it was important to us to keep the characters true to their DNA as presented in the comics. We keep the essence of the characters and their personalities recognizable. Even as teens, Wonder Woman is a strong leader, Batgirl is a confident tech genius, and Harley is an unpredictable prankster. But because this is a new universe, the characters have had different life experiences and made different choices than they have in the traditional universe. So, we've taken characters like Harley and Ivy, who are usually depicted as villains, and reimagined their backstories – what if they never had the experiences that lead them to become villains? So far, we've seen them make heroic choices and though Harley has a bit of an empathy problem, she usually tries to do the right thing. But the potential for them to become villainous remains…
The actual histories of the characters are less relevant, since in the comic canon many of our characters don't take on their super identities until later on in their lives. Some things that affect their identities – like Wonder Woman being princess of Themyscira – remain, but many of the other history details don't work within this universe.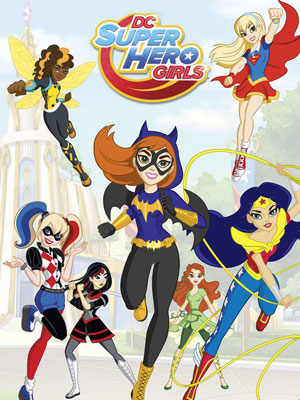 PREVIEWSworld: What was the catalyst for DC Super Hero Girls? While this was an idea that was long overdue, how did the train start rolling? Who pushed and who pulled to make this happen? What was the need that now has been served?
Shea Fontana: The concept started with DC recognizing that this is a long overdue idea and being committed to bringing great super hero stories with female leads to the world. DC already had the greatest female super heroes -- starting 75 years ago with Wonder Woman -- and it was just a matter of getting all these girls together in one show.
Young girls have traditionally been underserved in the comics industry and DC Super Hero Girls looks to give girls an appropriate starting point for falling in love with comics. In developing DC Super Hero Girls, we wanted to give girls relatable female heroes who were capable of saving the day. We know that what kids see in the media shapes how they see themselves, and our goal is to bring diverse, strong girls to the forefront so that all kinds of girls know that they can be heroes too.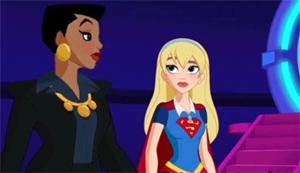 PREVIEWSworld: The first round of adventures for the DC Super Hero Girls is collected in a trade paperback that's solicited in the April PREVIEWS catalog. For those who may just be catching up with this new title, what can you tell us about the stories that will be featured in the initial story arcs? What do we learn about the costumed characters?
Shea Fontana: Finals Crisis, the first DC Super Hero Girls graphic novel, all takes place the night before finals and each chapter is told from a different character's point of view. We see this night unfolding from the perspectives of Wonder Woman, Supergirl, Batgirl, Bumblebee, Katana, Harley and Ivy, and during the course of the evening, a mysterious super villain targets each of our super heroes. In this format, we get to see each of the girls really shine and discover more about their different approaches to being a super hero.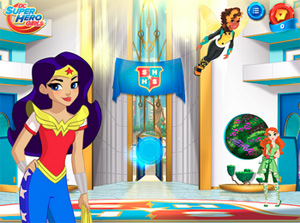 PREVIEWSworld: How do you think kids today can relate to the DC Super Hero Girls? What personality/cultural traits of the team members help form a bond with the girls in the book, and the girls reading the book?
Shea Fontana: As a storyteller, I think one of the biggest ways we relate to characters is through their flaws. These girls are super, but they're still teens, figuring out what kind of people they will be, testing the rules and making mistakes. One of themes in the graphic novel is that each girl makes a mistake that gives the villain an opening. But what makes them super heroes is that they learn from their mistakes and use that new knowledge to save the day. Everyone knows what it's like to make mistakes, but making mistakes doesn't equal failure. It's all a part of becoming even more super.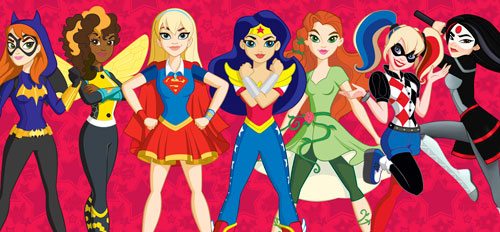 It was important to us from the beginning to have a diverse group of girls showcased in the stories. In this story, we see Katana, Bumblebee, Hawkgirl, and Lady Shiva in hero mode and have cameos from Cyborg, Thunder and Lightning. As we continue to expand the universe, it is a priority to include and highlight characters from various cultural and racial backgrounds. We want every kid to see people like him or her represented and included in this universe.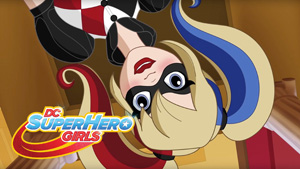 PREVIEWSworld: Last question is free style. What makes you excited to work on this project? How would you summarize your experience working on the title? And what makes it positive force for the comics' community?
Shea Fontana: I love working on DC Super Hero Girls because it's just the kind of thing I would've been gaga over as a kid. I'm really excited to be part of this groundbreaking project and I hope it is a positive force in the comic community that opens the way for lots more comics and graphic novels targeted at girls.