Evil Looks Innocent In Pruett's Black Eyed Kids
Mar 24, 2016
by Vince Brusio
Do you remember The Blair Witch Project? An indie film that scared the living hell out of everyone because Hitchcock horror proved to be more terrifying than any splatter-style gorefest. Well, now there's a new title from AfterShock Comics that seems to be in a similar vein as Blair, as it, too, focuses on the scare factor of a long-standing legend. Eisner Award-winning writer Joe Pruett gives us an exclusive interview to prepare us for the arrival of the Black Eyed Kids, and how this youth gone wild should keep you afraid of the dark, and leery of the playground.
Black Eyed Kids #1 (FEB161048) is in comic shops April 20.
**********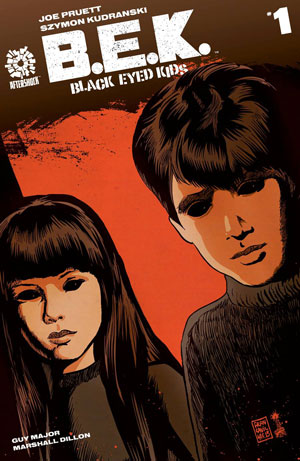 PREVIEWSworld: Without the character constraints of a catalog description, please elaborate at length about the premise of Black Eyed Kids (FEB161048).
Joe Pruett: The BEK are a modern urban legend. You can Google the subject matter and come up with dozens, if not hundreds, of websites devoted to their growing legend and first-hand accounts of dozens of encounters with normal, everyday people who have met these black-eyed children over the years. Every encounter has left these people changed, and incredibly frightened. I became enthralled with this urban legend, and the story potential and imagery of these creepy, adolescent kids with solid black eyes reached my own disturbed imagination. I just had to write it. F or my series, I'm creating my own hypothesis about what these children could be, and having fun with it. I'm serious when I say that the stories are writing themselves. A quick premise of the series would be:
Twenty years ago, the Black-Eyed Children began to appear, with no known clues to their origin or their purpose. Twenty years later, their purpose begins to become horrifically clear. They are here to destroy us. For a handful of people populating a working-class, midwestern town, the BEK are not an urban legend, they are a terrifying reality. It's up to these seemingly random individuals to unlock the generational secrets of their own past in order to save, not only their own children, but the world's children, from the demonic clutches of the BEK.

PREVIEWSworld: What 60s/70s horror movies were at the back of your subconscious when you came up with the idea for this series? What helped plant the seed?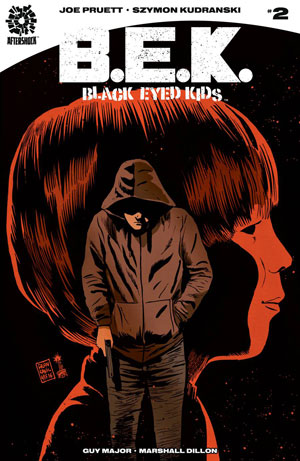 Joe Pruett: I love horror movies. I used to watch the old 60s and 70s horror flicks back when I was a kid, late at night usually (of course), on Friday or Saturday nights. I don't think there is any particular horror film from back then that influenced me. I think it's just the genre in particular.
PREVIEWSworld: Do you think everyday children with black eyes are just as intimidating as, say, a ginsu knife-armed Freddy Krueger? Do you prefer the minimalist Hitchcock approach more than, say, the Lucio Fulci approach to horror?
Joe Pruett: To me, yes, I think scary little everyday children with black eyes is MUCH more frightening than a Freddy Krueger or a Jason or a Michael Meyers. Having said that, I think the original Halloween film is incredibly frightening and a great horror film. It sure scared the (insert colorful four-letter word here) out of me as an 8th Grade kid. It's only when the sequels turned him into something way beyond human that it lost its luster for me.
Minimalist for me. I'm a fan of the contemporary Japanese-style of horror movie more than the American hack-them-up horror film. I like suspense much, much more than I like gore and violence. I'm not saying that I'm above putting some gore and violence into Black-Eyed Kids, but I prefer making the reader feel an emotion much more than grossing them out with gore. I'd rather send a chill down their spine than have them turn their eyes away in disgust.
PREVIEWSworld: Is it the aim of the story to show how human beings cope with being in the mouth of madness? How does B.E.K. expose the human condition?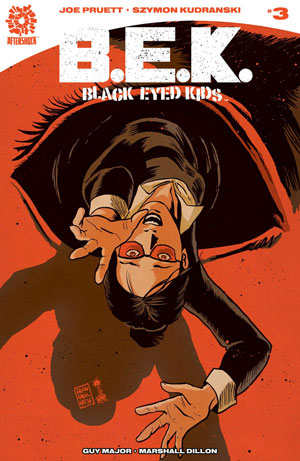 Joe Pruett: You could say that. As I relate to the previous question, I feel a good horror story will stir an emotion, not only in the reader, but also in the characters.
What would you do if you're put into a situation where every instinct you have is telling you to run, to get away, to be a coward? But then put yourself in that situation where you have your child endangered.
That would be my greatest fear as a parent: having my child in harm's way and knowing that, in all likelihood, there is no humanly possible way that you can save them. Would you still try? You don't know what you have in you, what you are capable of, until you are put into the eye of that storm.
That's what these characters will be facing.
The human instinct is self-preservation, but the motherly (or fatherly) instinct is protection. It's what you do when presented with that situation. It defines your character. I like to think I'd know what I'd do if a scenario such as this was presented to me.
But, then again, I've never been forced to have to go up against hellspawn with black eyes!
PREVIEWSworld: We'll let you have the last word here. What would you like to say to PREVIEWS readers that would make them want to put this book on their pull list?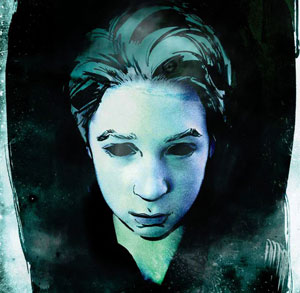 Joe Pruett: I've been in this business for over 25 years now, and I can honestly say, with no self-promoting hype intended, that this is the best thing that I have ever written. Couple that with Szymon's INCREDIBLE art, which perfectly sets the mood and look for the entire series, Guy Major's atmospheric colors, and Francesco Francavilla's magnificent covers, this is a series that any fan of The Walking Dead or horror comics/films in general would easily warn up to. This is a series that will start fast, drawing you quickly into the story and horror of it all, and continue that way without taking the foot off the gas. I've allowed this story to gestate for a few years and now that it's ready to go it's going to execrate quickly and be a wild, bumpy ride. AfterShock Comics, in a short amount of time, has achieved and maintained a high-standard in every release that we've published. This series will be no different. We wouldn't publish it if we felt it would fall below that standard, even with me as the Publisher. I had to go through the same approval process as everyone else.

AfterShock Comics has proven that we are all about quality. With our track record to date, I can assure you, that you're not taking a chance with Black-Eyed Kids, or any AfterShock release. Black-Eyed Kids continues that tradition, so order generously and, remember, I have a kid starting college next fall so won't you help a brother out?