What Lurks In Zenescope's Satan's Hollow
Mar 22, 2016
From the creative minds of writer Joe Brusha (Aliens Vs. Zombies) and interior artist Allan Otero (Salem's Daughter: The Haunting), Zenescope Entertainment adds to their horror repertoire with a progressive spin on a chilling urban legend in Grimm Fairy Tales: Satan's Hollow #1 (JAN161847).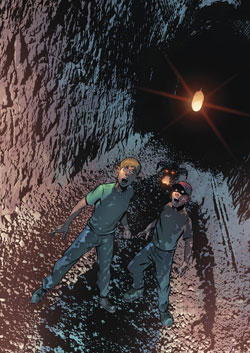 Decades ago, a group of Satan worshippers slunk through the woods of Blue Ash, Ohio, to claim a series of drainage tunnels for sinister purposes. Instilling their wickedness within the concrete walls, the group hosted conjurations, Dark Masses, and animal sacrifices—culminating in a most malevolent homage to the Devil: human sacrifice. With this consummately evil exploit, the Satanists opened a gateway to Hell through which Lucifer, himself, manifested—leaving a residual presence that has become known only as "The Shadow Man." This blackened, humanoid form stalks the tunnels, acting as a sentry for the portal to the netherworld.

Despite the group's disbandment, the pentagram-and-666-covered tunnels are plagued by this demonic phantom, as well as ghostly apparitions and echoes of inhuman screams at night.
The Zenescope story plans to follow this myth closely: Urban legend tells of a satanic cult that performed rituals in the Ohio woods at the turn of the century. The rituals became more and more disturbing and eventually led to the ultimate evil… a human sacrifice. Legend stats the cultists were so successful that they opened a portal that leads directly to Hell. Now, twenty years later, the last surviving victim of the cult has returned, but something immensely evil has arrived with her… an entity known only as the Shadow Man.
Grimm Fairy Tales: Satan's Hollow #1 (JAN161847) is in comic shops March 30.