New Movies Matter In Mike Johnson's Star Trek/Green Lantern
Mar 21, 2016
by Vince Brusio
Despite the brightest days and blackest nights, Mike Johnson has warped into Star Trek/Green Lantern this year, and a new cast for the Enterprise is mixed into the chemistry. But doing things no one's done before is perfectly fine with Mike. After all, history is especially fun when you're the one who's making it.
Star Trek/Green Lantern: The Spectrum War (JAN160395) is in comic shops March 23.
*********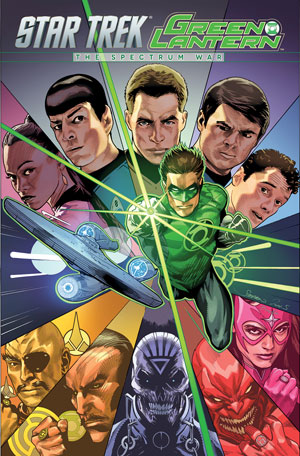 PREVIEWSworld: Star Trek fans have seen the Enterprise crew encounter the Legion of Super-Heroes, and most recently the Planet of the Apes. So with those past escapades in mind, how does Star Trek/Green Lantern: The Spectrum War (JAN160395) take us where no one has gone before?
Mike Johnson: This is the first Star Trek crossover starring the cast of the new movies. The way their lives have compared from the Original Series will have a huge impact on the events of this story. Things like Kirk's father dying at Kirk's birth, Vulcan being destroyed, and Spock and Uhura's relationship will all factor into how events unfold. Not to mention that this crossover involves the greatest space-based comics series of them all: Green Lantern!
PREVIEWSworld: How long did you work on this storyline before submitting it for layout? What was your creative process like, and do you have scars to prove it?
Mike Johnson: As soon as there was even a glimmer of a possibility of a chance that the crossover might happen, a corner of my brain has been working feverishly on figuring out possible storylines. It's the most fun I've ever had, but it's also the biggest challenge: with so many characters and worlds and so much history to choose from, how do I choose what to use? What are the most interesting and fun ways these franchises can mix together? How do I keep it an emotional and meaningful story without getting lost in the spectacle? Answering these questions left me not so much with scars, but with cool glowing tattoos on that corner of my brain in the shape of the Trek and Lantern symbols.
PREVIEWSworld: If you had to sit between Captain Kirk and Hal Jordan--both men alpha males who are used to taking point—how would you broach the subject of cooperation between the two? They're obviously going to have to work together in the story, but if you could insert yourself into the plot what role might you play?
Mike Johnson: You're exactly right about the alpha male thing. Comic tradition suggests that they would first have an epic fight, then settle down, then team up to fight the real villain. I'm taking a different tack, and it starts with sitting them down over a couple of Romulan ales and asking them both: "Do you like to go fast?" These two have far more in common than not. The fun is in seeing how their differences play out as they pursue the same goal.
PREVIEWSworld: What can fans expect from this crossover? What's going to smack them upside the head? What will tickle their inner geek?
Mike Johnson: I started the process by writing down a list of visuals I would want to see, no matter how crazy, goofy, unlikely. Basically: smash these two franchises together and see what happens. So I'd say to expect anything and everything. There are certain things we'll see that feel inevitable, because they are, but that doesn't mean we should shy away from them. To give you one example: yes, Hal sits in The Chair. There will be other things that are less — "obvious" is the wrong word given the negative connotations — but things that are unique to this story because they involve the cast from the new movies. And there are a ton of little things that will tickle the geeky bone of fans of both franchises.
PREVIEWSworld: If you could summarize your experience writing Star Trek/Green Lantern, how would you describe it?
Mike Johnson: To Boldy Green Where No Green Has Gone Before.