IDW Serializes Fear and Loathing in Las Vegas
Mar 14, 2016
by Vince Brusio
All of us are beasts. We just don't know it, or we dare not say it. Yet one man did, and he screamed his guilt from behind the wheel of a red convertible that once barreled through the desert on a trip to Sin City. His name was Raoul Duke. His rage was chronicled in a book wayyyyy back in the 70s, and IDW Publishing has now brought that book to the comics medium with Hunter S. Thompson's Fear and Loathing In Las Vegas #1 (MAR160424), serialized in black-and-white, and at a slightly larger size than the full-color hardcover edition. Each issue also includes pages from Little's sketchbook and other behind-the-scenes information.
Read this PREVIEWSworld Exclusive interview with Troy Little to get the goods on the horrors, hangups, and hallucinations that are appearing in this great gonzo thrillride coming soon to a comics shop near you!
**********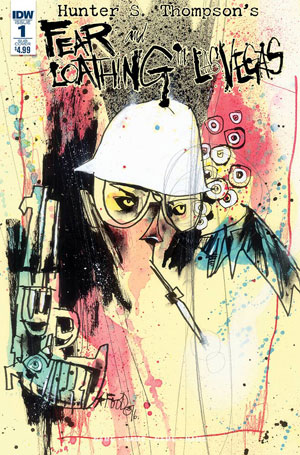 PREVIEWSworld: What strange bat storm moved you to approach IDW with this idea?
Troy Little: I wish I could claim credit for that, but the bat storm was whipped up by Ted Adams at IDW. Ted has been a longtime fan of Hunter's work and this was a dream project of his for some time. I was working on The Powerpuff Girls book with IDW and the Cartoon Network when they asked me to pitch some ideas and artwork for the book. I joke that, "Yeah, get the Powerpuff guy on this. He's the obvious choice" but I'm sure glad they did!
PREVIEWSworld: Can you tell us how you worked with the Hunter S. Thompson Estate to let this project see the light of day?
Troy Little: I'm on the opposite end of the spectrum on that. Most of the initial dealings were done through Ted. From what I understand he cast a wide net looking for the right artist to fit the bill on this project, or not do it at all. I'm humbled to have been chosen with all that competition! I'm also a longtime fan of Hunter's work, so to be able to bring this book to life in my own way through comics was pretty mind-bending. Working with my Editor, Denton Tipton, and Ted we worked out an adaptation true to the original book, and ultimately approved by the Thompson Estate. All the words in the book are Hunter's – you don't mess with those, I merely bring my artistic sensibilities to support them.
PREVIEWSworld: Once you were given the green light for the book, what production process was put in motion? Did you do the Clockwork Orange treatment, and watch the Johnny Depp film for 24 hours straight while eating some wild exotic plant? Or was there no time for that, and you instead read Dr. Thompson's novel while guzzling energy drinks and locked in a flooded hotel room?
Troy Little: None of the above! I'm pretty much a stark contrast to the legendary Doctor. Comics are a pretty intense grind, and I volunteered to not only adapt and draw the book, but also color and hand-letter it as well! Who has time for ether with all that work to do!
I started with the novel and kept away from the movies for some time so as not to draw too much influence from them. I listened to a lot of 60's rock, Hunter's Gonzo tapes, every documentary I could find and read a lot books by and about Hunter, just immerse myself in his world.
Then just sit at the drawing table, put in the hours and hope for the best. I may have had a touch of Chivas Regal (with ice) along the way, but you know, just for research purposes I assure you.
PREVIEWSworld: What challenged you the most on this project? And what would the ghost of Dr. Gonzo say of your performance?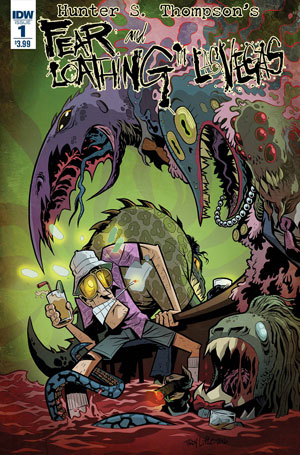 Troy Little: In the beginning I totally psyched myself out. There's NO WAY I can adapt this and do it justice, and I still believe that to be the case. I did come to terms with it to the degree that I did my best and put a lot of heart into it. There's no way I could have attempted a Ralph Steadman approach, that would just come off badly, so all I could do really was try hard and hope not to let anyone down. The book means a lot to me, if I heard someone was adapting it to a graphic novel I'd have my own reservations.
As for what Hunter would think? My best guess is that I'll be savagely haunted for years to come. As it should be.
PREVIEWSworld: How has Fear and Loathing in Las Vegas held up over the years? In your opinion, what makes it timeless?
Troy Little: It captures a perfect moment in time when the sheen was being stripped off America. The post war optimism was in transition to a more cynical viewpoint, and Hunter was there writing it down with a fierce, darkly comic perspective on the Death of the American Dream. His words are sharp, the energy of the book is manic, and frankly there's just nothing else quite like it. It's a real ride and it's no surprise to me that every new generation who discovers Hunter's work can recognize some lizard part of themselves wishing they could throw the rules out the window and drive screaming mad into the desert.