Bring On The Bad Guys: Joker, Thanos, & Judge Fear
Mar 17, 2016
Egads! Another molotov cocktail that's served as a kids drink. Say it isn't so! Say we don't have to suffer the bad guys again! Yes, sad for all of those within hearing range... you will submit! Your lethal injection of mean is back with this month's rendition of "Bring on the Bad Guys," and once again we show that we don't discriminate because of race, sex, color, or creed. If you're rotten, you qualify. And there are many ways to qualify. It might be that you enjoy kicking cats. It might be that you eat people. Or...maybe it's because you're one of Satan's soldiers. In any event, we flip through the PREVIEWS catalog each month to see who needs to be called out as a deviant, and then we explain why these people … or things … or whatever they are … shouldn't be helped if you see them bleeding in the middle of the street.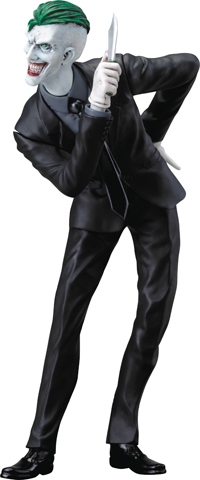 Let us begin. There isn't a criminal more reviled than the Joker.
Hands down.
Why?
Because he kills you with a smile, that's why.
Nothing worse than someone smiling at you while they're slipping the knife between your ribs. And the Joker has made murder a cruel art for decades. It's why playing the character on TV and film has attracted some of the top actors in Hollywood (Sid Caeser, Jack Nicholson, Heath Ledger). And now that Jared Leto is the next man to wear the maniacal grin in the upcoming Suicide Squad movie, fans are once again flush with excitement to see the Clown Prince of Crime strutting his stuff on the silver screen.
Stoked for the build-up? Ready to go crazy with the cackling criminal who's always a sucker for a bad pun? Well, at this point we'd be telling yuo it's time to update your library of laughs and....no. STOP THE PRESSES!
There's no reading required here.
We simply want to see you hog-tied next to the hootin' harlequin horror courtesy of inanimate objects like the DC Comics Joker ARTFX+ Statue New 52 Version (MAR162519)! What better way to wallow in sorrow than to be tied and helpless under an inanimate grinning pasty-faced perpetrator of pain? He's even brought a new knife with him for the occasion, as dull blades seem to make cutting more difficult. But the fun doesn't stop there, as other incarnations of the terrible trickster can be found in the March PREVIEWS via the The Dark Knight: The Joker "Bank Robber" MAF Ex Figure (MAR162546) and the DC Comics Designer Series Capullo Action Figure (MAR160327).
Between these three versions of the homicidal maniac, you should be good to go on showing how he's a man of many faces.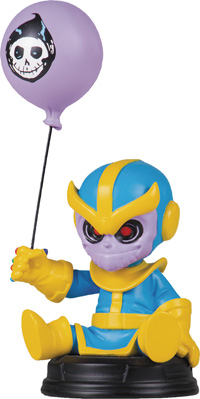 Yes, it's pretty obvious that we're totally in the tank for Gotham's greatest gag artist. What are you going to do? Sue us? We like criminals all shapes and sizes. We're disturbed like that. Which is why we want to turn your attention to the Marvel Animated Style Thanos Statue (MAR162406). This Gentle Giant sculpt shows the "mad titan" himself, Thanos, via animated style. Those of you who are fans of Skottie Young's variant covers will love this design in that same vein of Death's suitor, who thinks he has a much better chance of winning the hand of death if he comes prepared with a balloon in hand. You be the judge, ladies. Is he the date to end all dates?
You may want to think before you vote on who's the most attractive bachelor, as the 2000 AD Judge Fear 1/12 Scale Figure (MAR162621) also steps up to the plate this month as the he-man to decimate all criminal competition. This grotesque and menacing man is hellbent on scaring all life to death as he passes by, and God forbid you warrant his attention! A fully-articulated sculpt with gorgeous paint applications, and intricately faux-leather tailored fabric outfit that includes real metal chains, Judge Fear is not one who takes to losing lightly.
Truth is, you may want to think twice before you cross the paths of ANY of these genocidal gents. They don't like to play second fiddle, and apologies don't carry much weight. So tread lightly when you meet them and the many other bad guys waiting for you in the March edition of the PREVIEWS catalog.
As for us? We'll be calling out more super baddies next month right here on PREVIEWSworld!