Aliens Alive Again In Ongoing Defiance Series
Mar 03, 2016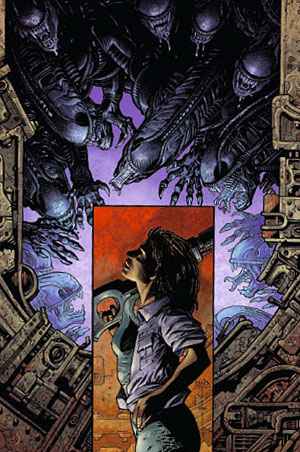 by Vince Brusio
The original grime and ghastly architecture — coupled with tiny teeth that tore its way out of a crewman's torso — set the tone and terror that awaited us in the first Alien film. And it continued into the sequel as well. It is that dread and sense of doom which Brian Wood aims to recapture in his ongoing Aliens: Defiance (FEB160010) series from Dark Horse Comics, and in this PREVIEWSworld Exclusive interview we set out to ask the writer how high he sets his sights on scaring us, and creating complex characters that may later get chewed and chopped.
Aliens: Defiance #1 (FEB160010) is in comic shops April 27.
**********
PREVIEWSworld: At the New York Comic Con last year, it was announced at the Dark Horse: CLASSIFIED! panel you'd be writing the new ongoing series Aliens: Defiance (FEB160010)! At that point in time, where were you in the production of the story?
Brian Wood: I was pretty far in, already working on the scripts. I was probably writing #2 or #3 around that time. I think I first started working on what eventually turned into Aliens: Defiance this time last year. I worked with editors Sierra Hahn and Spencer Cushing, as well as Josh Izzo, the main Aliens brain over at Fox.
PREVIEWSworld: You've written about a variety of subjects, covering things from environmental concerns (The Massive) to historical fiction (Rebels). What attracted you to writing an Aliens book?
Brian Wood: It's the same answer I probably gave when asked about my time writing Star Wars: I'm a fan. I'm a fan and it's an honor to be asked to contribute to the world. And Aliens: Defiance IS the world, its canon, and we worked hard to make sure this story slots in neatly with the overall Aliens timeline first established by the films. And speaking of the films, it's my goal, and that of Tristan Jones and Dan Jackson, to do all we want to capture the feel of that first film, from the blue collar working class leads, to the claustrophobia and dread of the ship, to the sudden and visceral horror of the Aliens themselves.
PREVIEWSworld: What's the premise for Aliens: Defiance?
Brian Wood: A derelict deep space hauler is drifting towards Earth. A squad of Weyland-Yutani mercenaries, all synthetics, is set from Tranquility Base on Luna to capture and claim the derelict, and a young private in the Colonial Marines tags along as a function of inter-agency protocol. Of course, and this is no spoiler, the derelict is NOT uninhabited, but is rather infested, and in order to save Luna and Earth, they take the derelict as far away from Earth as they can in the moment, and work to kill the infestation. That's when the bigger picture starts to reveal itself, and our cast is faced with the choice of following orders and risking human lives, or going AWOL to save earth.
PREVIEWSworld: What can you reveal about your main character, Private First Class Zula Hendricks? And what could you say about the additional supporting characters?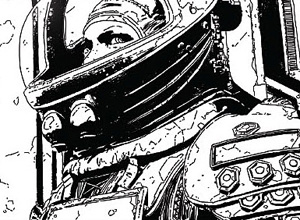 Brian Wood: Zula is a class sort of Aliens character, that workaday blue collar type who finds herself in an extraordinary situation, a fight for survival. In her case specifically, she is a rookie Marine who was wounded in her first battle, and is struggling with a rather severe spinal injury that makes just walking around pure agony. So her struggles are both external and internal: the battles with the Aliens, and the fight with herself, to cope with her injury, to live up to the standards of the Colonial Marines, the code she swore to follow.
PREVIEWSworld: What's the fun factor like in creating Aliens: Defiance for Dark Horse? What's given you the greatest satisfaction in creating this monster (pun intended).
PREVIEWSworld: It's satisfying, as always, to see it all come together. Tristan Jones was born to draw this book as he's a huge Aliens fanboy, and it really shows in every line that he lays down. Dan's colors are the perfect compliment. The whole thing just oozes "classic Aliens," and all the advance reviews back that up. It's an honor to write for this world.