YouTube Comedy Kings Come to Comics in SMOSH #1
Mar 02, 2016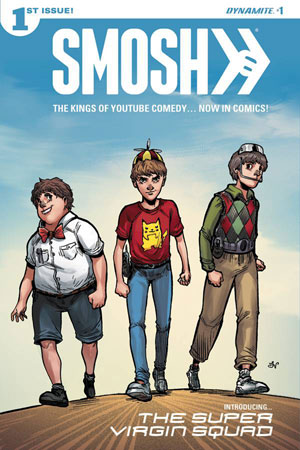 With over 9 billion views and 38 million combined subscribers on YouTube, and 31 million social followers, SMOSH has one of the strongest digital footprints of any media brand in existence today. Based on the strength of this audience, SMOSH has also seen multiple chart-topping musical endeavors, record-setting channel spin-offs and top-selling mobile and gaming apps, with more than two million downloads to date. And, in Summer 2015, the brand released its first feature length film SMOSH: The Movie which debuted at #1 on the iTunes comedy chart. In this interview by Dynamite Entertainment's Keith Davidsen, the creators explain how they will bring their wildly popular brand of humor to comics.
SMOSH #1 (MAR161320) is in comic shops May 4.

**********

Keith Davidsen: Your offbeat sens of humor and wild imagination have amassed a legion of fans. What should SMOSH fans expect, now that your misadventures are coming to comics?
SMOSH Team: We couldn't be more excited to share SMOSH Comics with our fans and especially the "Smoshers" who've stuck with us over the past 10 years. Long time viewers will be excited to see some of our oldest characters come to life in their own stories over several issues, allowing us to delve into their ridiculous personalities beyond what we're able to surface in our 3-4 minute sketch videos.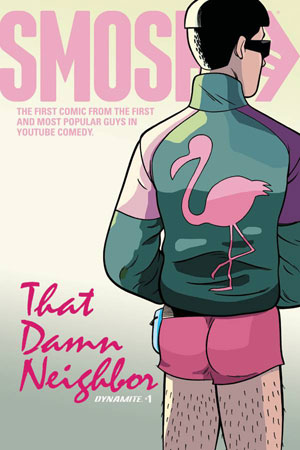 The opportunity to explore creating content in new ways with our characters has been the driving factor behind many of our recent projects, and we're thrilled to provide another way for our audience to get the SMOSH content they crave.

Keith Davidsen: The first story arc of the new SMOSH comic book series focuses on "Super Virgin Squad." Where did this concept come from, and what makes it the perfect introduction to SMOSH in comics?
SMOSH Team: SMOSH fans will recognize lovable dweebs Stevie, Billy, and Paulie from our sketches, mobile games (Food Battle: The Game, Super Head Esploder-X), and animated series, "SMOSH babies," but Super Virgin Squad will be the very first time we're bringing them all together! We've always wanted to bring these three fan-favorites into a sketch together, but felt we needed more than our typical 3-4 minute video to do the idea justice, and have been sitting on the concept waiting for the right opportunity. In addition to having waited, like, forever to share Super Virgin Squad, we felt following along the misadventures of these hopelessly oblivious female-repelling super nerds would be just relatable and ridiculous enough to offer up as our comics debut!