The Horror! The Horror!: The Brutal Nature of Cinema, Corpses, & Cthulhu
Mar 12, 2016
Finally! An ongoing monthly article that makes you face the monsters in the closet. You can run, but you can't hide from our selected ghoulish items in PREVIEWS that will make you flee and scream bloody murder. Horror fiends: let the madness begin! This is the run-down on what ghastly items can be found in this month's PREVIEWS catalog. If you can't take the chills, TOO BAD! This is where the children of the night gather, and howl at the moon without apology.
**********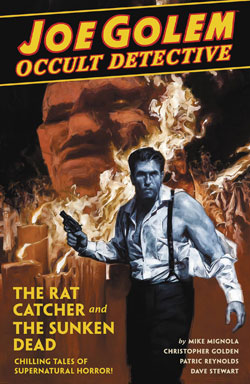 Let us first search for a pulse in the Dark Horse Comics section, where we'll find the Joe Golum Occult Detective: The Rat Catcher and the Sunken Dead TP (MAR160029). Now, the title alone is enough to make you think you've already run the car off the road and crashed into a river. What carnival of souls can you be expected to entertain when you're trudging through a tale that's talking about rats and the sunken dead? Not a lot of room for small talk about the weather. You're either ready to accept that some guy named Joe is going to get his soul put through the wood chipper, or you've moved onto other more pleasent things like workshops on pottery.
For those of you that stay in the room to see if ol' Joe can handle himself, you'll be sad to know that his day is going to revolve around a disaster that left Lower Manhattan submerged in thirty feet of water. Worse, a terrifying creature has been snatching children and pulling them into the depths of the canals. Worse than that, those that were drowned are coming back to the surface. And they're alive. Want to see if they start munching on ol' Joe as a mid-day snack? Check out this trade paperback which collects the tale orginally presented in a five-issue mini-series.
Fans of the old school stuff are in for a real treat when they see Joe's plight play out in Rat Catcher and the Sunken Dead. It's sure to make you long for those tales of old when television was still being broadcast in black and white .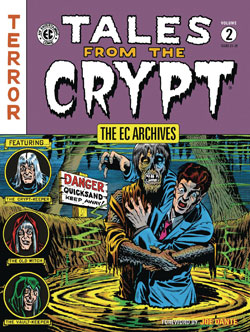 If you'd like a second crack at getting your hands on some of that vintage horror, then head on over to the EC Archives Tales From The Crypt Volume 2 HC (MAR160097) before you're done thumbing through the Dark Horse Comics section in PREVIEWS. Every once in a while the septic stories that seeped into Tales From The Crypt bubble to the surface, and if you're quick you can excavate this hardcover and take it home before it's own weight makes it sinks back into the swamp of sorrow.
If you ever wanted a copy of the "bible" of horror comics, then Tales is where the commandments for creating cranial cancer starts...and ends. The legendary Al Feldstein and various other creators cut their canine teeth on these tales of terror which horrified readers back in the day, and served as the inspiration for the Crypt hit movie and HBO series!
Do your homework, and pick up this hardcover so that you can see how Wally Wood, Jack Kamen, Johnny Craig, Joe Orlando, Graham Ingels, and Jack Davis made legendary nightmare that are compared to none.
Since we mention TV and movies, you'll be happy to know that kept an eye out (or was it poked out?) for things that concern the green slime that's waiting to ooze from your living room leviathan.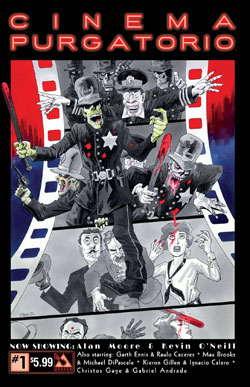 It is the power of those electrons which Avatar Press has attempted to harnass with Cinema Purgatorio #1 (MAR161116), a new ongoing horror anthology that's helmed by none other than Alan Moore.
Just as TV shows like The Outer Limits and The Twilight Zone sucked you into TV timelessness with short stories that twisted all sense of reason, so does this anthology seek to do the same, but with horror overtones that will have you abandon all hope and your mental faculties. These tales of terror in a black-and-white tome are presented with no ads, and all of the works are long-form. There are no collections planned before 2018. So if you plan to wait for the trade, you'll be waiting for a long time. Alan Moore and Kevin O'Neill invite you to come join some of the finest creators in comics, and embrace a different kind of dark depravity.
It is the absence of light.
It is comic cinema you will find in Dante's Inferno.
Feeling woozy? The weight of this literature giving you lesions? Well, allow us to pile on more stories for suffering that include A Treasury of Murder HC Set (MAR161575) from NBM, or The Absolute Best of Harvey Horrors Featuring Man In Black Issues #1-4 (MAR161643) from PS Artbooks. If you haven't lost your faith in humanity after reading these classics, then guess what? You're probably near-death.
At this point you may very well have lost the ability to decipher language on parchment after having read these books. But don't think that's an excuse for escape. No, there still a lot of pleasure to siphon from your sickness, given that you don't have to speak or read if you are the appointed caretaker of plastic pain for display cases. We want you to experience horror in 3-D, as well, and what better way to do that than to put the Aliens Alien Vinmate (MAR162248) in your house?
These toys are based on the 1986 sci-fi/action classic Aliens, and include Nostromo survivor Ellen Ripley and a ferocious Warrior Alien!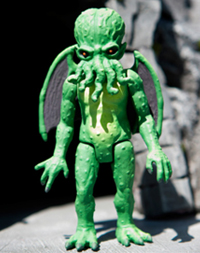 Each 4-inch figure has an articulated neck, so you can turn them to look you straight in the face while you scream that you are losing your mind, and pray for nuclear holocaust before the deviant writing this piece adds to your mental breakdown with the Legends of Cthulhu Action Figures (MAR148418).
It's the last stop before you stop breathing, and you'll do it with visitation rights to figures that comes with character-specific accessories. Yes, you see these characters are well known to many, as they're based on similar figures of the late '70s and early '80s. Classic archetypes brought to you in this first wave of woe include the Cultist, Spawn of Cthulhu, the Professor, and the Deep One. Be sure to acknowledge them all as you finally sink to the bottom of consciousness, where the ghost of a famous actor will speak in a thick Transylvanian accent, and remind you that even the dead must heed the words of the greatest vampire of all time, immortalized for all time in the Dracula Lugosi 1:1 Scale Bust (MAR162396). If you are his friend, nothing will harm you. But if you resist him, nothing can save you.
Well, we seem to have done our job depressing you and jesting you this March, so be sure to see us next month when we kickstart your heart for another round of raucous rambling that we like to call The Horror! The Horror!
Sleep tight.
Pleasant nightmares.