In Space ... No One Can Hear You Eat
Mar 01, 2016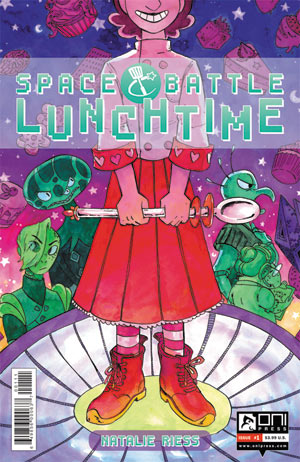 In Natalie Riess' Space Battle Lunchtime #1 (MAR161588), an intergalactic cooking program needs a new star guest.
And the show must go on!
One woman from Earth is up to the challenge, and she might just be the next Julie Child! She certainly seems up for the challenge.
After all, she's been selected from billions throughout the cosmos, and pastry chef Peony could just be the underdog that takes the cake in the interstellar cooking competition.
Want to catch the broadcast?
Want to see what goes on while the makeup is being applied to all those faces before they hit your monitor screen?
Natalie Riess has certainly produced an engaging new series from Oni Press, and Space Battle Lunchtime #1 is going to be one that keeps you snackin' until the main course is served hot and ready.
Look for Space Battle Lunchtime #1 (MAR161588) in the Comics and Graphic Novels section of the March PREVIEWS catalog!