Daredevil Season 2 Primes Elektra & The Punisher
Feb 28, 2016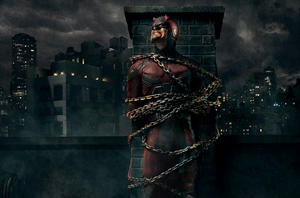 You know, Matt Murdock's probably only one bad day away from becoming the guy he's fighting in Season 2 of Daredevil. Hell's Kitchen doesn't seem to be cleaning itself up, and the new guy in town doesn't care about the mess he leaves. There's a reason for that. His name is the Punisher, and if you know anything about the Punisher you know things get messy. Very messy. So imagine the weight on Matt Murdock's shoulders, as he not only has to contend with a killing machine in the form of Frank Castle, aka The Punisher, but an old flame has arrived on his doorstep.
All over the web, you'll see that Netflix is pulling out all the stops to highlight their new trailers for Season 2 of Daredevil, which showcases both the man with the skull on his chest, as well as Elektra and Daredevil taking on the Japanese organized crime syndicate, The Hand!
Check out the trailers below, and get ready for the explosive second season of ol' Hornhead streaming on Netflix starting March 18!