Suit Up: Captain America Back On The Front Lines
Mar 04, 2016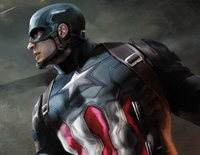 In this month's Suit Up, we pay tribute to the Avenger that has been keeping liberty safe since Hitler invaded Europe. Captain America has long been at the front of the fight against tyranny. But the sentinel of liberty is about to find out that his plate is quite full in 2016. It is, after all, the year that Captain America: Civil War hits the theaters. The third movie for Cap is sure to get fans talking about the Avenger again, as he's having to fight the very people that he's been working with since he first emerged from hibernation. Extra scrutiny will show you that in the March issue of the PREVIEWS catalog, we've got a good line-up of Cap essentials that'll keep you up-to-speed on the hero's status, and prepared for active duty should the Avenger need YOU to stand next to him on the battlefield.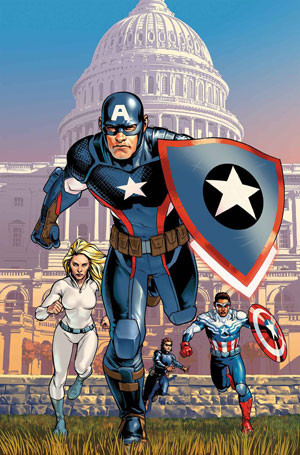 If you want a primer on Cap's whereabouts in comics today, you want to get in on the ground floor with Captain America: Steve Rogers #1 (MAR160721). Steve's back to reclaim the mantle of the star spangled Avenger, and this is bad news for people who think they can take the levers of power, and use them to their own advantage. There's always going to be a check to restore balance, and in this case it's the original Sentinel of Liberty who's not only one of the worlds' most superior crimefighters, but endued with the American spirit that never quits, and never surrenders.
In the case of what happens in this debut issue that's written by Nick Spencer and drawn by Jesus Saiz, Hydra has once again crawled out of subterranean ooze, and they are looking to get another foothold in securing world power. Lucky for the citizens of the world that a man whose spirit can't be broken is back with a new shield, a new team, and a new mission!
This series launch is accompanied by the dynamic Captain America Steve Rogers #1 By Saiz Poster (MAR160956). It'll help people figure out quickly that you're not a fan of Hydra, or that you won't hesitate in helping Steve Rogers' fight for freedom.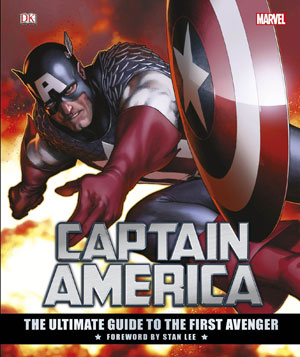 There may be some in the crowd that question your allegiance to Steve's stamina. They may not be quite up-to-speed on what makes the Captain so attractive that strangers can be found rushing headlong into a fight just after hearing the man speak.
These are the newbies. Those late to the party. And that's ok. Not everyone is on the same page at the same time.
So for those who need a refresher course on what makes Steve Rogers' alter-ego so magnetic, we offer the Captain America: The Ultimate Guide To The First Avenger HC (MAR161964) from DK Publishing.
Writer Matt Forbeck offers a comprehensive guide to Captain America, and his expository writing is backed up with solid historical information and beautiful artwork that makes the book essential, and authoritative reading for those who want a bio that stands up to the test of time.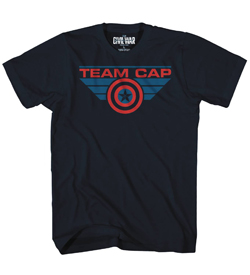 It may take you a few days and night to get through some of this reading. But whether you choose to do your reading day or night, wouldn't it be nice to look the part of the fan while you're involved in being a fan?
You want some gear to go with your guides?
Check out the Captain America 3 Caps Team PREVIEWS Exclusive Navy T-Shirt (MAR162063), or the Captain America 3 Winter Shadow PREVIEWS Exclusive Charcoal T-Shirt (MAR162068).
Both shirts are top-shelf wardrobe for the die-hard fans and those eager to see the new movie in theaters.
And if you're looking for good merchandise ideas that put plastic in your paws, check out the Captain America 3 Civil War Mystery Minis (MAR162328). Now these are some serious collectibles, folks, as they're toys based on characters from the upcoming new movie, and there's 12 stylized vinyl 2 1/2" figures to collect for play time, and shelf time.
Your pick. They look great doing battle on the hills and valleys of your living room couch, or in your display case that can help be a testament to the timelessness of Marvel's greatest Avenger, and how his legacy is a boom at the box office. Characters include Captain America, Iron Man, the Falcon, the Black Panther, Hawkeye, Black Widow, War Machine, the Vision, and many more.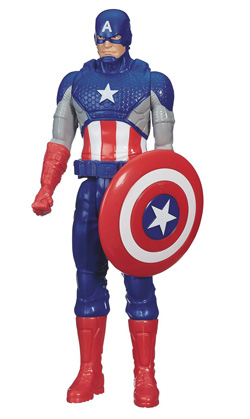 While you're thinking about which costumed heroes in this lot are the first to make your short list, check out the POP Captain America 3 Captain America Vinyl Figures (MAR162342) before you finalize your wish list!
These 3 3/4" tall stylized vinyl figures let you choose from Cap, The Winter Solider, War Machine, Black Panther, Black Widow, Agent 13, Crossbones, and Scarlet Witch.
And if you still want something for that die-hard fan in the family that appreciates a toy which towers above all others, then pick up Hasbro's Avengers Titan Hero 12-Inch Captain America Action Figure (MAR162401).
If there was ever a phrase that could describe this toy's appeal to collectors, it would simply be "no apologies."
And no quarter, either.
All of these goodies can be found in the March edition of the PREVIEWS comic shop catalog!