Titanic Team-Up in DC's Future Quest #1
Feb 25, 2016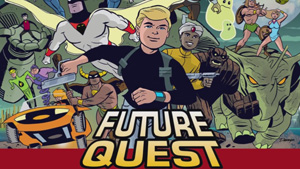 It's the first time he's going to have a comic since the mid 90s. It's a dramatic new take on a classic cartoon hero. And it's a series that will be driven by Flash Gordon writer Jeff Parker and artist Doc Shaner.
Talk about an all-out assault on the senses.
Yes, it's true, Jonny Quest is back, and he's bringing an army with him. With DC Comics' Future Quest #1 (MAR160176), the adventurous kid and his adoptive brother Hadji make a startling discovery in the swamplands of Florida, where they are pulled into an epic struggle between the Space Rangers and a dangerous villain who threatens the galaxy.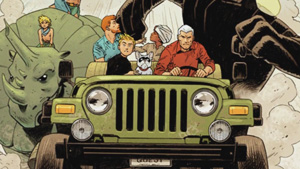 Upon seeing the lineup of characters that are going to enter the mosh pit of mayhem with Jonny, you'd first think that this is fan fiction. Such is not the case. This is the real thing, folks. It's in-your-face, let-it-all-hang-out action with the combined forces of Team Quest, Inter-Nation Security, Space Ghost, and a host of Hanna-Barbera's greatest action heroes that pull together to stop everything from going down the drain of destruction.
This is not a movie! It's the beginning of a new, monthly series that features character designs by comics superstar Darwyn Cooke, and it's launching with a Evan "Doc" Shaner wraparound cover that features the book's cast, with Shaner also on point to produce a coloring book cover.
Future Quest #1 (MAR160176) is in comic shops May 18.