Micro-Managing the Ministries In A Maze of Many Micronauts
Feb 19, 2016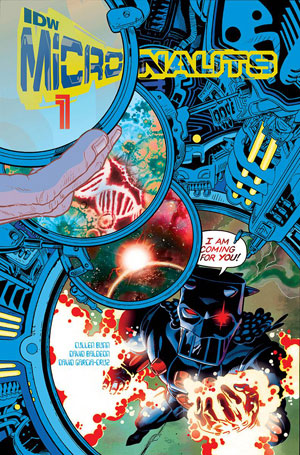 by Vince Brusio
If you are a child of the 80s, you remember the Micronauts. The property first came to light as a toy line that was made from 1976 to 1980. Late in the 70s, Marvel moved the Micronauts into comics, and from there the rest is history. Which is something that won't be reflected upon in Micronauts #1 (FEB160291) from IDW Publishing. Writer Cullen Bunn tells us this is something new. A different canvas will be painted for the Micronauts in 2016. In this PREVIEWSworld Exclusive interview, Bunn explains while this is a new series for IDW, he's been playing in the Micronauts universe since long before he could drive a car.
Micronauts #1 (FEB160291) is in comic shops April 27.
**********
PREVIEWSworld: What's the premise for the new Micronauts series? Will this be a relaunch? A remake? Is there a quiz after the first issue because of all the history behind Micronauts? Where does this story start?
Cullen Bunn: This is a new tale set in Microspace, a microscopic universe that coexists with our own. While there have been previous Micronauts series, this story stands completely on its own. The first issue of the series is all you need to enjoy the story. We're introducing all the characters and all the backstory as we go along.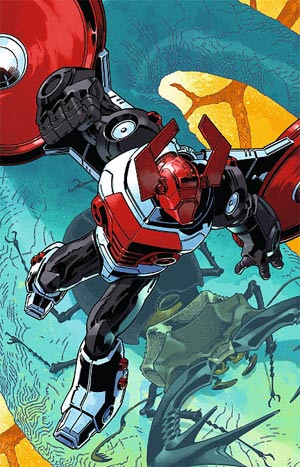 PREVIEWSworld: How long have you been working on this project, and what does it mean for you? What's your personal connection to the Micronauts? Were you a big fan as a kid? Are you guilty of writing/drawing fan fiction and/or fan art?
Cullen Bunn: I've been working on this story since July 2015, but — really — I've been making up my own Micronauts stories since I was a kid. I was a pretty big fan of the toys, and I fondly remember one Christmas when I got several of the action figures and vehicles. At the time, those toys had no cartoon or movie to define their story, so I defined my own tales as I played. Then, of course, the amazing comic book series by Bill Mantlo and Michael Golden came out, and I've often credited that book as the comic that made me love comics. It was an exercise in universe-building, and I loved it! I've been kicking around ideas for my own Micronauts stories for years. I thought it was just daydreaming until recently.
PREVIEWSworld: Who is the audience for this book? Would you pitch it to an audience as sci-fi nostalgia? How would you play this book up if you were speaking at a convention panel?
Cullen Bunn: I think fans of swashbuckling sci-fi epics will enjoy this story. My overall pitch for the series might sound something like this: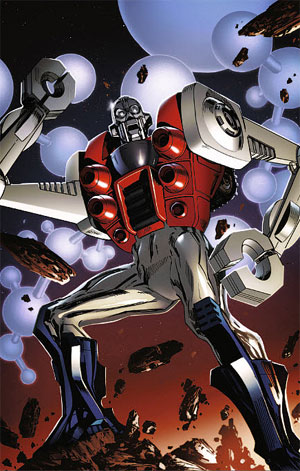 Micospace — a fantastic realm of science and sorcery, robots and star craft, majestic cities and fearsome alien monstrosities — is collapsing. A field of nothingness is eating away at the heart of the universe, consuming entire star systems as it slowly expands. In the wake of this cosmic apocalypse, a civil war has erupted between the Ministry of Defense, ruled by Baron Karza, and the Ministry of Science, overseen by Force Commander. Each side of this conflict believes they can stop the destruction of the universe, just as each side believes the other will only accelerate the demise of everything. Karza and Force Commander are so wrapped up in their battle, they have lost sight of their true goals, and the citizens of Microspace suffer. Caught in the middle of the war, rag-tag group of thieves and scallywags find themselves on a quest to find the source of the imminent destruction and put an end to it.
PREVIEWSworld: What can you tell us about YOUR renditions of the story's characters? Have you drawn from people/personalities that you know, or was there some other new alchemy that you cooked up for the individuals in this book?
Cullen Bunn: This is very much a team book, and one of my early goals was to create personalities for these characters that would play well against one another.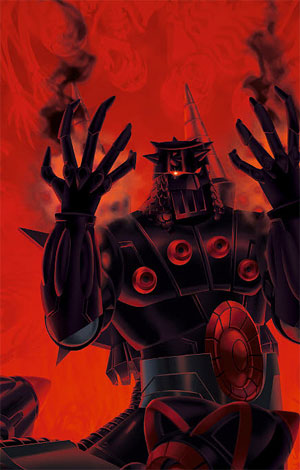 I don't know that I could pinpoint any one person I used as inspiration. It's rare that I can narrow it down. But every character draws from people I know as well as from fictional characters. I wanted to do my best to surprise readers with these characters. For example, whether or not you read other incarnations of The Micronauts, when you see the image of Baron Karza, you can't help but envision his personality. I wanted to play with that a little bit and give readers a take on the character you might not expect.
PREVIEWSworld: If you could geek out over a particular scene(s) in issue #1, what would it be?
Cullen Bunn: Just one? Not fair! So I'm gonna cheat a little! I really like the opening scene of the first issue. I wanted to set the stakes and strange super-science up right away, using only a few pages. I believe that first scene does a good job of that. That said, writing the first scene featuring "big bad" Baron Karza and "total badass" Acroyear were both thrills for me.
PREVIEWSworld: We'll give you the last word on this one. What would you like to say about Micronauts #1 that would make people want to put it on their pull list?
Cullen Bunn: This is book with a little something for everyone, I think. If you like sci-fi epics, this is for you. If you like lots of swashbuckling action, this is your book. If you loved the old Micronauts toys, you'll be seeing them at work in these pages. Do you want weird interstellar mystery? You're covered. It's a new universe, built from the ground up, and I think it's going to be a lot of fun.