Old Fans Make New Faces For Star Wars: Poe Dameron
Feb 11, 2016
by Vince Brusio
Unless you've been living under a rock recently, you know that Star Wars has rocketed back into the spotlight with the release of the new movie, The Force Awakens. The film begins the next chapter in the Star Wars saga, and with it came new and exciting characters. The same can be said for the Star Wars: Poe Dameron #1 (FEB160747) comic book by writer Charles Soule and artist Phil Noto. With the release of their new title from Marvel Comics, Soule and Noto—both old school Star Wars fans — are serving up a new hero and his friends that are trying to advance the cause of the Resistance. Check out our exclusive interview, and get ready for the next jump to hyperspace.
Star Wars: Poe Dameron #1 (FEB160747) is in comic shops April 6.
**********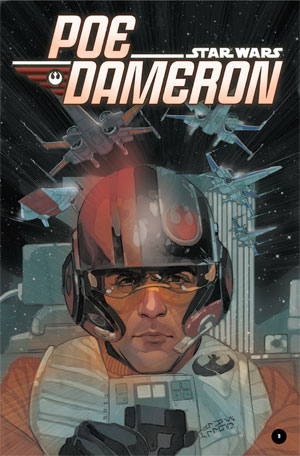 PREVIEWSworld: For those readers who are just hearing the name of Poe Dameron for the first time, what's the premise for Star Wars: Poe Dameron?
Charles Soule: Well... for that hypothetical reader who has never heard of Poe Dameron, let me help you out. There is an immensely popular science-fiction film series called Star Wars, which has released seven installments over a period of almost forty years, as well as all sorts of tie-in material, from books to video games to toothbrushes to comics. The most recent film is Star Wars: The Force Awakens. The movies have all been combinations of straight up sci-fi space wars and a sort of strange magical mysticism. In the latest film, we are introduced to a bunch of new characters, one of whom is a hotshot starfighter pilot named Poe Dameron. He's super great - charming, capable and firmly in the good guy camp. When the credits rolled, it was pretty clear that everyone would like a little more Poe, and that's what this series is. It's set before Episode VII, and involves tales of Poe's adventures with a small squadron of fighter pilots as they zip around the galaxy trying to advance the cause of the Resistance (good guys, led by General Leia Organa) while frustrating the First Order (bad guys). They have to stay under the radar, though, because both sides are in a bit of a cold war, and it would be very bad if things flared up.
So, to sum up, it's a space adventure series with some awesome battles, and fantastic characters new and old.
PREVIEWSworld: How long have you been working on this project, and what does it mean for you? What's your personal connection to the story?
Phil Noto: I started doing initial designs for this back in November. I love working on this book because Poe is such a great engaging character and it's an opportunity to play in the new Force Awakens-era galactic "sandbox."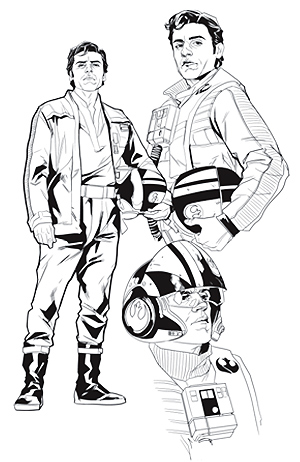 Charles Soule: I started thinking about it around that time, too. We were given a download of information about the new galactic status quo to get the wheels spinning, and since that was well before the film came out, man, did they ever spin. I've been a Star Wars fan forever, and this opportunity is pretty unbelievable - adding building blocks to the newest wing of the Star Wars galaxy is a dream come true. I keep worrying I'm going to wake up!
PREVIEWSworld: Describe the working relationship you have as a creative team. How did you two give this creation life?
Phil Noto: We'll discuss some stuff on the phone but it's a lot emails. We had a great trip out to Lucasfilm where we hammered the premise for the book and we've been building on those ideas ever since.
Charles Soule: Exactly. We're both totally reachable to each other, but mostly I think we both have a lot of confidence in what the other half of the team can do. I know that Phil is going to deliver some of the most incredible Star Wars art we've seen yet. All I have to do is make sure the scripts are worthy of his talent.
PREVIEWSworld: What can you tell us about the characters in this story? Are they based on people/personalities that you know, or was there some new alchemy you cooked up for these individuals?
Phil Noto: Most of the characters I'm working on now are ones you've seen in the film but I'm really excited to do more with our new villain who I think will be a great foil for Poe.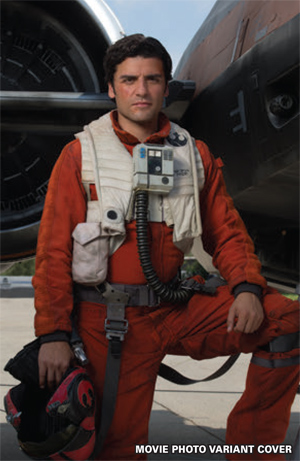 Charles Soule: Exactly. That guy will be awesome. We did want to start with familiar faces, old and new, but over time the cast will expand. We will see familiar Star Wars characters, and that should be a blast.
PREVIEWSworld: If you could geek out over a particular scene(s) in this book, what would it be?
Charles Soule: The book opens with a sequence that involves an X-Wing doing things we've never seen one do before, and that's the part I'm really looking forward to seeing. But there's also a bunch of fun BB-8 related material that'll be neat to see as well.
Phil Noto: There's also a great scene where he's putting together the squadron. It's pretty sweet!
PREVIEWSworld: We'll give you the last word on this one. What would you like to say about for Star Wars: Poe Dameron #1 that would make people want to put it on their pull list?
Phil Noto: If you're a fan of Star Wars: The Force Awakens and/or Poe Dameron you'll love seeing the true backstory of Poe and his squadron.
I'm mixing properties here, but think the tone is very much Indiana Jones with X-wings.
Charles Soule: Hard to argue with that - it's exactly what I was going for. If you liked Poe in The Force Awakens, or just want to see more of that time period in Star Wars chronology, you'll love this.