Suit Up: Daredevil's True Colors
Feb 11, 2016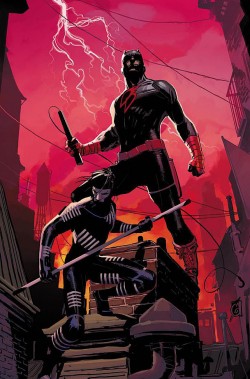 The suit's normally red. But what about when he's back in black? No matter the color scheme, there's only one Matt Murdock, and his alter ego Daredevil is the subject of this month's ongoing article we like to call "Suit Up!"
In this ongoing feature, we like to call out those costumed heroes who are first to don their spandex and run headfirst into danger. We're suckers for heroes over here at PREVIEWSworld, and we love to call attention to what new forks in the road are ahead for our favorite costumed crimefighters.
In the case of ol' Hornhead, if you check out Daredevil #6 (FEB160893), you'll see that Hell's Kitchen knows no fury like an assassin scorned. Elektra Natchios, is back in the Big Apple and she's got a score to settle with The Man Without Fear. Maybe she still hasn't got over how Bullseye rammed a sai through her chest (wayyyyy back in the Frank Miller days, folks). But, no, it couldn't be that simple. The truth is that although Matt Murdock has managed to keep a lid on his nocturnal activities from the entire world, there are parts of his past he can't escape...because those parts have no intention of letting him escape. What's a poor blind superhero to do? You'll have to read the current ongoing series from Marvel for the answer to that question.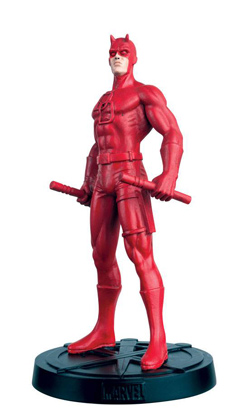 Reading is a good thing, especially when you're armed with a truckload of Daredevil stories. He's been a staple for comics fans long before many at the comic shop were born! So if you intend to keep up with what's on the front burner for the hero of Hell's Kitchen, you'll want to pick up a copy of the Daredevil Back in Black Volume 1: Chinatown TP (FEB160967) which collects Daredevil (2015) #1-5 and material from All-New, All-Different Point One #1. This chapter of Matt Murdock's life depicts how he locks horns with local crime lord, Tenfingers, duplicitous founder of the Church of the Sheltering Hands.
If you'd like to move past just what's on the radar these days and brush up on DD's past slugfests, this month's Marvel Fact Files Special #15 Daredevil (FEB162488) can fill the order. The 20-page magazine also comes withe a 128mm figure of the hero. And speaking of figures, the February issue of PREVIEWS also touts the Marvel Daredevil 8in Retro Action Figure Set (FEB162460) and Daredevil PREVIEWS Exclusive Bust Bank Red Version (FEB162900). Both are sure to look great in any display case or bookshelf. And if you need some added decor for your own secret hideout, check out the Daredevil #6 By Sienkiewicz Poster (FEB160980). Who can't get enough of Elektra Natchios, eh? Especially since she's set to appear in the second season of the Netflix Daredevil TV series!
All of these gems can be found in the February issue of the PREVIEWS comic shop catalog!