Tough Teddy's Back In Aftershock's Rough Riders
Mar 31, 2016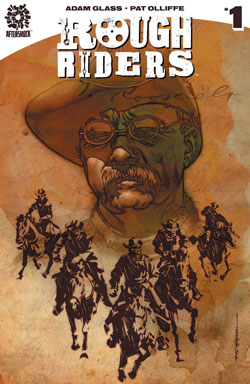 Before Teddy Roosevelt was president, he led the legendary Rough Riders into battle in Cuba.
The onlhy thing missing was a soundtrack from Ted Nugent.
Gonzo, baby. Positively gonzo.
Now Adam Glass and Pat Olliffe reveal their secret history in their new series for Aftershock Comics, Rough Riders #1 (FEB161044).
With a team that includes Harry Houdini, Annie Oakley, and Jack Johnson, Roosevelt and his team of legends will battle an alien menace that threatens the world!
Who needs CGI when you've got these A-list straight shooters that aim first and ask questions later?
Rough Riders #1 (FEB161044) is in comic shops April 6.