Freak Flags Fly At Chaotic Camp Midnight
Feb 05, 2016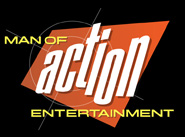 by Vince Brusio
From Man of Action's Steven T. Seagle and The New Yorker artist Jason Adam Katzenstein comes Camp Midnight (FEB160616), an original graphic novel from Image Comics in which we meet reluctant camper Skye who is accidentally sent to the wrong camp for the summer.
Not wanting to please her "step monster," Skye is dead-set on not fitting in. Luckily, that won't be a problem, as everyone at Camp Midnight — with the exception of fellow camper and fast-friend Mia — seems to be a full-fledged monster!
PREVIEWSworld had a chance to speak with Steven and Jason about their new graphic novel, which has been well over a year in the making!
**********
PREVIEWSworld: For those readers who are just learning about this title for the first time, what's the premise for Camp Midnight (FEB160616)?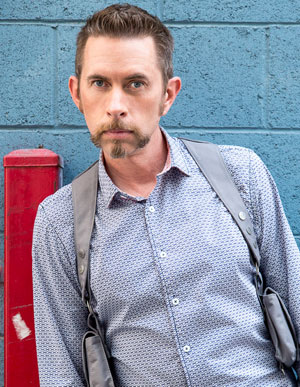 Steven T. Seagle: Skye is a young teen girl who is ready to spend the summer with her divorced and remarried dad only to find that her dad and stepmom – who Skye "lovingly" refers to as her step-monster – have elected to send her off to camp for the summer. A mix-up in the parking lot results in Skye boarding the wrong bus and finding herself at Camp Midnight, where she discovers that she's the only human girl at a camp full of monster kids. But how can she keep that secret all summer when the other kids start to let their hair – and fangs – down?
PREVIEWSworld: How long have you been working on this project, and what does it mean for you? What's your personal connection to the story?
Steven T. Seagle: I've had this idea in mind for about a decade, but I hadn't met the right artist for the project until I came across the immensely talented Jason Adam Katzenstein via our mutual friend, actor Daryl Sabara. Daryl brought Jason to my writer's group that meets every week at a Los Angeles Korean Spa. Less than a month later we started working on Camp Midnight at the group every week. Our target was to produce 7 pages a week, written and drawn. We kept that schedule and about a year later we had the book.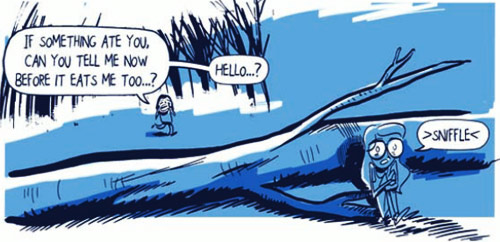 My personal connection to the story is that I was in fifth grade in Colorado and we were sent to a district-wide school camp in the Rocky Mountains called "High Trails." You can make your own joke about the name and Colorado. But while I enjoyed the experience overall, it was the first time I remember feeling like a real outsider. There were older kids there from other schools, kids who'd been to camp before, kids a lot more at home away from home than me, and I just kept thinking to myself: Try to convince everyone that you belong here. In retrospect, I imagine a lot of other kids felt equally out of sorts and out of place as well but I was too young to grasp that truth. So I wanted to do a story about finding yourself in a place you feel lost.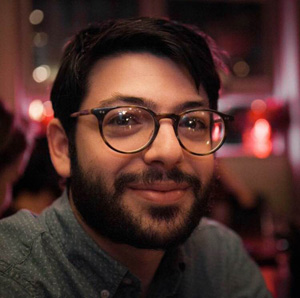 Jason Adam Katzenstein: What it means for me is that I get to work with the genius Steve Seagle, whose work I'd read and loved before we ever met! It's a Bird… is one of my all-time favorite comics, so this has been humbling.
My camp story may be the inverse of Steve's: During the school year, I was an awkward tween, uncomfortable in my own skin and embarrassed about my interests (comics!). Then I went to a CalArts summer program, where everybody was so talented and weird. It was like coming home. Camp Midnight is a place for all of these monster kids to go every summer and let their freak flags fly, which is how I felt about art camp!
Finally, as a child of divorced parents, one thing I really appreciate about Camp Midnight is how it doesn't shy away from the hardships and frustrations of being a kid whose parents have separated. It's confusing for Skye, and it makes her angry, but it doesn't get in the way of her going on this incredible adventure.
PREVIEWSworld: Describe your working relationship as a creative team. How did you two tinker, tweak, and blow things up to give this creation life?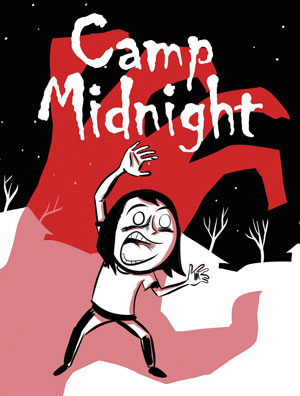 Steven T. Seagle: Well, the working relationship is that I wrote a story I liked a lot and Jason proceeded to do pretty much everything else! He penciled, inked, lettered and colored the book. Once we started getting pages down, we would sit together at the weekly writer's group and go over the work we did the previous week – make story and art revisions – design the fonts – play with the color approach – it was a very open and easy process – not to mention a lot of fun.
Jason Adam Katzenstein: The best part of my week was getting new script pages. Steve gave me a lot of freedom to experiment visually, and sometimes he'd give me little asides and challenges like, 'This should be the scariest page in the book.' These were exciting challenges!
PREVIEWSworld: What can you tell us about the characters in this story? Are they based on people/personalities that you know, or was there some new alchemy you cooked up for these individuals?
Steven T. Seagle: When I thought up the idea for Camp Midnight, the characters came with it. So I pretty much knew that Skye was a smarter-than-her-years girl.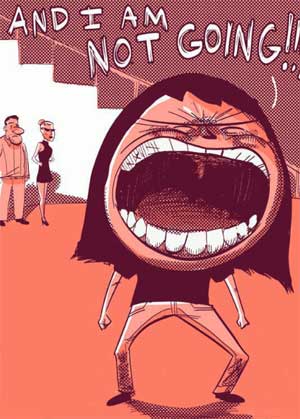 She's sassy. She's headstrong. But that's also some armor to keep her world as pulled together as she can. Her camp friend Mia is equal parts instant-friend to Skye and shrinking violet to the other kids in camp. She has a very dark secret of her own and wonders if she can entrust her friend with her personal truth. Skye has a camp crush on Griffin, but he's a real dog. Wolf-dog, that is. And there are other campers, led by Abcynthia, as well as some oddball counselors who may or may not be witches and toads. They were not based on people I know, but they were in my head as characters right away. And I wrote this book in a method I never use in that I wrote it sequentially from the start. I usually write from the end backwards, so the characters did reveal things to me as I developed them and I'd have to go back through and adjust what I'd done before. That's the good part about taking a year to get through the book – there was time to polish.
Jason Adam Katzenstein: I feel like I know them now, does that count? One thing that was fun for me was really being able to imagine how every character moves and sounds. Mia is quick and frenetic, Skye is tough and gestural. Steve just introduced me to these people who were so alive, and it was a joy to do my part in trying to capture them panel-to-panel.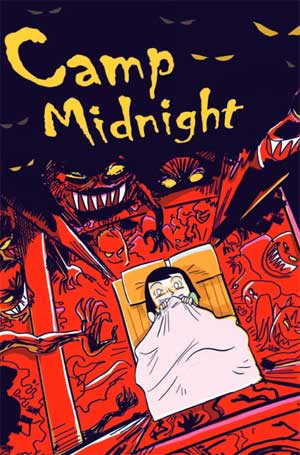 PREVIEWSworld: If you could geek out over a particular scene(s) in this book, what would it be?
Steven T. Seagle: I love the entire book. I love what it says about feeling comfortable in your own skin. I love the environments Jason created and I love even more what he did with zip-tones and color to make those places feel so distinctive. But the scene that stays in my head is one that's previewed in the FCBD edition. It's a quiet moment in the forest where Skye finds a bummed-out Mia, and the whole thing is lit in dark blues and a bright white moonlight. That stands out. And then there's the really weird occurrence in the forest later… but I can't talk about that!
Jason Adam Katzenstein: I'm really happy with how the first transformation sequence turned out. In Skye's world, characters are distorted and horrific in one moment, and calm and subdued in the next. I love that the monster versions of these kids correspond pretty closely to their 'disguise' versions of themselves.
PREVIEWSworld: We'll give you the last word on this one. What would you like to say about Camp Midnight #1 that would make people want to put it on their pull list?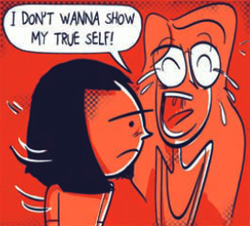 Steven T. Seagle: First I'd say that the FCBD #1 is FREE, so if that doesn't make your pull list, you're just not trying hard enough! We packed in as many pages as we could into that edition – 27 pages of story/art – and it tells its own little tale even though it's an excerpt from the longer graphic novel. Second, I'd say if you like the FCBD short version, you'll love the entire book which will be in stores by the time of FCBD 2016. It's a done-in-one volume, so the whole story is right there!
Jason Adam Katzenstein: It'll make you laugh, cry and scream. What else could you possibly want?