Love Bites For The Queen of Vampires
Jan 29, 2016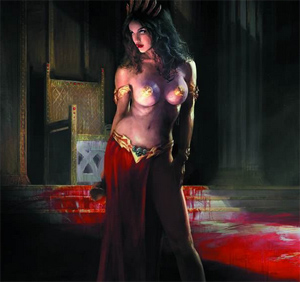 ARH Comix has unveiled their new comic book based on a statue made for Sideshow. Queen of Vampires #1 (OCT151114) spans a total of seven issues for the mini-series, and the first book is in comic shops February 3!

The story is too tempting to not be of interest to any vampire lover. A ravishing beauty named Arkhalla has had a life of luxury, as her good looks and charm have helped her remain a powerful and cruel queen that dominates a realm of vampires and humans. She has absolutely nothing to worry about, and everything in her favor. Who would not want that life? Yet, her anatomy will ultimately betray her.
The chokehold she has on the lifeforms beneath her is about to relax because Arkhalla is about to fall victim to the one force that cannot be cowered by cruelty: love. And love is forbidden to Arkhalla because it will threaten her very existence. Should the vermin beneath her feet see that she can feel, that will give them hope to turn against their mistress of misery. They may entertain the idea of revolt. What do you want to bet that there are many miserable minds that would not risk everything if it meant capturing Arkhalla when she is caught up in passion, and use that moment of weakness to destroy her?
On February 3, look for Queen of Vampires #1 (OCT151114) at a comic shop near you!