Harley's Helpers Bring Gang-Style Headaches
Jan 29, 2016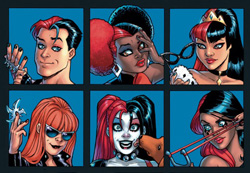 Ever wonder what the A-Team would look like if it were turned on its head, and dumped in a molotov cocktail of Skittles candy and amphetamines? It might look something like the cover for Harley Quinn and Her Gang of Harleys #1 (FEB160119).

The term "motley crew" comes to mind, but don't confuse it with the guys who put on eyeliner and bounce on stage to the tune of "Kickstart My Heart."

No this is something that might have more in common with a 42nd Street grindhouse flick (if it had a Harvey Weinstein budget) and a wardrobe that would make Lady Gaga jealous.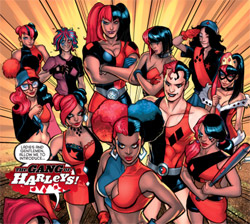 The A-Team reference we dropped is due in part to the book's plot: the harlequin hottie has been kidnapped and her friends set out in a six-issue adventure to bring her back to home base.

Cue the explosions, and the guy being thrown across the screen as he bounces head-first off the nearby jeep.

This is a good thing.

Random acts of violence by ladies who look like auditions for the new-and-improved Spice Girls is guaranteed to keep us entertained until it's time to hit the beach for summer sun bathing.

Written by Frank Tieri and Jimmy Palmiotti, with interior art by Mauricet and a cover by Amanda Conner, Harley Quinn and Her Gang of Harleys #1 (FEB160119) is in comic shops April 13.