Brian Pulido Resurrects Lady Death
Apr 18, 2016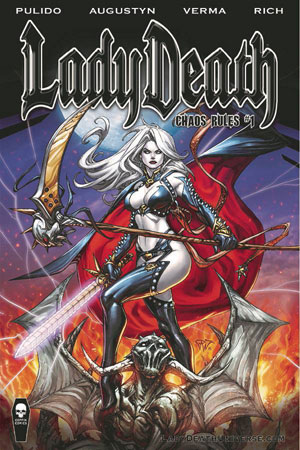 by Vince Brusio
The 90s. Comics were a little different. Flashier spandex. Oh, yeah. And horror comics were more prevalent. Remember Northstar? Chaos! Comics? You had to hear of Chaos! Comics because those were the folks that put out books like Evil Ernie and Lady Death. The man behind the lady, in fact, is back for the attack, as creator/writer Brian Pulido has returned to the fold after a long absence, and he's set to make Lady Death: Chaos Rules #1 (FEB161332) a Category 5 hurricane.
Lady Death: Chaos Rules #1 (FEB161332) is in comic shops April 20.
**********
PREVIEWSworld: You left a good amount of destruction in your wake when Chaos! Comics ruled with an iron fist. What were you doing between the end of your Chaos! days and the new company you have now, Coffin Comics?
Brian Pulido: To answer this question completely, I have to go back in time a little bit. Avatar Press / Boundless Comics was a minority owner and had the publishing license for Lady Death from 2004 – 1015. But now I am now the sole owner of the intellectual property Lady Death, all of her stories, all characters related to her stories, her logo, etc. Boundless was allowed a final story, entitled Lady Death: Apocalypse which completed in 2015.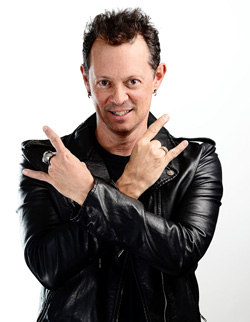 It is critical that I distinguish this for you because Coffin Comics has no association whatsoever with the aforementioned publisher. We want to be judged on our own merits. With Coffin Comics, I will offer up the same unbridled excitement and enthusiasm that I did during the Chaos! Comics era. This is not a cynical play. I love Lady Death and I love telling supernatural tales fueled by a rock n' roll spirit.
If I engendered any good will or fondness during my Chaos! Comics publishing run, please consider my wares today. I will produce comics on a timely basis told with passion and excitement for the form. The work is not for everyone, I know, but to those who do love it, they are very dedicated to it. Our legacy fans. And this is the direct feed to the creator. No middle men. No one to get in the way.
PREVIEWSworld: Why did you decide to come back to comics? And why did you decide to start up Coffin Comics rather than produce new work through another publisher?
Brian Pulido: I came back to comics after a long and winding process. I was chomping at the bit to get back into comics. I was / am so happy to be reunited with Lady Death.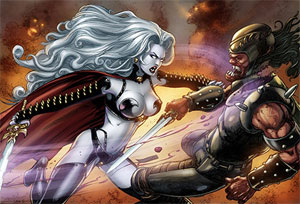 I chose to publish on my own because I realized that's where the creative excitement is for me. Simply writing the book and emailing it to the publisher is not enough.
I love to be immersed in every aspect of the work: the creative, the management, the marketing, connecting with the fans and readers. It all is part of the experience for me.
PREVIEWSworld: Lady Death: Chaos Rules #1 is said to kick things off with "sex, violence, and very, very bad behavior." What kind of details might you be able to tease for us about the series now that you're not limited to a description in PREVIEWS?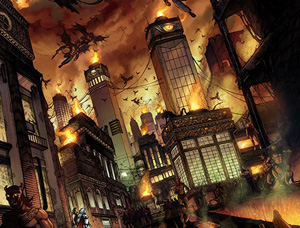 Brian Pulido: The Coffin Comics' Lady Death is set in the present. We begin in Hell, but this interpretation of the underworld was never seen in a Lady Death story. Chaos Rules is set in a teeming city of all architecture from all time, piled onto itself. We operate from the original premise that Lady Death is a dark, brooding, cold-hearted anti-hero with the blood of Heaven and Hell running through her veins.
We took a long, hard look at what we would imagine Hell would be like and it will be far more brutal and ruthless than previously seen. Our new chapter of Lady Death has much more in common with the tone and severity of story environments like Dredd, Road Warrior, and Escape from New York. Our Hell is filled with vile sinners – the very worst of humanity – and that's where Lady Death finds herself. And to be honest with you, Lady Death is quite pleased to be there.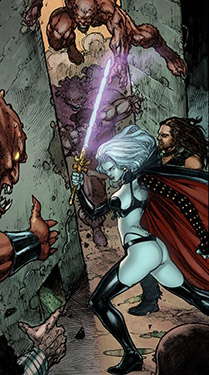 Readers will learn that the Avatar/Boundless stories are not part of Lady Death cannon. Those stories were dreams and nightmares that Lady Death had while she was in a 20 year spell-induced slumber. They have no bearing on her long-term mythology.
PREVIEWSworld: Brian Augustyn is credited as a co-writer on this book. What did Brian bring to the table for this project? How do you two work together on the new Lady Death book?
Brian Pulido: I laid out the story in a five-page document. Brian then fleshed out the story, then it went back to me and I added details and finishes.
PREVIEWSworld: The new title is a 48-page self-contained book. Tell us about this format. Why did you decide to do a prestige format one-shot instead of the traditional mini-series? And can fans expect similar releases in the future from Coffin Comics?
Brian Pulido: Boy, I love the format. Lady Death has a dedicated fan base made of readers and collectors. Some read the books, others only collect the art. Some do both. We polled them aggressively and learned that they want bigger, more substantial stories.
Also, I liken myself to a book author who puts out a few books a year. I'm committed to putting out the longer format 48-page squarebound books four times a year. Each story will stand on its own, but has plot threads that introduces new characters and a global-level threat, which will culminate down the line.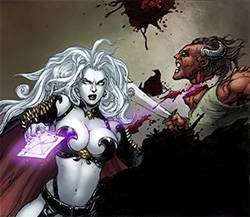 I'll put my heart and soul into the work. As of now, we have completed five 48-page Lady Death story "Chapters" and are working on the sixth now.
Our future stories are likely to be in this format as well, but we will adapt if the market demands it.
For those who don't know me, I've been reading and collecting comics since 1974. I read comics every week and love the hobby and the profession. I always say "You don't pick comics, comics pick you," and for me, that's the truth.
I'm a lifer.