Building Brute Force in Gold Key: Alliance
Jan 28, 2016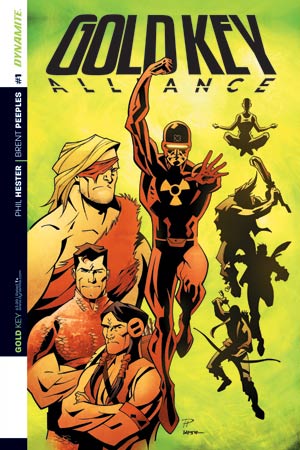 Dynamite Entertainment's Keith Davidsen conducts an interview with writer Phil Hester about his new five-issue series Gold Key Alliance, which features Turok, Magnus, and Solar. These three join forces with Mighty Samson and Doctor Spektor to take on a threat that puts all of them in the same space of time. Imagine the culture shock of suddenly finding yourself living in the 21st century! Read an excerpt of the interview below to get an idea about what Phil Hester and artist Brent Peeples have in store for readers this March with the release of Gold Key: Alliance #1 (FEB161346)!
**********
Dynamite Entertainment: Gold Key: Alliance marks the first time that you've ever written for super-hero heavyweights Turok, Solar, and Magnus. Was there any one character in particular that you were especially eager to tackle, and what interests you most about that character?
Phil Hester: Well, my son is working on his masters in paleontology, so Turok was definitely the one I wanted to tackle the most. I have an authoritative source for all things dinosaur, and I finally get to look cool in his eyes! In all honesty, I found something to connect with in every one of those characters. You don't really know where an assignment will take you, though, so I have to say Magnus has always been my favorite, mostly because of Russ Manning. Dr. Solar has always left me cold, but once I started writing him, Solar came to the fore.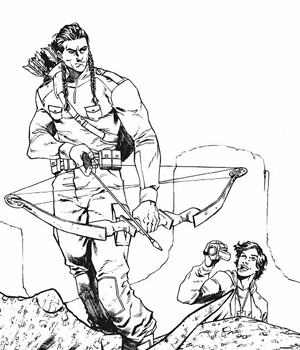 Dynamite Entertainment: When you think of each of the Gold Key characters, what do you feel defines them? Who are these characters?
Phil Hester: I'll try to say this without spoiling anything in the larger story, but I see each of them as an archetype of specific aspects of heroism. Magnus is the quintessential defender. Turok is the epitome of the explorer. Solar is the exemplar of the creator. Outside of that sort of meta perspective, each has a personality that shines through no matter the incarnation. Magnus is consistently upbeat and positive, Turok level-headed and bold, Solar contemplative and aloof. It's fun to have those differing personalities clash as they work twoard the same goal.
Gold Key: Alliance #1 (FEB161346) is in comic shops April 6.