Funny Flashback With The Timeless Three Stooges
Jan 28, 2016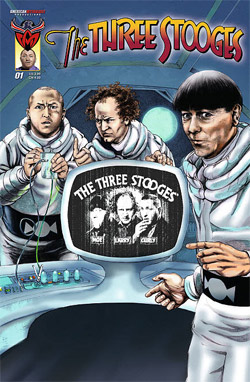 How long have you been reading comics?
As long as you've been watching TV?
If so, you might do a double-take with February's PREVIEWS catalog. Those famous funny men are back in a new comic series. And when we say funny, we mean drop down, roll on the ground, smack each other in the face funny. The kings of black-and-white TV comedy The Three Stooges have returned in a new comic book titled The Three Stooges: The Boys Are Back #1 (FEB161086) brought to us by newcomer American Mythology.
The cover for the inaugural issue is classicly illustrated by Chris Scalf, and a picture-perfect portrait of Moe, Larry, and Curly.
This is comedy that influenced generations of pie-throwing, face-slapping insanity on film, and it's poured into this new comics that sports a hefty helping of variant covers.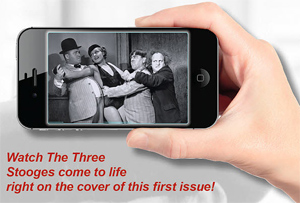 Of particular note is the Talking TV QR Code Cover, where you can watch the Stooges come to life right on the cover fo the comic! Just use your smart phone to scan the QR code shown on the boys' space age TV, and you'll see the classic short "Disorder in the Court" pop up on your screen. This exclusve edition can be yours if you subscribe to the series through your store, so go to comicshoplocator.com to find a shop near you, and pre-order this collector's item now!
The Three Stooges: The Boys Are Back #1 (FEB161086) is in comic shops April 6.