YouNeek Studios Brings Us E.X.O.: The Legend of Wale Williams
Jan 16, 2016
Tricked into returning home to Nigeria after a five year absence, an impetuous young man named Wale (pronounced Wah-leh) Williams embarks on a journey to investigate his father's mysterious disappearance. His only clue is a cryptic Nanosuit left behind for him by his father, a suit which grants superhuman abilities. Sound cool? Roye Okupe of YouNeek Studios thinks so, and he's pumped for readers to see how Wale realizes he must restore hope to the city by preventing catastrophic attacks from the sociopathic extremist, Oniku. In this interview, Roye answered a few questions about YouNeek Studios' new title and company mission statement. See what he had to say below.
**********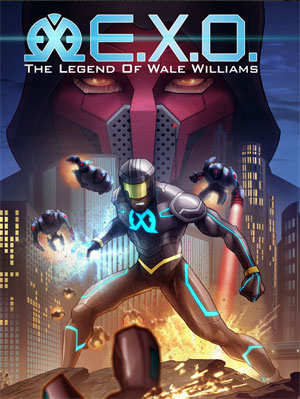 PREVIEWSworld: For starters, tell us a little bit about yourself and your company.
Roye Okupe: My name is Roye Okupe and I was born and raised in Lagos Nigeria. Ever since I can remember, I've been crazy about superheroes. I'm currently based in Washington D.C. and I started a company called YouNeek Studios in 2012. Our mission at YouNeek Studios is to create superhero stories based on diverse characters, from parts of the world that don't get enough attention when it comes to said stories. First in the line up of books is my debut graphic novel E.X.O. - The Legend of Wale Williams Part One. I usually try to attend any and all conventions in the East Coast of the U.S. if you ever attend any of those please look out for YouNeek Studios and/or E.X.O. banners.
PREVIEWSworld: Tell us about your new project and why you are excited to launch into the direct comic market. What is the hook for readers to pick up this GN, and what are the future plans for this book specifically?
Roye Okupe: E.X.O. is a superhero story about redemption, set in a futuristic 2025 Africa! Volume one of the E.X.O. is 136 pages and follows the story of Wale Williams, an impetuous young man who inherits a suit that grants superhuman abilities after his father goes missing. Launching the book into the direct marketing is incredibly exciting for so many reasons. First it kind of validates that we have a solid product if we can get distribution from Diamond. But more importantly, there not a lot of African comics written by Africans (or anyone else for that matter) in comic book stores. And the fact that this book (written and illustrated all by Nigerians) will have a chance to make comic stands is nothing short but awesome!
PREVIEWSworld: What websites are the best for learning about your company or talking with your staff?

Roye Okupe: The best place to learn about us is our website www.youneekstudios.com. I also run a blog on there were I discuss step by step instructions for other independent creators hoping to publish their first book. People can also find me personally on Facebook & Twitter @YouNeekStudios
PREVIEWSworld: We can see on Amazon and other review sites that people are giving this book a chance because it's relatable for African readers. Was that an initial goal when creating EXO?
Roye Okupe: Yes, definitely. But more than that, the goal is to create a story true to African culture, behavior, mannerisms etc. for a global audience. I think this is why organizations like CNN, Forbes, BBC and Mashable wrote stories about it. I believe the reason why a lot of people are so into superhero comics and movies is not necessarily because of their place of origin or what they look like, but instead why they do what they do, their backstory and what they fight for. I also wanted to do something positive and inspiration for my country (Nigeria) and my continent Africa. When people read the E.X.O. graphic novel, I want them to see a different side of Africa (our booming tech industry, amazing city architecture, unique culture, African humor, Afrofuturism etc. ), a side that is not regularly shown in mainstream media.
PREVIEWSworld: Is YouNeek going to cover/tackle other less familiar and recognized superhero groups in the future (women, other ethnicities or groups)?
Roye Okupe: Definitely. Our mission as a company revolves around diversity in superheroes. We all know this genre has been great for over 70 years, but it can be better in terms of diversity (and it actually has been getting much better recently). And when I say superhero comics can be more diverse, I don't mean just add more superheroes of color. While that's great, I also think we need diversity in terms of more female superheroes, superheroes from places like South America, Asia, Africa and so on. It's so amazing to see a superhero story told from the perspective of other diverse cultures from all over the world. And that is why I started this company.
Click on the pages below to see them at full size!