BOOM! Studios Collects Power Rangers Series
Jan 12, 2016
The Mighty Morphin' Power Rangers Volume 1 TP (JUN161226) collects the new ongoing comic series that will have readers dive headfirst into an original and modern take on the Rangers. This new series is sure to appeal to both nostalgic fans and new readers to the book. Anyone who enjoys epic, action-adventure fantasy stories will be nothing short of pumped! As a bonus, we conducted this exclusive PREVIEWSworld interview with writer Steve Orlando to ask him a few questions about his Bulk & Skull backup story appearing at the end of every issue of BOOM!'s Mighty Morphin' Power Rangers.
The Mighty Morphin' Power Rangers Volume 1 TP (JUN161226) is in comic shops September 14.
**********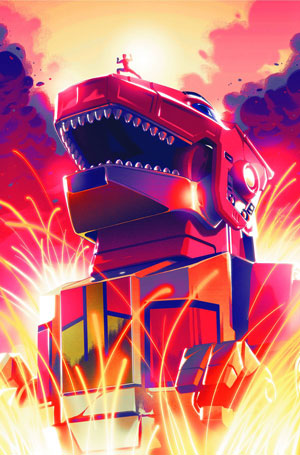 PREVIEWSworld: You're writing "The Ongoing Adventures of Bulk & Skull" shorts that will appear in every issue of BOOM!'s Mighty Morphin Power Rangers comics. How did you get the gig? Are you a big Power Rangers fan? If so, can you tell us who your favorite character, team, or season is?
Steve Orlando: It was very spontaneous! Sometimes the best answers, the most organic ones, come first. I was speaking to my friends at BOOM! at Comic-Con International in San Diego. They had just announced the Power Rangers license, and as a guy that regularly got pushed into lockers for liking the Green Ranger when I was a kid, I decided I needed to be part of it. So when they asked what I would do, right there on the con floor, I said without thinking, "Hey! What about Bulk and Skull?" And then I told them HOW I'd do it, and it was hard to forget the idea after that. Hard to get it out of our head. We kept the conversation going, and when the time was right, they found room for my screwball, punk rock, Laurel and Hardy pair.
PREVIEWSworld: Only two pages of "The Ongoing Adventures of Bulk & Skull" shorts appear in every issue. How challenging is it to write in such short bursts?
Steve Orlando: It's actually very challenging! Sometimes there's the idea that short stories are easier. But in reality, telling a story in a small amount of space forces you to work very hard and maximize your space. But I cut my teeth on eight-page shorts in Outlaw Territory, Mystery in Space and CMYK: Yellow. So I look at this as a challenge—create a whole story in two pages, where once there'd be eight, 20, or even 24.
PREVIEWSworld: What is your first Bulk & Skull story about? How many pages will this story be in total once all is said and done?
Steve Orlando: The first episode in issue #0 kicked off Bulk and Skull's adventures as they do whatever they can to prove they're the true heroes of Angel Grove. Those Power Rangers are chumps. No one appreciates everything Bulk and Skull do, and they'll do anything to remind their peers that they're the greatest that ever lived. In issue #1 and going forward, Bulk and Skull's adventures will parallel the main structure of Mighty Morphin Power Rangers. So we'll always be with them, but when they wrap an arc, so will we wrap one of our electric, eccentric adventures.
PREVIEWSworld: What can you say about working with your artist on these shorts, Corin Howell?
Steve Orlando: Corin is great! I had seen her work on Bat-Mite, and knew she'd bring the perfect energy to the stories that we need. I said it above—electric and eccentric. Bulk and Skull have a madcap, manic energy that is wholly their own. Corin does an amazing job bringing that to the page, with amazing skills in emotions, physical comedy, and staging.

PREVIEWSworld: What do you think makes now the right time for new Power Rangers comics?
Steve Orlando: Power Rangers have staying power. They've been on television in one form or another since I was seven years old. And I think that's something to celebrate. The people that grew up watching the beginning seasons are just now coming to a place in their life where they look back and smile, and the Power Rangers should be there. This is a celebration of a science-fiction television tradition, and the Mighty Morphin era is the foundation that everything is built on.
PREVIEWSworld: You're also currently doing work for DC Comics and Image Comics. Are there ever days when you write for more than one of the titles you're working on, or do you alternate? What's that like?
Steve Orlando: In a perfect world, I schedule my work so each script gets my full attention the whole way through, with no overlap. So that would mean I only work for one company on a given day since I'd only work on one book in a given day. BUT reality often wins out, along with my ever-present need to tweak and perfect things. So now I try to only block one issue in a day, but I will tweak the dialog for issues across the board until they're due. The work can always be better, it can always be more focused, and everyone I work for deserves the best.
What's it like? It's a wild experience to live in Gotham, and Angel Grove, or an apartment that's folded outside of space. It's been a 16-year climb to working in comics, but I finally don't have to live on planet earth.