Bring On The Bad Guys: Crossed, Bane, & Cobra Commander
Jan 09, 2016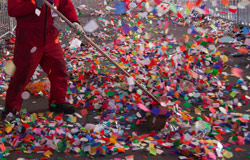 What happens after the confetti from the New Year's celebration has fallen to the ground, and it's someone's job to sweep up the mess once the streets are vacant?
Well, it's simple, really. Some guy has to come along and clean it up. And imagine the fun one has in cleaning up all that confetti in Manhattan. Imagine some taskmaster with a whip chiding his employees to work faster! With 48 tons of debris left in wake of the iconic party, and the city wanting to get back to "normal," there's no rest for weary bones. And no excuses to make! Mach schnell! Work faster! It's enough to drive one mad. Enough to make you snap. Enough to make one want to be a … bad guy.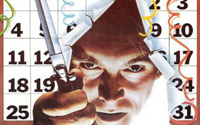 Yes, before this year's party, you were Melvin Nobody, but you did have dreams! But now the ball has dropped, and so has your goal for trying to do something positive as a New Year's resolution. You figure, why try to get ahead when you can instead ... get someone else's head! A real head to hold high in the sky to show you are finally carrying out diabolical deeds! They will call you Professor Death before the day is over, and your assembled army of anarchists will first topple New York City so that no confetti will ever haunt your dreams again!
Let us plan, shall we?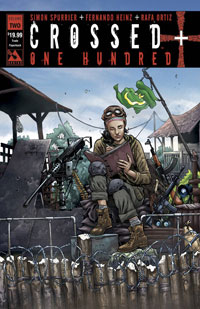 First thing's first. How to install fear in the masses so that they run away screaming for their lives.
An evil scowl and attitude is crucial.
You could model your countenance after the psychopaths one can find in the crowds of the Crossed. Just check out the Crossed Plus 100 Volume 2 TP (JAN161123) this month for tips on how to properly hold a knife and curse, and do really, really, bad things to people.
This particular volume should be handy as it shows how Future Tayler helps a new town of survivors prepare for the organized attack of the evolved Crossed.
You may be able to learn a thing or two in this book on how to counter those who stand in your way of domination.
See how Tayler thinks, and then plan accordingly to undo what she seeks to accomplish.
The book collects issues #7-12, too, so there's plenty to take in while you're studying Tayler's psychology.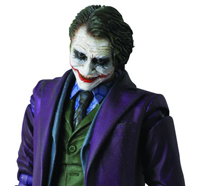 Studying the Crossed to learn lessons in brutality is what one could expect when auditing Violence 101, but should you want to move on to an advanced class assignment in mass homicide, what better teacher could there be than the one man who constantly fights Batman to a standstill? Opt to have the Dark Knight Joker Previews Exclusive Miracle Action Figure (JAN162525) as your homeroom instructor. There's no better teacher for terror than the Clown Prince of Crime when he was portrayed by Heath Ledger in Christopher Nolan's The Dark Knight. A full arsenal of weapons recreate many of his signature moments from the film, so you're sure to get schooled on how best to use razor sharp cutlery to your advantage. And you'll see just how intimidating it is to tilt your head ever so slightly so that a maniacal grin best conveys the fun you'll have in burning bridges and buildings.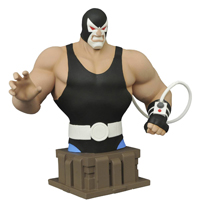 Pay attention to the startup time it takes in planning your pillage, as you'll see that the masses you employ may get a bit itchy, and won't want to give you the time you need to properly prepare for conquest.
You may need to assemble heavy fire power more quickly than you thought, and for that reason it's best to consider recruiting other rogues that can also be a real pain in the neck for the Caped Crusader.
We're, of course, referring to baddies such as Bane and the Penguin, which are both available this month as the Batman 1966 Penguin Bust Bank (JAN162241) and the Batman Animated Series Bane Bust (JAN162242).
Their egos are something to consider, though. You wouldn't want mutiny on your hands. So it's best to stack the deck to your advantage, and bring in other players so that they'll most likely fight each other instead of fighting you.
For that reason, consider recruiting the POP G.I. Joe Cobra Commander Vinyl Figure (JAN162371) for managing the slaughter in the streets, and the various Diamond Select Aliens Xenomorph figures that you can assign to stomp and chomp duties. You can recruit PREVIEWS Exclusive figures of the Boiler (JAN162492), Lurker (JAN162493), Soldier (JAN162494), and Spitter (JAN162495) for hours of gore, distortion, and carnage.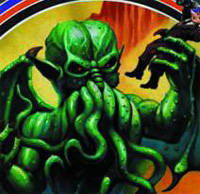 Now imagine your tirade of terror is over. The dust has settled. You need to represent, and you need to do it in style. You need to show how Melvin Nobody is Professor Death now, and no one can stand in your way as you emaciate all opposition. Make such a statement wearing a Legends of Cthulhu PREVIEWS Exclusive Dark Heather T-Shirt (JAN161981), and bark your confidence through a megaphone while you talk to a Child's Play Good Guy Chucky Stylized Roto Figure (JAN162395) in your outstretched hand. This is a key element to your escape plan if everything goes belly up.
Why?
If they see you talking to toys, they'll just think you're nuts, and you'll get a padded cell instead of a reserved seat in line to the electric chair.
The latter option is best to be avoided.
Look for all of these bad guy goodies and more in the January 2016 issue of the PREVIEWS comic shop catalog!