Dynamite Brings Back Tarzan and Sheena
Jan 09, 2016
Dynamite's Keith Davidsen had the chance to talk to Corinna Bechko about what new paths she's cutting through the overgrowth with the all-new series, Lords of the Jungle (JAN161344)! As Bechko indicates, one has to step lightly. These are legends, after all, and not new or supporting characters. There are expectations. There is a bar to jump. And Bechko assures us that she's in it to win it.
Lords of the Jungle #1 (JAN161344) is in comic shops March 16.
**********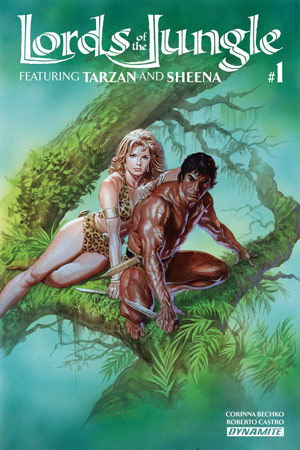 Keith Davidsen: Tarzan was a creation of Edgar Rice Burroughs, while comic industry legend Will Eisner had a hand in creating Sheena. Does a sense of legacy affect how you craft a story featuring such iconic characters?
Corinna Bechko: Of course! When writing characters like these, it's always best to be mindful of their history. After all, if they don't feel like the same people, what's the point? But the flip side of that is remembering that they need to feel fresh and relevant. I'm not crafting a museum piece, after all; I'm working to bring a new story to life. Sometimes that means leaving some of the more "problematic" elements while at the same time retaining the traits that made them so beloved int he first place.
Keith Davidsen: Sheena was created intentionally as a role reversal of traditional jungle tropes (pioneered by Tarzan); the Queen of the Jungle spent much of her time saving hapless men in distress. Will we see that characterization in your new stroyline?
Corinna Bechko: Count on it. The trope of the male lead saving the helpless lady victim isn't as prevalent as it used to be, but it's still common enough that playing against it is fun and rewarding. The Sheena we're introducing here is a bit younger than some of the iterations there have been over the years, but she can definitely take care of herself. She's not someone you'd want to be on the wrong side of in a fight.
Keith Davidsen: Sheena and Tarzan are both characters that interact closely with wildlife. What are your thoughts on incorporating the animal kingdom into your storyline?
Corinna Bechko: This is the part of the crossover I've had the most fun with. I have a degree in Zoology and spent five years working at the LA Zoo in the Behavioral Research division, so I'm happy to have the chance to apply some of that to comics. When I put an animal in a script I try and remember that it's a being with wants and needs of it's own, not just a plot device. In other words, I try to treat it just like any other character. I'm particularly glad that there's room here for a chimpanzee and a scarlet macaw, both of which are species I've worked with extensively.
Keith Davidsen: With two larger-than-life characters brought together, we can only imagine that they must be facing a particularly formidable enemy. What can you tell us about the threat they face?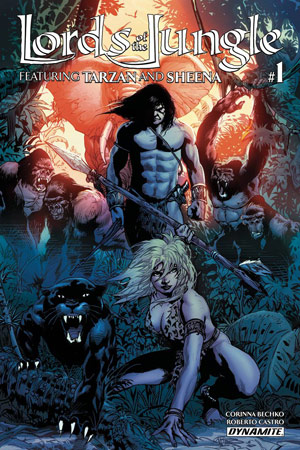 Corinna Bechko: Since Tarzan and Sheen are both characters that are tied to their "jungle" homes, it seemed only natural that the threat would extend to the land. Since they are separated by not only generations but by continents as well, Sheena is brought back through time and across the world to assist Tarzan in the fight of his life as he attempts to save Jane, himself, and the land he loves. Even someone as formidable as Tarzan needs help every once and a while. Especially when he's up against powerful interests in the British government and his own legacy.
Keith Davidsen: When thinking back on your previous work in comics, are there thematic parallels that you fans will recognize? What can Corinna Bechko fan expect to see in this new series?
Corinna Bechko: Oh, certianly. I'm sure thematic parallels show up even when I don't intend them to! Of course the big one here is the inclusion of animals and the natural world. Those slip into pretty much everything I do, but here they can shine. The other one, I hope, is a sense of the weight of what Tarzan and Sheena are fighting for. I love writing adventure stories, and there will be a lot of action in this crossover, but I think there has to be always be something worth fighting for, if that action is going to feel rewarding. My aim with this story is to make the stakes feel real and consequential. At the same time, I always enjoy writing a good explosion. So you can expect someone or something to get blown up before the final issue. And you can rest assured that there won't be a chimpanzee or a macaw caught in the blast.