Every Dog Has His Day In BOOM! Studios' Kennel Block Blues
Jan 29, 2016
by Vince Brusio
When you think of prison…you try not to think of prison. We've all seen the TV shows. The movies. It's the last place on Earth you want to be for the holidays (or any other day of the year). But what if time in the yard meant you got a rainbow to make the day a little less grey? What if your cell mates…broke into song? If you check out Kennel Block Blues #1 (DEC151097), you'll see that we're not talking about an obscure episode of The Twilight Zone, we're talking about a new series from Ryan Ferrier and Daniel Bayliss. In this PREVIEWSworld Exclusive interview, both creators talk about their amalgam of Hollywood movies with Looney Tunes, and how it makes for a comic book unlike any other.
Kennel Block Blues #1 (DEC151097) is in comic shops February 3.
**********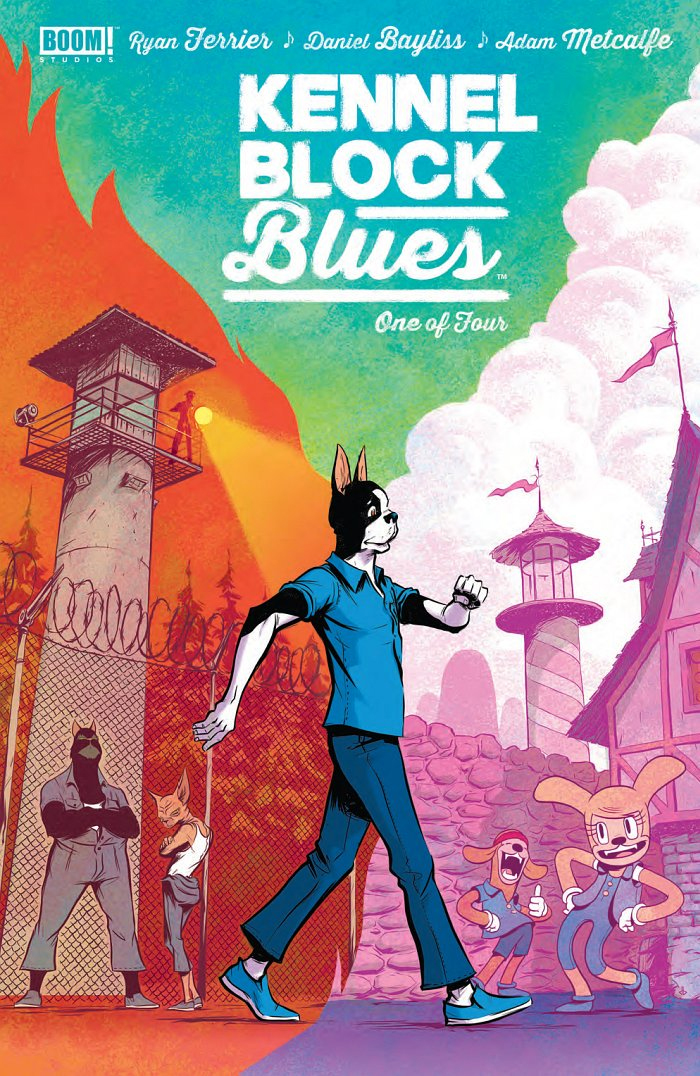 PREVIEWSworld: Kennel Block Blues (DEC151097) is clearly inspired by prison films, with the twist being … these are animal prisoners. So tell us: what movies played into this book's evolution?
Ryan Ferrier: Two prison films in particular come to mind, and those are Escape From Alcatraz and Animal Factory. I loved both of those when I saw them, and anything prison-related has always stuck with me. For me, prison is a terrifying thing, so naturally I'm a glutton for punishment in that I can't look away or be fascinated by it. On the flip-side, musicals such as Hairspray and The Sound of Music, as well as the Fleischer Studios cartoons, are just as inspirational to Kennel Block Blues' development.
Daniel Bayliss: Artwise, the inspiration comes also from many old cartoons as Ryan mentioned, from early Disney, Looney Tunes and Fleischer Studios. This gives the opportunity to come up with the wildest and craziest stuff, some stuff you would never expect out of a straight-up prison story.
PREVIEWSworld: How exactly does Oliver, the lead character of the series, end up in Jackson Kennel?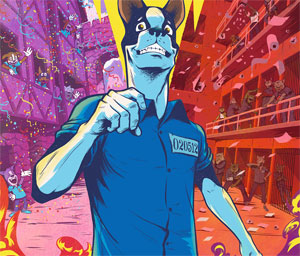 Ryan Ferrier: That isn't something that is really delved into, at least not explicitly nor right away. Oliver is taken away from his family very unfairly, and the circumstances surrounding his imprisonment are unclear and certainly unreasonable — just like a fair amount of people currently imprisoned, and animals awaiting death in real life. Oliver has been taken from his life though, that much is undeniable.
PREVIEWSworld: What genre would you say Kennel Block Blues falls under primarily? There seem to be elements of comedy, drama, and…musical routines?
Ryan Ferrier: It's genuinely hard to pick just one genre! I can't in good conscience do so. It's many things. It's a thriller, a comedy-laugh-riot. It's a survival book, a prison book. It's a political struggle, a love story. It's a madcap cartoon, a hallucinatory musical. The backdrop is that of a prison drama, but we're really working with every emotion we possibly can. It's pure fun!
PREVIEWSworld: Can we discuss Oliver's sanity? There seems to be two different versions of characters in the prison.
Ryan Ferrier: Oliver is a complex character, but one thing is for sure, his emotional state is very important to him and also very sensitive. He has a special...ability, if you will, or coping mechanism, that we will see firsthand right away in the series. We will literally see the world through his eyes — a big, bright, outrageous cartoon-musical lens — when he applies this mental filter on himself. The fun part of this is that he can see anything his mind is capable of conjuring. It's totally out-of-control and over-the-top, and it lets Daniel and I go completely wild. We're really very excited about this aspect of the book, as well as having the opportunity to jump in and out of a musical genre within a comic book.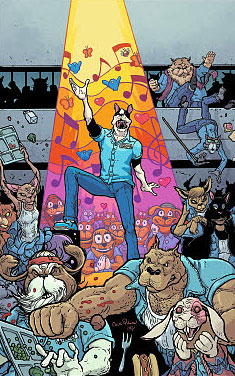 Daniel Bayliss: Once Oliver falls into this trance state, reality is tuned into a cartoon vision — it's when the fun starts. But there are many fun and awesome moments all around this book. Ryan has weaved so many emotional moments with comedic bits that it is just a pure joy to read.
PREVIEWSworld: Daniel, in Kennel Block Blues, how challenging is it to draw animals exclusively as opposed to people?
Daniel Bayliss: It is both a challenge and an advantage. To some extent, drawing animal faces allows you to play more with the emotions of the characters; you can stretch these expressions so much, to the point where they become a caricature and still get away with it. It also allows you to use different parts of their anatomy to achieve those emotions, which is incredible. You can easily display more than one emotion in a character, like how a super happy face with a pair of folded ears may show a much more complex emotion that reveals what is happening inside the character's mind. This gives you a much bigger range that you can expect to achieve with the plasticity of the human face and body language.
PREVIEWSworld: You've both worked on licensed material before whether it be Sons of Anarchy (Ryan) or Munchkin (Daniel). Do you find work on creator-owned stories more rewarding, or is it just a different kind of work?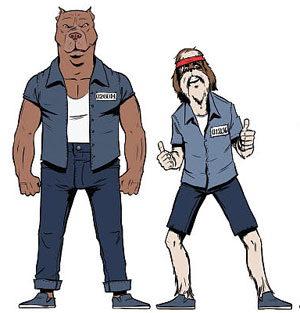 Ryan Ferrier: I have felt just as rewarded working on licensed work as I have with creator-owned stories. They both have their own sets of challenges and their own particular skillsets and workflows, but with me, my heart and passion is going into those stories no matter what. Both have their own types of puzzle pieces that you have to shape and create as part of a bigger puzzle — but neither would be what they are without that magical dollop of brain-juice from the creative team. I don't see creating for licensed work and creator-owned as being mutually exclusive, honestly. The destination as a creator is the same, there are simply different road maps to use.
Daniel Bayliss: I completely agree with Ryan, and I can only add that I personally believe that whether it is creator-owned or licensed, our reward as storytellers is the opportunity to tell a good story.