The Power Of Love Gone Bad Is Jonesy's Fault
Dec 18, 2015
What if you were jaded? And you had the power of love at your fingertips? How bad would you ruin someone else's life just to get your kicks? At what point would you show mercy? Or would you show no remorse? The questions are endless, just as the power of love has endless possibilities in BOOM! Studios' latest series, Jonesy. In this PREVIEWSworld Exclusive interview, writer Sam Humphries and artist Caitlin Rose Boyle give us the scoop on this latest series from BOOM!, and explain that while the world of Jonesy is "cartoony," crushes and feelings still count.
Jonesy #1 (DEC151095) is in comic shops February 10.
**********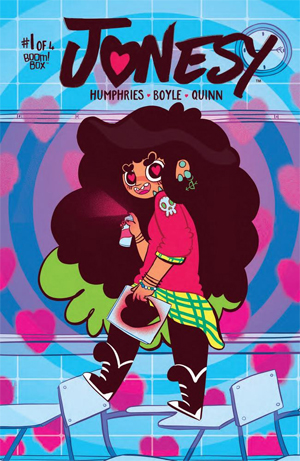 PREVIEWSworld: How did the idea for Jonesy #1 (DEC151095) come about? What helped formulate the idea?

Sam Humphries: I was thinking, what if someone had the power to ship in real life? Instead of hoping that two fictional characters fall in love, you could make two actual people fall in love! That sounded fun. And dangerous. Almost immediately, the character of Jonesy came to me, and I knew the book had to be about her.

PREVIEWSworld: As a primer, can you describe Jonesy's power for us? Can you give us any kind of visual to work with? Is she literally firing a cupid's arrow into someone's heart, or what?

Sam Humphries: Jonesy is not a cupid. Cupids are cute and benevolent — literally, "cherubic." And LAME. Jonesy is a teenage girl who can make anyone fall in love — but the power doesn't work on her. She's not above using her powers for mischief, or for her own benefit. She's sick of the world telling her how to feel about boys and girls and relationships, and now she's gonna show them what's REALLY up.

PREVIEWSworld: Jonesy ultimately seems like a very "human" story, in a realistic setting. Describe for us the difference between writing a title like this, and, say, Star Lord or Uncanny X Force.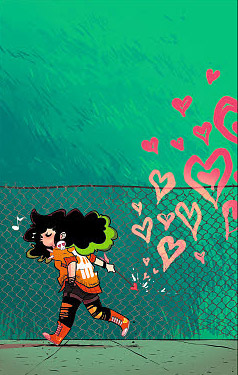 Sam Humphries: I dunno, Star-Lord is a human. And the setting of Uncanny X-Force is probably more "realistic" — that's how a lot of superhero fans like it. Jonesy lives in a cartoon world and her comic is about love and crushes and feelings and friendship and laughter.
There's less punching involved.

PREVIEWSworld: Caitlin, you've done a wide variety of work. How do you like the transition from your animated short work to comic book work? Is there one you like particularly more than the other?
Caitlin Rose Boyle: I had been making short comics for small-press publications and Tumblr for years before The Night Crew got accepted into Nickelodeon's animated shorts program, so my work on Jonesy feels less like a transition and more like a natural next step. Animation and comics are such different creatures, I could never choose between them! I do love that they're both team-based; I work best when I have someone to bounce off of.

PREVIEWSworld: What was it like working on this title? How would you describe the synergy between you two as this project came together?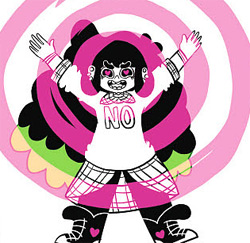 Caitlin Rose Boyle: IT WAS AWFUL, SAM'S THE WORST!!! No, wait, exactly the opposite. Sam and I have been on the same page since the beginning when he first came to me with the initial concept. It's been a really engaging and rewarding process, working together to develop Jonesy and the world she inhabits. I hope that shows when you read the book!
Sam Humphries: IT WAS MESSED UP, CAITLIN SUCKS!!! Just kidding, Caitlin is the best, and Jonesy only really exists because Caitlin is doing it with me. This comic is truly a co-creation of both of us. We've been talking about it for over a year and throwing ideas back and forth and Skyping and laughing about it and it's been a blast. So you know it's gonna be a blast to read!