Indie Edge January 2016: Sonny Liew
Dec 16, 2015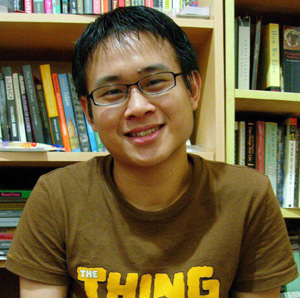 Sonny Liew is a comics artist, painter, and illustrator whose work includes the New York Times best-seller The Shadow Hero (MAY141431) with Gene Luen Yang, My Faith in Frankie (AUG040458) with Mike Carey, Malinky Robot (JUN110503), and the new Doctor Fate comics series (Vol. 1: The Blood Prince / DEC15032) from with writer Paul Levitz.
Born in Malaysia, he lives in Singapore, where he sleeps with the fishes.
What are your favorite projects you've contributed to over the past decade?
I've always enjoyed working with other creators on books like The Shadow Hero and My Faith in Frankie, but I suppose you always feel closer to the stories that you both write and draw. I still feel a very personal connection to the Malinky Robot stories, and The Art of Charlie Chan Hock Chye (see page #394 in the January 2016 PREVIEWS) drew partly on my love of old comics, their pages dog-eared and yellowed with time.
New and Classic Titles by Sonny Liew
The Shadow Hero GN (MAY141431)
Malinky Robot (JUN110503)
Doctor Fate Vol. 1: The Blood Prince TP (DEC150320)
What are you currently working on?
Right now I spend most of my time turning out covers, pencils and inks for Doctor Fate (written by Paul Levitz and colored by Lee Loughridge) from DC Comics.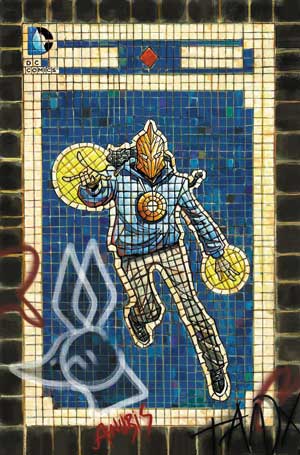 I just completed issue 7 and I'm signed on till issue 12 at least. I've also started research on my next creator-owned project, tenatively called The Sweetkeeper, which will be an adventure story inspired as much by Thomas Picketty and Ha-Joon Chang as it is by Doraemon and '80s Hong Kong movies.
What are some of your favorite reads?
A Distant Neighborhood (Vol. 1 / DEC111076) by Jiro Taniguchi is a coming-of-age story involving a middle-aged protagonist — something made possible by the fact that time travel is involved. But the science-fictional element takes a back seat for most part, and it's the emotional experience and journey that makes this book so special.
Ice Haven GN (OCT101094) by Daniel Clowes. I first discovered Clowes' work in Lout Rampage! and in those earlier stories he was always clever and funny. But seeing his work change and grow over the years has been one of the deepest pleasures of reading comics, and Ice Haven was absolutely brilliant!
Bottomless Belly Button (MAR083712) by Dash Shaw. I read this about the same time I encountered Jonathan Franzen's The Corrections, and in my mind, they represent two narratives whose empathy and intelligence make me feel less alone as a member of a family, that strange unit of belonging and loss.