Wandering Souls In Hellboy's Winter Wonderland
Nov 15, 2015
by Vince Brusio
Earthbound Hellboy has only been on terra firma for about a decade. Fully grown, he doesn't, however, have the wisdom that comes with maturity. With his companion Susan Xiang, he's about to learn more about his place in life while trudging through snow in one of the stories featured in Dark Horse's upcoming Hellboy Winter Special (NOV150010). In this PREVIEWSworld Exclusive interview, we learn of Hellboy's plight in the story "Wandering Souls" from the writer of the tale himself, Chris Roberson.
Hellboy Winter Special (NOV150010) is in comic shops January 27.
**********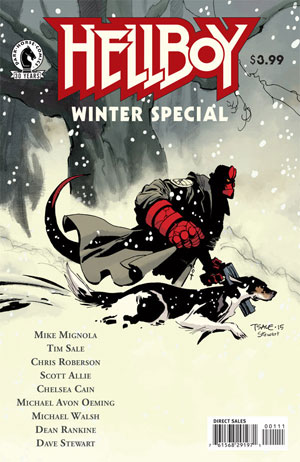 PREVIEWSworld: What's the genesis for your story in this new Hellboy one-shot? How did you conceive of that storyline? Something that came out of the blue? Stitched together from unfinished stories?
Chris Roberson: As I recall, the story idea came together fairly quickly. The only remit I'd been given was that it should fit a "winter" theme, and so I decided it would have to take place somewhere with snow on the ground. I also wanted to feature the character of Susan Xiang, the psychic B.P.R.D. agent who was introduced in the Hellboy & The BPRD: 1952 mini-series. So taking those two requirements as my starting conditions, I starting thinking about what would make for an interesting story with Hellboy and a Chinese-American with psychic powers somewhere in the snow, and I had the basic skeleton for the story that became "Wandering Souls" in short order.
PREVIEWSworld: If you had to wear a different hat, and play psychiatrist, what observations would you make about the characters in your story?
Chris Roberson: Well, one of the interesting things about Hellboy at this point in his career is that he looks like a fully grown adult, fairly indistinguishable from how he did when he was first introduced in the 1990s, but in reality he's only been on Earth for about a decade at this point.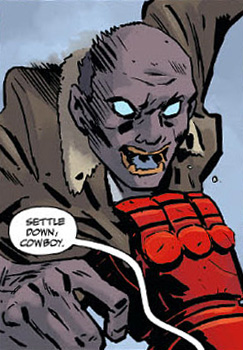 Physically he aged very quickly, but he doesn't have much real world experience, especially considering that he's only started going out in the field in the last year or two. As for his companion Susan Xiang, she was introduced as a former analyst for the FBI who had only recently come to work with the B.P.R.D., and she's still figuring out just how she relates to the larger world of weirdness she finds herself in (and will gradually learn that she has been a part of that world of weirdness far longer than she realizes).
PREVIEWSworld: Take us into the dark corners of your mind that are barricaded by police tape. Let us cross that line. Do you think Hellboy could get darker? Maybe take a different direction? As rebooting a book seems to be popular these days, do you think "rebooting" Hellboy would be a good thing?
Chris Roberson: The beauty of the character of Hellboy and the kinds of stories that have been told about his world is that it has never been just one thing. It's been dark at times, or scary, or sad, but it's also been really, really funny at times, too. So really, a reboot isn't required at all, it's just a question of telling a new story. Mignola and his collaborators have built a strong enough frame work that it can support just about any different tone or mood.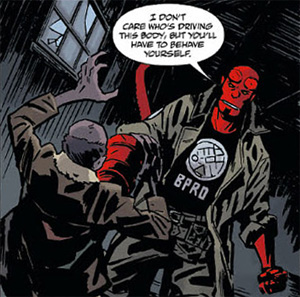 PREVIEWSworld: What was the most challenging thing about writing your story, and why are you passionate about it?
Chris Roberson: First and foremost, I've been a passionate fan of Hellboy since the first issue of Seed Of Destruction hit the comic stands, and I've got the action figure and lunch box to prove it. So it's more than a little intimidating to be given the keys to the car and told to take it out for a spin. I only hope that I don't wreck it, and that I manage to get it back in the garage with a full tank of gas.
PREVIEWSworld: With the popularity of the Paranormal Activity movies, and various paranormal videos on YouTube, do you think Hellboy is finding a wider audience today? Do you think maybe it's time Mr. Mignola entertained the idea of an ongoing Hellboy series?
Chris Roberson: I think that Hellboy and the various spinoff titles have always been finding a wider audience, one reader at a time over the years. But I think that's less to do with larger cultural trends than it does with the fact that the books themselves are just so damned good.
The world that Mignola, John Arcudi, Scott Allie, Dave Stewart, et al. have built over the years is so expansive, and so rich, and so deep, that there are endless possibilities for telling new stories, and an inexhaustible supply of little pockets of history and geography that have yet to be explored.