Making Star Trek History With IDW's Starfleet Academy
Oct 11, 2015
by Vince Brusio

Star Trek is not new. It's been around for generations (pun intended). What has helped it to become a cultural phenomenon (among other things) is its several interpretations. The fans love change, and they're going to love who's at the center of the Star Trek: Starfleet Academy #1 (OCT150360) from IDW Publishing. A new chapter in which fresh faces are introduced begins with this five-issue series, and we were lucky enough to get an interview with the entire creative team. Writers Mike Johnson and Ryan Parrott, artist Derek Charm, and IDW Editor Sarah Gaydos explain there's a lot of excitement surrounding this new journey where no Starfleet commander has gone before. Change is a good thing when it comes to Star Trek.
Star Trek: Starfleet Academy #1 (OCT150360) is in comic shops December 16.
**********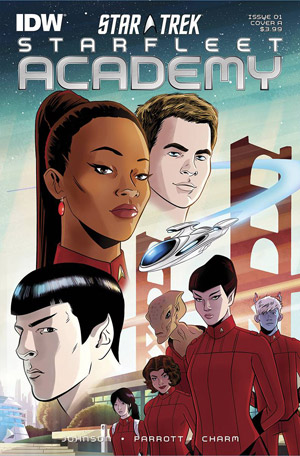 PREVIEWSworld: What's the genesis for this book? How was Star Trek: Starfleet Academy #1 (OCT150360) conceptualized?
Mike Johnson: Sarah and I had been talking about ways to build out the universe of the new movie and to introduce new characters beyond just the movie cast. We also wanted a book that would allow for different kinds of stories than those involving the Enterprise crew. Telling stories set at Starfleet Academy killed two Birds of Prey with one stone. We could show more about life on Earth in the future and introduce a new cast of characters, and at the same time we could tell school-based stories that could be more relatable to a new and younger audience. With the success of the ongoing series and with the new movie coming out next summer, this seemed like a great time to give readers all-new Trek stories.
Sarah Gaydos: I grew up as a Next Generation fan, and as a kid, I couldn't think of anything cooler than attending Starfleet Academy. So this series is near and dear to my heart. I strongly believe that Trek is great for older kids as well as adults, and wanted to make something that speaks to everyone. We also liked the idea of playing around with the one location of Starfleet Academy, but over two different timelines. The first storyline, starring Kirk, Spock, and Uhura, is set right around the start of the 2009 film. The second storyline, with the new cast of characters is set during "current" continuity, i.e. between "Into Darkness" and the upcoming "Beyond" film. I think this really speaks to the enduring history of Star Trek, as so many of our heroes have passed through the halls of the Academy, on their way to great adventures. And it is constantly growing!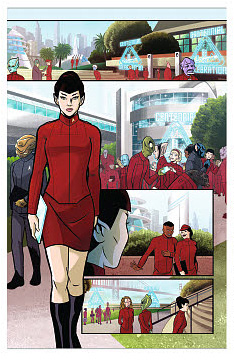 PREVIEWSworld: How did the three of you go about brainstorming for the new characters in the book? Or were there other outside forces at work when it came to the new biology for other cadets?
Ryan Parrott: From the very first time Mike pitched me "Academy," T'Laan was always at the center: A Vulcan cadet who arrives on Earth the day her home planet is destroyed. It's a perfect emotional place from which to start. The idea for Grace came from wanting to show that there are still some illnesses and afflictions we haven't been able to wipe out. And, incidentally, Vel's personality actually completely changed because of a typo I made in the first issue. The greatest thing about building characters in the Star Trek universe is that there's already so much history, it's almost like cheating.
Derek Charm: I love the visual diversity in the characters and species Mike and Ryan have chosen to highlight in this book. It was great getting to play with updated versions of original series aliens like the Andorians and Tellarites as well.
PREVIEWSworld: This book is supposed to let us see the chemistry between Kirk, Uhura, Spock and others before they appeared on deck of the Starship Enterprise for the 2009 movie. As this is a five-issue series, what blanks are you looking to fill in for the readers? And will this be continuity moving forward?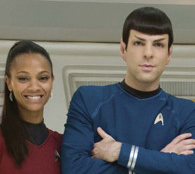 Mike Johnson: Part of the fun of this series will be that Kirk and Spock were both at the Academy, Kirk as a student and Spock as a post-graduate advisor, but they didn't actually meet until the events of the 2009 movie. Uhura knows them both: she met Kirk in Iowa before they arrived at the Academy, and she fell in love with Spock once she got there. This series will explore both the evolution of her relationship with Spock, as well as her grudging friendship with her future Captain. Uhura is really the heart of the series for the original crew, and we get to see life at the Academy through her eyes in a way that we didn't get to in the 2009 movie. We like to say that the strict definition of canon is what is on-screen, but we have always considered the comics as close to canon as you can get without being in theaters or on TV.
PREVIEWSworld: What materials were given to Derek for reference, both for the usual suspects and the new faces at the academy?
Sarah Gaydos: Any time we have a question about reference or continuity, our great licensors step in and blow us away with their deep knowledge and love of Trek. Then we go from there.
Derek Charm: With the movie stars, it was a combination of scouring the Internet and taking screenshots from the 2009 movie for reference while trying to get the likenesses down in a style I'd be comfortable drawing for five issues. Those are pretty much set in stone, so it was really exciting to get the new character descriptions from Mike and Ryan. With the alien characters, they sent visual reference for the species but encouraged discovering an individual look for each of them and highlighting their various personality traits. Knowing everyone was going to be in identical uniforms, I really tried to focus on what made each of them unique and stand apart from one another visually.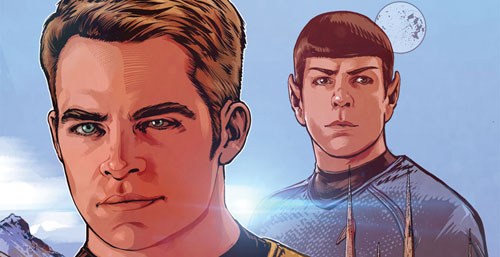 Ryan Parrott: To give credit where credit is due, we only gave Derek a few general sentences on each character. The visual style and a lot of the personality — it's all him. I remember when we got the first batch of sketches, and I was floored. Just seeing the postures and different hairstyles. It changed the way I approached the characters. I love Derek's animation style for this book and the emotion he brings to every single image is amazing.
PREVIEWSworld: If you could offer some details on what the camaraderie was like during the making of this series, what stories could you tell?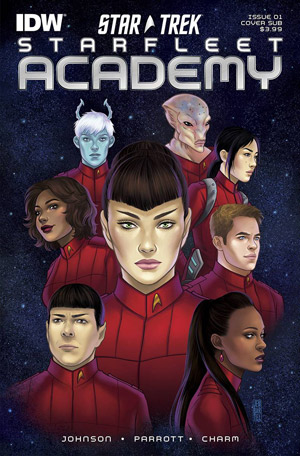 Mike Johnson: Sarah is really the captain of our ship. Ryan and I were friends before and had both written Trek stories, and then Sarah paired us with Derek, who could not be a more perfect fit in both artistic style and storytelling sensibility. We're excited to be working as a crew together, bringing readers stories of an all-new crew in the Trek universe.
Sarah Gaydos: Mike and I have been working together since I took over the Star Trek series. We work together fantastically, and he sometimes knows where I want to take things even before I even can put my thoughts into words. It can be spooky. This is my first time working with Ryan, and I'm super pleased with how it is going. Ryan, Mike and I were able to spend some time together at the recent Star Trek Las Vegas conference. We geeked out, did a panel, drank some weird Star Trek themed booze, and hashed out the first two issues. You can't beat that.
Derek and I immediately clicked when he started doing fantastic Powerpuff Girls covers for me, which quickly expanded to him doing fill-in interiors, and then all the art for Cartoon Network: Super Secret Crisis War and Powerpuff Girls: Super Smash-up! He's also done a ton of wonderful covers for IDW's Disney Comics line. I'm a huge, huge fan of his.