Skottie Young Goes Psycho In I Hate Fairyland
Aug 02, 2015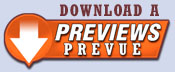 Before the Internet, you made do with what you had, like using the PREVIEWS catalog for research and pose modeling.
Skottie Young used to do this, and now he's on the August cover of PREVIEWS with I Hate Fairyland #1 (AUG150474) from Image Comics.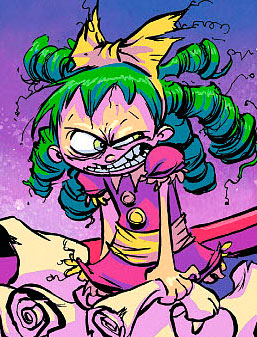 Funny how things work out.
We caught up with Skottie at this year's San Diego Comic Con, and he explained that having his new book on the cover of the catalog was a dream come true. He confessed to collecting PREVIEWS long before YouTube and iTunes were household names. Unfortunately, a lot of those books disappeared over time, but his new book makes everything come full circle as now he's in the catalog that he used to read growing up. Skottie was more than happy to talk with us about his new ongoing series, and in the above video you can hear about how he's chomping at the bit to tell this story of a six year-old girl that's anything but sugar and spice, and everything nice. There's nothing nice about her. Because if you were stuck in Fairyland for thirty years, and you didn't age, you would want to take an axe to anyone or anything that got in your way, too!
"She's somewhat of a, like, 40 year-old but in a six year-old's body, and she hates the place," Skottie remarks.
All the more reason to tune in for the carnage.
Look for I Hate Fairyland #1 (AUG150474) from Image Comics in shops Ocotober 14!